One Big Roster Change Suggestion for All 30 MLB Teams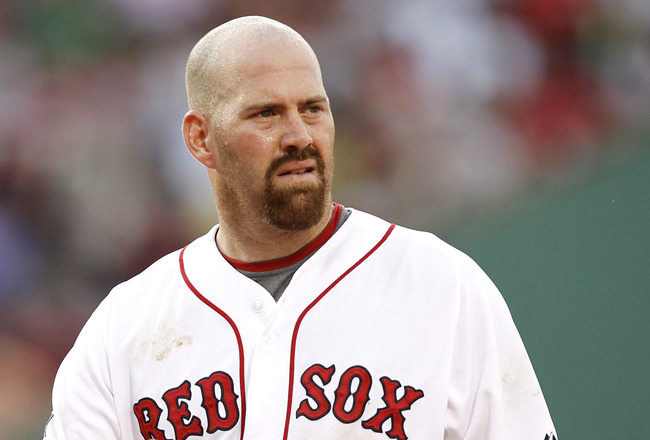 Winslow Townson/Getty Images
With the All-Star Break fast approaching, it's starting to become clear which teams need to make a move if they want a shot at making the playoffs. Some may need to just tweak their lineup and/or pitching rotation, while others need to make more significant moves.
Take the Boston Red Sox, for example. Their clubhouse is reportedly a mess, but they have a silver lining in prospect Will Middlebrooks. Given how he has played much better than usual starter Kevin Youkilis (pictured), maybe it's time for GM Ben Cherington to take initiative and consider making a trade.
Similarly, on some teams, there are prospects cleaning house in the minors who could make an immediate impact if called up to the major league level.
That said, let's have a look at each MLB team and determine what major roster moves they should make, if any at all.
Arizona Diamondbacks: Call Up Trevor Bauer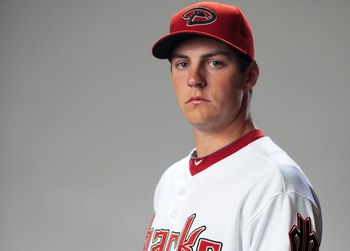 Rob Tringali/Getty Images
A product of UCLA, the Diamondbacks drafted Bauer with the third overall pick in last year's draft. He has split this year between Double-A Mobile and Triple-A Reno, putting up incredible numbers in the process.
In 15 starts, Bauer has gone 11-1 with a 2.19 ERA and 111 strikeouts in 90.1 innings pitched. The only stat of his that could use some improvement is his WHIP, which stands at 1.31.
That said, Arizona should do one of two things with Bauer if they are to gain any ground in the NL West. Either call him up and put him in the bullpen as a shutdown reliever, or have him take the struggling Daniel Hudson's spot. This young man has a great future in the majors and as of now, there really doesn't seem to be any reason for him to keep toiling away in the minors.
Atlanta Braves: Trade Jair Jurrjens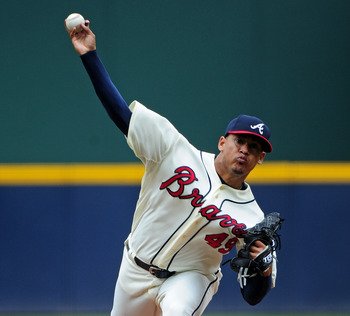 Scott Cunningham/Getty Images
Brandon Beachy just had Tommy John surgery, and I'm sure some Braves fans are groaning at the prospect of his rotation spot being taken over by Jair Jurrjens for the remainder of the season. Mark my words ladies and gentlemen, this will turn out to be a blessing in disguise.
Jurrjens has been pitching at Triple-A Gwinnett since struggling in four starts at the MLB level this year, and hasn't fared much better in the minors. In 10 starts, he went 3-4 with a 5.18 ERA and 1.43 WHIP.
However, this isn't necessarily a bad thing. If Jurrjens can come back to the major league level and be simply good at what he does, then teams desperate enough for pitching are bound to make an offer to GM Frank Wren. Should that happen, the Braves could possibly be able to deal Jurrjens for another big bat in the lineup.
Baltimore Orioles: Call Up Dylan Bundy to Pitch out of the Bullpen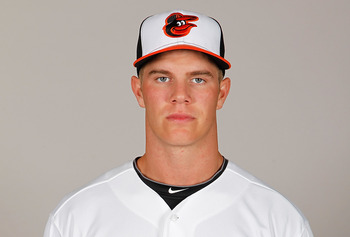 J. Meric/Getty Images
Right after the Diamondbacks selected Trevor Bauer in last year's draft, Baltimore selected Bundy out of Owasso High School, in Owasso, Oklahoma. 2012 has been his first year in professional baseball and though he has yet to pitch above High-A, it is an absolute must that the Orioles call him up either at or shortly after the All-Star Break to pitch out of their bullpen.
Look at it this way. In 12 starts in the minors this year, Bundy has gone 3-2 with an astounding 1.66 ERA. He has struck out 63 batters in 48.2 innings and his WHIP is an astounding 0.63. I understand that he's only 19 and hasn't really been tested yet, but what's the harm in trying him out for a week in the setup man's role?
He'd be a definite improvement over Kevin Gregg and given how the AL East is shaping up to be the dogfight it usually is, I don't think that GM Dan Duquette can afford to not call up Bundy.
Boston Red Sox: Trade Kevin Youkilis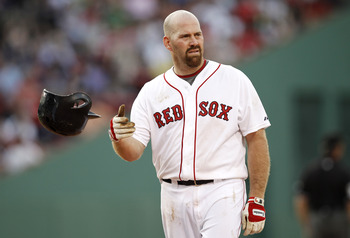 Winslow Townson/Getty Images
The past couple of seasons have not been kind to Youkilis nor the Boston Red Sox as the three-time All Star is batting just .225 with four homers and 13 RBIs this year. In an even odder twist of events, the hot streak of rookie third baseman Will Middlebrooks has moved Youkilis to first base and Gold Glove first baseman Adrian Gonzalez to right field.
Needless to say, GM Ben Cherington needs to find a buyer for Youkilis as soon as possible. The Red Sox are a complete and utter mess who need to right the ship immediately if they are to make a run at the postseason, and the team isn't doing itself any favors by keeping the "Greek God of Walks" around.
Chicago Cubs: Find a Buyer for Alfonso Soriano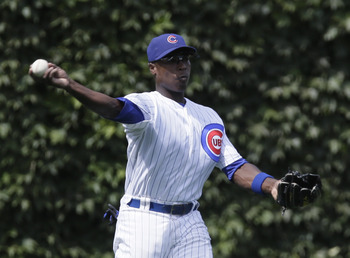 John Gress/Getty Images
Before the Cubs can focus on becoming contenders again, they must first find a way to get rid of all the bad contracts of the Jim Hendry era. That means dealing Alfonso Soriano, whose value is now sky high given the hot bat he's been swinging. Currently, the injury-prone outfielder is batting .266 with 13 home runs and 43 RBIs.
Given how Soriano is also 36 years old and making $19 million this year, not to mention the fact that the Cubs are close to calling up first baseman Anthony Rizzo from Triple-A, it's time for the front office tandem of Theo Epstein and Jed Hoyer to find a buyer. If they can get some solid pitching in return for the power-hitting veteran, it will be a giant step in the right direction for the Cubs.
Chicago White Sox: None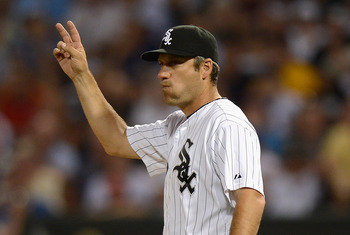 Jonathan Daniel/Getty Images
At this point in the season, first-year manager Robin Ventura has the White Sox playing better ball than most probably expected. Even though they're just three games over .500, Chicago is a mere half game out of first place in the AL Central.
That said, I'm going to suggest that this team keep things just the way they are for now. The saying goes "if it ain't broke, don't fix it," and the White Sox machine seems to be running fairly smoothly at this point.
Cincinnati Reds: Release Scott Rolen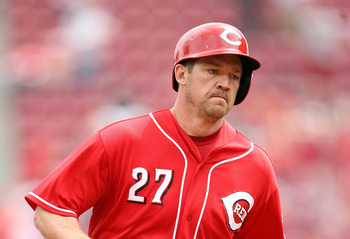 Andy Lyons/Getty Images
Arguably, Scott Rolen can be considered a legend. The man has won eight Gold Gloves, is a seven-time All-Star and will be highly considered for admission into Cooperstown.
Yet, this season, the 37-year-old Rolen has shown his age. He spent a lot of time on the DL (surprise, surprise) and is hitting just .175 with two homers and 13 RBIs. Yet, he still gets starts at the hot corner over the younger and more talented Todd Frazier.
The way I see it, the NL Central is Cincinnati's to lose this year, and with so many talented teams in that division, they aren't doing themselves any favors keeping Rolen and his $8.1 million salary on the books. I say DFA him, make Frazier a regular and watch as the divisional crown becomes more within reach.
Cleveland Indians: Dump Derek Lowe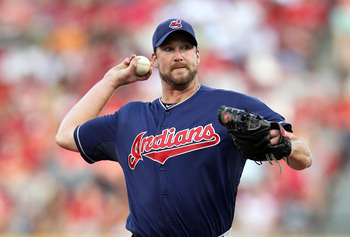 Andy Lyons/Getty Images
Lowe has gone 1-4 in his last six starts and though he has the occasional good game, the Indians simply have to trade him. Yet, that's easier said than done.
The right-hander is 39 years old and is due $15 million this year, plus he has gone 7-5 with a 4.30 ERA and a horrific 1.58 WHIP. Thus, he isn't exactly the type of arm that pitching-hungry teams are desperate to acquire.
Still, his expiring contract gives him some value and as a result, there should be at least one taker out there for him. Cleveland's greatest need is in the lineup and if they can find a way to swap Lowe for a decent hitter whose contract is also up at the end of the season, they just might be able to maintain their spot at the top of the AL Central.
Colorado Rockies: Give Drew Pomeranz Another Shot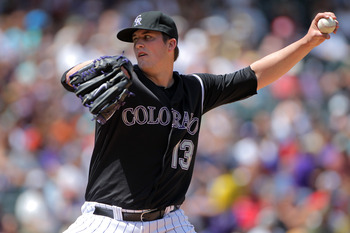 Doug Pensinger/Getty Images
In a brief stint at the major league level this year, Pomeranz didn't look like the top prospect that the Rockies acquired last year for Ubaldo Jimenez. Still, the team is 15 games out of first place and barring a miracle, I'm going to peg them as out of the playoffs.
That said, I think it's time to give Pomeranz another shot. He has gone 3-4 with a 2.38 ERA in nine minor league starts this year and though his WHIP is a bit high at 1.45, I don't see any harm in calling him up and using him as the fifth starter.
Worst case scenario, he gets sent back to the minors. Best case scenario, he gives Rockies fans something to hope for in the future.
Detroit Tigers: Deal Delmon Young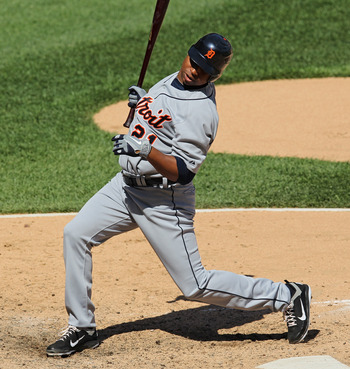 Jonathan Daniel/Getty Images
Per usual, the Detroit Tigers' offense is struggling and Young's impatience at the plate isn't helping. He's hitting .264 on the year, but his OBP is an underachieving .296.
On top of that, Young's bad attitude made an appearance this year. The way I see it, the team's offense is suffering enough with Victor Martinez recovering from a knee injury and Young's bat still has enough value that they could possibly trade him to acquire a decent pitcher.
Given how the AL Central race is looking right now, with both Cleveland and Chicago ahead of Detroit, I don't think that GM Dave Dombrowski can afford to not make a move in the coming weeks.
Houston Astros: Trade a Pitcher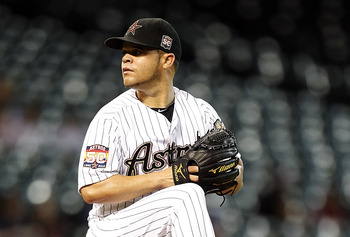 Bob Levey/Getty Images
Believe it or not, the Astros aren't in last place this year! OK, so second-to-last place isn't that much better, but the team has played well at some points and could have a legitimate shot at contending in the not too distant future.
That said, it's time for GM Jeff Luhnow to dump some salary so that he and new owner Jim Crane can attempt to lure big-name free agents to Houston. If you ask me, the two best trade candidates on the team are left-handed starter Wandy Rodriguez (pictured) and closer Brett Myers. The two are making a combined $22.5 million this year and given how well each has pitched, there could definitely be multiple teams interested.
Depending on the prospects the Astros get in return, things could possibly be looking up when they make the move to the AL West next season.
Kansas City Royals: Call Up Wil Myers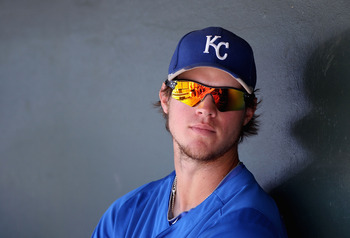 Christian Petersen/Getty Images
The Royals need help both in the lineup and in the rotation, but outfield prospect Wil Myers could inject some much-needed life into the clubhouse. The 21-year-old has split this season between Double-A Northwest Arkansas and Triple-A Omaha, putting up great numbers on both levels.
In 69 minor league games this year, Myers has hit .330 with 24 homers and 62 RBIs while playing a good center field. The way I see it, KC is in last place right now and isn't going to make the playoffs this year. That said, what's the harm in calling Myers up and testing him out?
Los Angeles Angels: None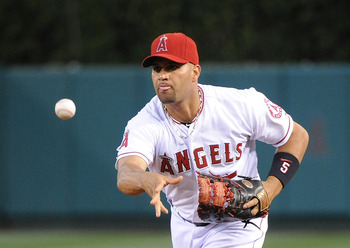 Lisa Blumenfeld/Getty Images
Albert Pujols is starting to heat up as the Angels have finally clicked after a busy offseason. Their pitching staff looks great and Mike Trout has been great since being called up from the minors.
That said, I'm going to suggest that the Angels leave everything as is for now.
Los Angeles Dodgers: Find a Buyer for James Loney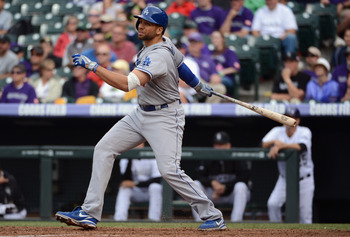 Doug Pensinger/Getty Images
The Dodgers already made a major accomplishment this year not only in posting the best record in the NL, but also in signing outfielder Andre Ethier to a five-year extension worth $85 million. That said, they must now focus their efforts on trading first baseman James Loney.
Don't get me wrong, Loney is talented, but he doesn't have the home run power most teams expect from a first baseman. This year, his power has just disappeared as he has just two home runs and is batting .257 with 21 RBIs.
Still, the man is an extremely patient hitter and for teams needing help at first base, Loney could prove to be a perfect fit.
Miami Marlins: Explore the Trade Market for Logan Morrison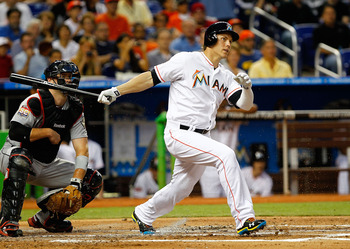 Mike Ehrmann/Getty Images
Morrison seems like a cool dude and his Twitter is always a fun read, but that means nothing if he isn't producing. This year, in the Marlins' new ballpark, the quirky outfielder has hit .236 with just seven home runs and 23 RBIs. I don't know if he's got a hole in his swing or the stadium is screwing him out of more dingers, but the fact remains that he has not lived up to expectations this year.
That said, I don't see why the team doesn't at least dangle him and see what they can get for him. Personally, I see Morrison as a Nick Swisher-type player who can be a great clubhouse presence with his positive attitude and joking manner. It worked for the New York Yankees in 2009, so there's no reason to believe that it wouldn't help another team looking for outfield depth.
Milwaukee Brewers: Explore the Zack Greinke Trade Market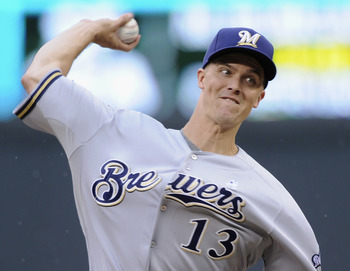 Hannah Foslien/Getty Images
The loss of Prince Fielder to free agency has had a big effect on the Brew Crew, who are 32-37 and sit in fourth place in the NL Central. The three teams ahead of them are the talented Cincinnati Reds, Pittsburgh Pirates and defending World Series champion St. Louis Cardinals. Unless a major winning streak happens soon, Milwaukee's season could be lost.
That being said, I'm going to go out on a limb and say that the front office should explore trading pitching staff ace and impending free agent Zack Greinke, who is 7-2 with a 3.10 ERA. This decision highly depends on how the team looks in the games leading up to and shortly after the All-Star break, but hear me out on this one.
If Milwaukee goes on a major winning streak and suddenly seems to be running on all cylinders, then they keep Greinke and go about their business as they normally would. However, if things don't change by late July, or even get worse, then GM Doug Melvin should at least look to trade Greinke and get top prospects in return rather than see him walk via free agency this winter and get nothing.
Minnesota Twins: Trade Francisco Liriano for Anything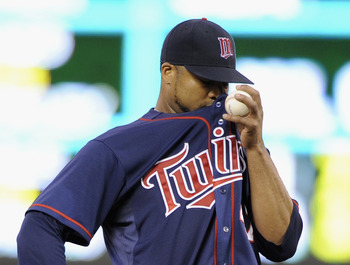 Hannah Foslien/Getty Images
Even if it's for the worst prospect in all of the minor leagues, the Twins need to trade Liriano as soon as possible. He has continued to struggle and is 1-7 with a 5.74 ERA and 1.52 WHIP this year, and is a shell of his former dominant self.
At this point, team management should be content to trade him for dinner a la when they dealt Dave Winfield to the Cleveland Indians in 1994.
New York Mets: Call Up Zack Wheeler and Place Him in the Bullpen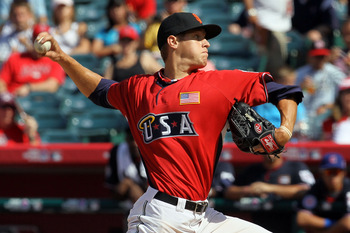 Stephen Dunn/Getty Images
I'll be the first to admit that the New York Mets have been one of the most pleasant surprises of the season, but their bullpen is so bad that it makes the kids from The Sandlot look like the 1998 New York Yankees. That being said, maybe it's time to inject some life into the relief pitching and call up top pitching prospect Zack Wheeler.
Wheeler is a starter that the Mets acquired from the San Francisco Giants last year in exchange for Carlos Beltran, and he has been absolutely unbelievable at the minor league level this year. In 12 starts at Double-A Binghamton, the 22-year-old has gone 6-3 with an incredible 1.88 ERA, astounding 1.00 WHIP and has struck out 73 hitters in 71.2 innings.
I'm not saying that the Mets should do to him what the Yankees did to Joba Chamberlain, as Wheeler's future is definitely in the team's starting rotation. Yet, given how well he's pitched this year, it can't hurt to call him up and use him as a setup man, even if it's just for a couple of weeks.
New York Yankees: None...For Now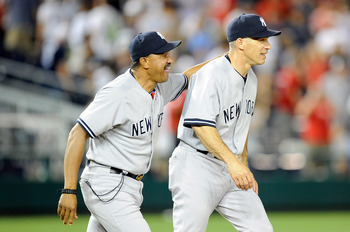 Greg Fiume/Getty Images
Though the Yankees have struggled with runners in scoring position all season long, they just had a 10-game winning streak and currently sit in first place in the highly competitive AL East. That said, I'm going to say that they should keep things as is for now.
They may need to make changes somewhere down the road, but there's no absolutely desperate needs to address at this point.
Oakland Athletics: Trade Coco Crisp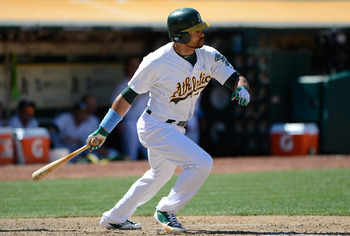 Thearon W. Henderson/Getty Images
Coco Crisp's greatest strength is his speed, but what good is it if he can't get on base effectively? The veteran has 13 steals on the year, but is hitting just .208 with a .288 OBP. That said, it's time for Billy Beane to get on the phone and work his Moneyball magic.
If Crisp can be traded for a decent starter or bat, then Oakland could move Yoenis Cespedes to center field and place Seth Smith in left. They're currently nine games out of first in the AL West, but are only two games under .500. A move like this, if successful, could be enough to put them on a winning streak and contend for a playoff spot.
Philadelphia Phillies: None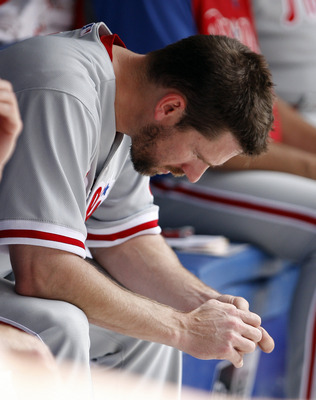 Abelimages/Getty Images
The Phillies are currently in last place after posting the best record in baseball last year, and some fans are surely calling for a major move to happen, be it a trade, signing or firing. Still, I'm going to say that things should stay as they are for the team, and here's why:
First off, Philadelphia is only 33-38. For last place in the NL East, that really isn't that bad. Second, let's not forget that the team is without key hitters Ryan Howard and Chase Utley, both of whom could be considered the cornerstones of the team's offense.
As reported by Jim Salisbury of CSNPhilly.com, Howard is expected to go on a rehab assignment in the next week or two and Utley could be back next week, so maybe things will look up once both return. Until then, I can only call the Phillies' struggles a fluke.
Pittsburgh Pirates: None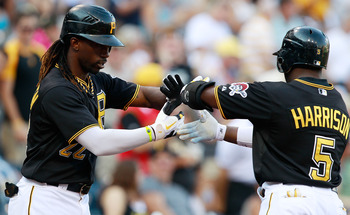 Jared Wickerham/Getty Images
The Pirates need some offense badly, but they're in second place and just two games out of first place in the NL Central. That said, considering how bad the team has been for the past 20 years, I'm going to say keep the roster as is at this point.
San Diego Padres: Trade Chase Headley for Pitching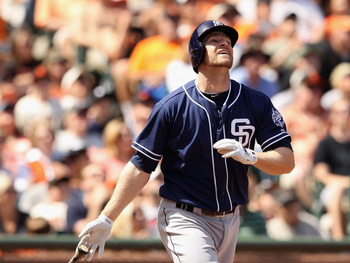 Ezra Shaw/Getty Images
In his minor league days, switch-hitting Chase Headley was someone with decent power who could also hit for a high average. In four minor league seasons, he had a .301 lifetime batting average.
Then, Headley got called up to the majors, and playing in the pitcher-friendly Petco Park caused his numbers to drop. The way I see it, he's drowning in San Diego and not living up to his full potential. Still, he's talented enough at age 28 to the point where he can still fetch in a good load of prospects in a trade.
Given how San Diego currently has the worst record in the majors, it can't hurt to dump some talent and start from scratch, beginning with dealing Headley.
San Francisco Giants: None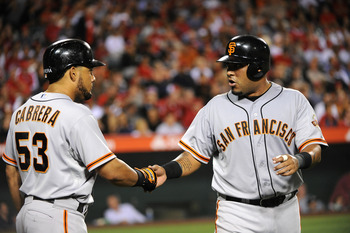 Lisa Blumenfeld/Getty Images
Even with Brian Wilson out for the season and Tim Lincecum struggling mightily, the Giants are still in second place in the NL West and just four games out of first. That said, they're obviously doing something right. No moves necessary for them.
Seattle Mariners: Call Up Trayvon Robinson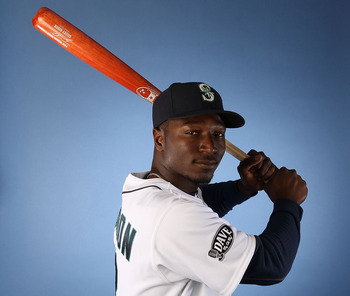 Christian Petersen/Getty Images
Robinson is a switch-hitting outfielder with both power and speed, but the Mariners have him toiling away at Triple-A Tacoma while Franklin Gutierrez continues to struggle and underachieve at the major league level. Given how much help the team needs on offense, I really don't understand why Robinson hasn't been called up yet.
In 68 minor league games this year, Robinson has hit .260 with seven homers, 35 RBIs and 14 steals. Not necessarily eye-popping numbers, but still impressive enough to warrant a call to the majors. With the team in last place (again), what's the harm in getting him some at-bats on the major league level?
St. Louis Cardinals: None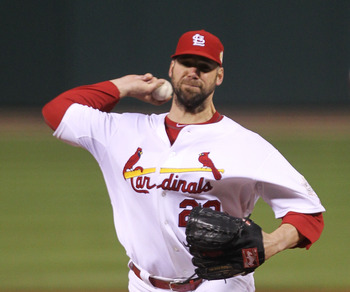 Ezra Shaw/Getty Images
The defending World Series champs are 35-35 on the year, sitting in third place in the NL Central. Still, they've looked great at times and their record, in my opinion, is only the result of not having Chris Carpenter (pictured) in the rotation.
That's going to change soon, as Carpenter's shoulder is feeling better and he is expected to rejoin the team around All-Star Break. If he can be as effective as he was last year, then this team will look dangerous during the second half.
Tampa Bay Rays: Trade B.J. Upton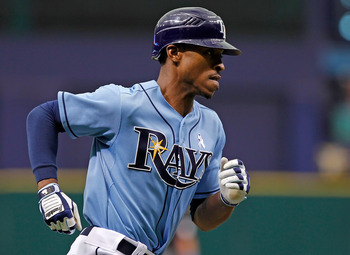 J. Meric/Getty Images
The Rays are a talented team, but their dependency on pitching at the expense of consistent offense often has them take a back seat to more experienced teams. That said, if they want to make a serious run in the tough AL East, they should trade B.J. Upton for an MLB-ready hitting prospect.
It certainly helps that Upton has been effective this year, batting .267 with five homers, 25 RBIs and 12 steals. Depending on which teams need outfield help, a trade like that could certainly put the Rays in the right direction and give them a shot at winning the divisional crown.
Texas Rangers: None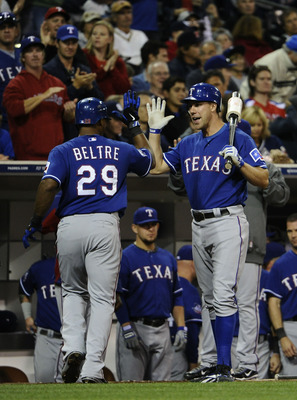 Denis Poroy/Getty Images
Well, when you have the best record in baseball, why make any significant roster moves at all?
Toronto Blue Jays: Trade J.P. Arencibia for an Effective Starter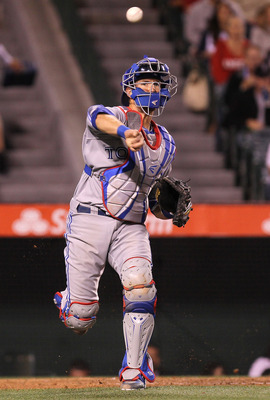 Stephen Dunn/Getty Images
The Blue Jays certainly have what it takes offense-wise to be a great team, but their lack of consistent starting pitching beyond Ricky Romero and Brandon Morrow hurts them. That being said, it's time for GM Alex Anthopoulos to kill two birds with one stone.
First, he needs to trade catcher J.P. Arencibia to any team willing to offer an effective starting pitcher for him, be it a veteran or an MLB-ready prospect. After that, he needs to call up catching prospect Travis d'Arnaud from Triple-A Las Vegas. In 63 games this season, d'Arnaud is hitting .330 with 15 homers and 49 RBIs.
Given those numbers and Toronto's approach on offense, this is a move that is destined to succeed.
Washington Nationals: None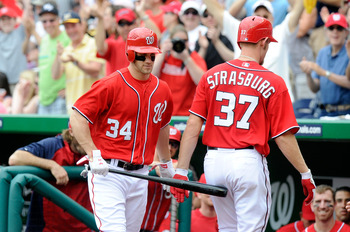 Greg Fiume/Getty Images
Last year, the Washington Nationals finished the season 80-81, third place in the NL East and 21.5 games out of first. This year has been a dream come true as Stephen Strasburg has been the ace team management hoped he would be, as he has pitched as though he didn't have Tommy John surgery a couple of years ago. On the year, Strasburg is 9-1 with a 2.46 ERA and leads the NL with 110 strikeouts.
Similarly, Bryce Harper has been effective since being called up from the minors and for someone just 19 years old, he certainly has a bright future in the majors.
As a result, the Nats are in first place and playing like they plan on being there for a long time. Save for third baseman Ryan Zimmerman struggling, this team looks phenomenal and doesn't need to make any immediate changes right now.
Keep Reading