Miami Heat Parade 2012: LeBron James' Coronation Ends with Fan Celebration
June 22, 2012

Ronald Martinez/Getty Images
We could pretend that the Miami Heat's victory over the Oklahoma City Thunder in the NBA Finals was not all about LeBron James. We could talk about how the impending parade will be a celebration of the team. 
However, we all know that is so far from the truth that trying to convince anyone otherwise would be a waste of breath and of their time. 
The Miami Heat victory parade, which will take place on Monday morning, according to the local CBS Station, is all about James. I'm sure he won't want to make it all about him. After all, despite what fans would have you believe, he is not the most vile, egotistical human being on the face of the earth. He wants to enjoy this moment with his teammates. 
For the fans in attendance, and everyone else watching around the world, James will be the focus. Whether you rooted for or against the Heat, or James, there had to be a part of you that felt good just seeing the smile and relief on his face when the NBA Finals ended.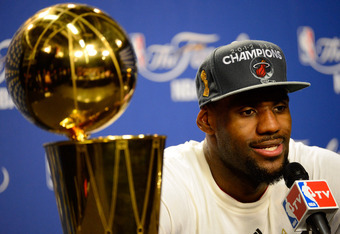 Ronald Martinez/Getty Images
James' victory felt a lot like Steve Young winning his first championship with the San Francisco 49ers in 1995. Young had the added pressure of taking over for a beloved legend and arguably the greatest quarterback in the history of the NFL.
At the end of Super Bowl XXIX, Young ran over to his teammates and told them to pull the monkey off his back. 
It wasn't until that moment when Young earned his spot in 49ers lore.
James, while not taking over for an all-time great, last night cemented his place in NBA history. No one can say that he is a choker, or the best player in all of the major sports to never win a championship. 
Instead, James can join the masses who will fill the streets of Miami and celebrate with the only city that's loved him since the fateful "Decision." Those fans are going to shower James with chants of "MVP!"
Now that James has the championship he went to Miami to get, proved to all those people who don't really understand sports that he is not a choker, and is well on his way to becoming the best player of this generation, all that is left is for him to take his rightful spot on the throne next to the all-time greats.
If you want to say that James needs to win four or five more to be in the Michael Jordan category, that is your prerogative. For now, we can watch as one of the most talented athletes in all of sports takes his rightful place atop the basketball world.