Heat vs. Thunder Score: Key Performances from Miami's Game 5 Victory
June 22, 2012

Ronald Martinez/Getty Images
The Miami Heat's 121-106 NBA Championship-clinching victory over the Oklahoma City Thunder Thursday night was made possible by several pivotal performances.
Miami was a well-oiled machine on both ends of the floor. Each player in the rotation did their job, and the Heat rolled to a decisive victory.
Let's look at which players made that victory possible.
Mike Miller
Miller went 7-for-8 from three-point land and finished with 23 points, in 23 minutes, off the Miami bench. He also managed to snag five rebounds.
The Heat were given a huge boost from Miller's production. Up until this point, their bench scoring was few and far between. His scoring fired up the crowd, and it took some pressure off of Miami's starting unit.
The three-point ace's disheveled appearance shouldn't fool you. He's a career 40-percent shooter from beyond the arc for a reason.
Performances like this are why Miami added Miller to their rotation prior to last season. Every great championship team needs "instant offense" players off the bench, and Miller's shooting tear backs that up.
Miami played outstanding as a team, but Miller's consistent second-half shooting kept the Heat faithful on their feet.
Wade did whatever the Heat needed Thursday night. His final stat line plugs holes in each column of the box score.
He finished with 20 points, eight rebounds, three assists, two steals and three blocked shots. Wade provided constant energy on both ends of the floor. He found the legs he had been missing for the greater part of the playoffs, and he delivered a performance worthy of an NBA star.
When he's at his best, Wade attacks the rim with tenacity. His leaping ability, and timing, makes him a menace to handle in the paint, and his mid-range game is lethal.
LeBron James had one of the greatest playoff series in NBA history, but every star needs a viable No. 2 option.
Wade is a No. 2 scoring option with the leadership of a No. 1. He turned in an excellent performance in Game 5, and he was a huge reason that his team raised the championship trophy.
LeBron James
James' Game 5 performance was one of the most dominant games I've ever seen from a professional athlete.
Watch the game again. If you pick through the highlights, or the full game tape, you will be hard pressed to find a single play that he didn't influence on either end of the floor.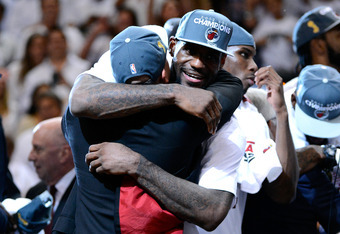 Ronald Martinez/Getty Images
He finished with 26 points, 13 assists and 11 rebounds. He also had one steal and two blocked shots. James' dominant presence on both ends paced Miami and dictated the entire game.
James draws the ire of many NBA fans because of his decision to come to Miami prior to last season, but now he is vindicated. He proved his doubters wrong, performed like a superstar and now has the championship to prove it.
Sometimes players grow up on the spot. Spectators of last night's game got a chance to watch the game's best all-round player, and a once-in-a-lifetime athlete, vault his way to the top.
He didn't just win a title. James' emphatic performance didn't take "no" for an answer.