5 Things the Miami Heat Need to Do to Repeat as Champions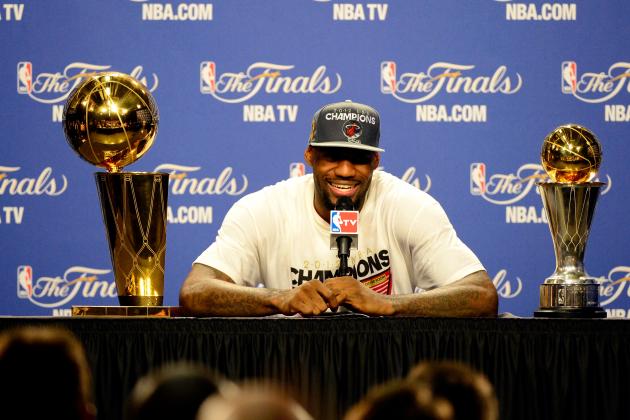 Ronald Martinez/Getty Images
1 one down and more to come, LBJ will be on the hunt for more rings
There we have it.
After nine long years, three MVP's, numerous accolades and three NBA Finals appearances, LeBron James finally has his ring.
The NBA's best player finally has the hardware to match his otherwise perfect resume. The King finally has his crown.
But LeBron James and the Heat will not be satisfied with just one championship. After all, it was James who infamously proclaimed that he, Dwyane Wade and Chris Bosh got together for not one, not two, not three, not four, not five, not six, not seven championships.
The Heat are currently the most talented team in the league, but during the next offseason Pat Riley and co. can make this team unstoppable.
Here are five things the Heat should consider doing to repeat as champs.
Begin Slideshow

»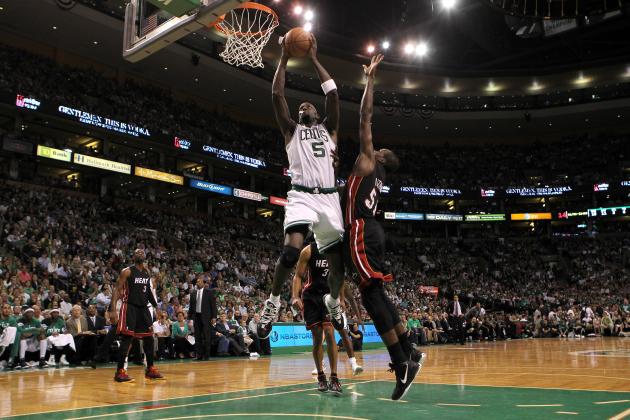 Jim Rogash/Getty Images
Joel Anthony routinely came up short for the Heat
Joel Anthony will be making $3.8 million next season, far too much money for someone who didn't contribute in the playoffs.
While Anthony has had his moments and is an above average defender, he provides absolutely nothing else for the Heat.
With Udonis Haslem and Chris Bosh able to play center far better and the Heat favoring smaller lineups with LeBron James at the power forward position, Joel Anthony is a luxury the Heat can't afford.
With the new CBA expected to knock down the cap a little, the Heat could use the money used on Anthony to sign some much needed depth or a rookie free agent or two.
The best move would be to somehow trade Anthony away for a lower round pick. Getting Anthony's contract off the books will be more important than receiving much compensation.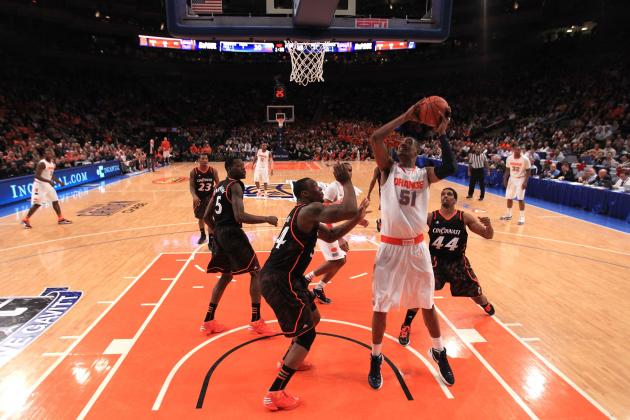 Chris Trotman/Getty Images
Melo provides height and rebounding
Perhaps the Heat's biggest weakness was their lack of a true big man. This weakness was repeatedly exploited by Kevin Garnett and the Celtics in the Eastern Conference Finals until Chris Bosh returned from injury and somewhat evened out the battle.
Outside of Bosh, the Heat's primary big men were Udonis Haslem and Joel Anthony, both of whom are 6' 9'' with limited athleticism.
Haslem, and in particular Anthony, were abused in the post and on the boards by an array of 7 footers.
It is for that reason the Heat should attempt to trade up in the NBA Draft for Syracuse big man Fab Melo.
With Melo expected to be drafted around the 18th-22nd spot in the draft, and the Heat owning the 28th overall pick, the Heat should be able to trade that pick plus money considerations to get Melo.
Melo who stands over seven feet will provide the rebounding and shot blocking that the Heat will need moving forward.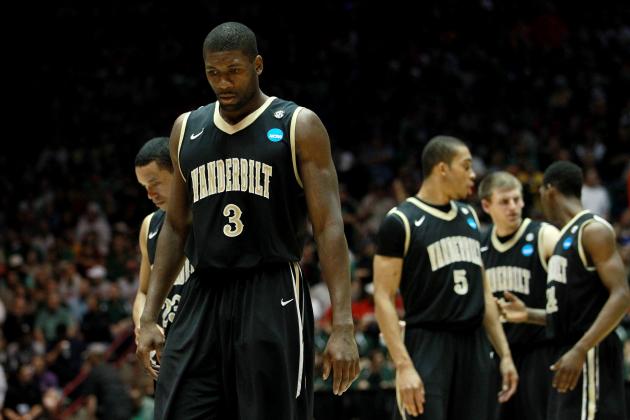 Ronald Martinez/Getty Images
Ezeli's rebounding and defense would be a great addition
Just like the previous slide said, the Heat need a seven footer on the team who can rebound and block shots. IF they miss out on Melo, they should look at Festus Ezeli.
Ezeli is very much like Melo, albeit without much of the hype. The seven foot Ezeli will come out as a senior from Vanderbilt and he brings with him terrific athleticism, as well as excellent mobility and shot blocking ability.
ESPN's Chad Ford has him getting drafted in the late 20's to early 30's in the draft, exactly where the Heat are.
If he is available, Miami should jump at the chance and draft him.
With Chris Bosh most likely to remain as the starting center, Ezeli can be eased into the role and be allowed to do what he does best.
Rebound and block shots.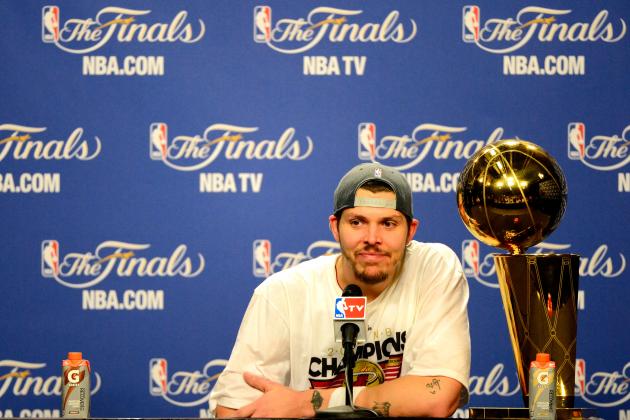 Ronald Martinez/Getty Images
Miller's all time game 5 should be his last for Miami
Mike Miller just had arguably the game of his life, nailing seven of eight three-point attempts in the close out game against the Oklahoma City Thunder.
Miller did precisely what he was brought into do for the Heat—namely space the floor for LeBron and Wade, and hit open jumpers.
Unfortunately for Miller, injuries have derailed his time in Miami and they have affected him so much that, according to sources, he is considering retirement.
And despite what he just did the Heat should encourage that motion.
Miller is still under contract for $6.2 million and $6.6 million over the next two years, something that the Heat shouldn't be spending on a part time player who is frequently injured.
With that kind of money off the books the Heat can sign a legitimate player who would be able to contribute in multiple ways as well as provide minutes and depth.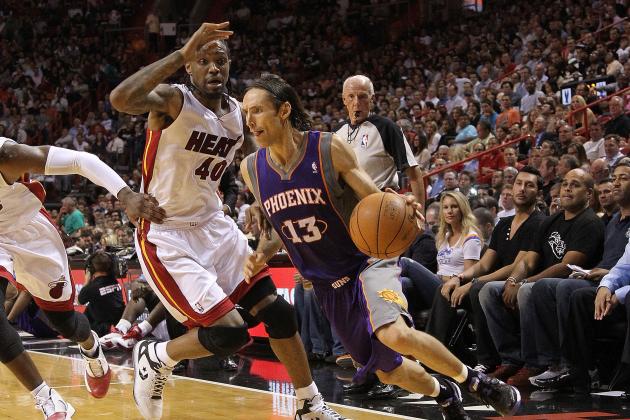 Mike Ehrmann/Getty Images
Nash's playmaking would stabilise the Heat's offense
In the previous slide I said the Heat should use the money saved from Mike Miller's contract and go after a legitimate player.
That player should be Steve Nash.
While Mario Chalmers and Norris Cole provided some great highlights during the playoffs, neither of them have shown any real form of consistency. While Cole should perhaps receive a pass due to him being a rookie in a season without a preseason, Chalmers simply hasn't been the right guy for the Heat.
It has become a common sight during Heat games to see LeBron or Wade screaming at Chalmers for making yet another mental error. Other common occurrence for the Heat is the stand around offense, with no movement, no screens and just isolation plays from James and Wade.
Having a veteran point guard would solve all of these problems and Steve Nash would be the perfect player for the job.
Nash, who is looking for a chance to win a ring would do well in South Beach and I expect he would get the best out of Chris Bosh as well, running the same kind of pick plays he ran with Amar'e Stoudemire in Phoenix.
Nash would have to take a pay cut, but the reward of a championship should make up for that.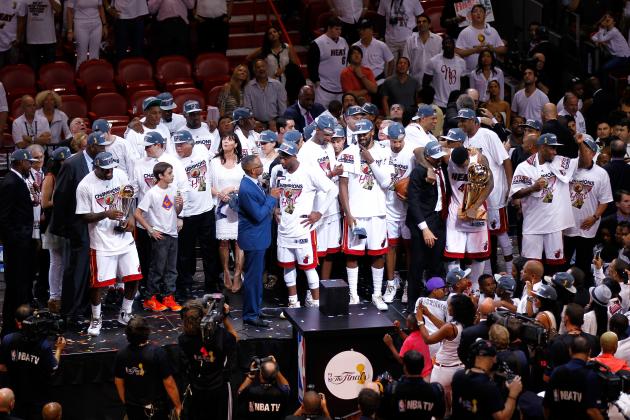 Mike Ehrmann/Getty Images

Comments?
Better Solutions?
Thanks for reading