NBA Free Agents 2012: 10 Teams That Will Make a Huge Mistake This Offseason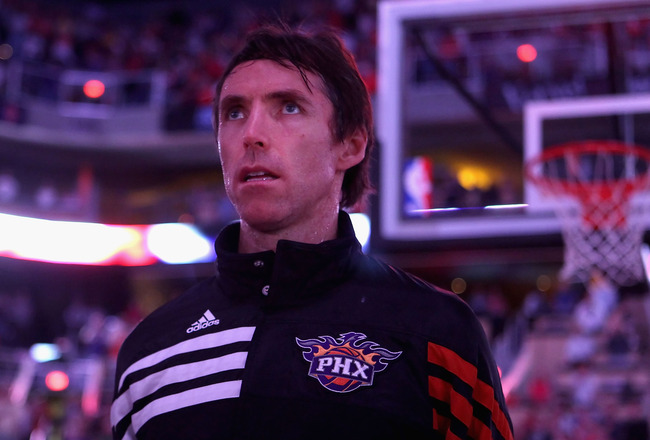 Christian Petersen/Getty Images
The 2012 NBA season has officially concluded. The Miami Heat have topped the Oklahoma City Thunder in the NBA Finals and emerged with the franchise's second-ever NBA championship.
In the process, LeBron James has ended his status as an NBA memes favorite.
To hit the ground running, the greatest opportunity to evaluate what the 2012-13 NBA season will bring is via the potential moves made in free agency. With a deep crop of potential starters, each and every team is going to weigh its options, and a select few will shape the landscape of the NBA with their decisions.
The question is, who will make the wrong decision when they pull the trigger? The following slides will tell you just that.
Boston Celtics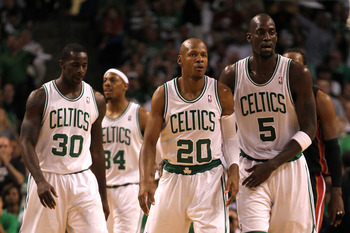 How Danny Ainge handles Allen, Bass and Garnett will be pivotal to Boston's future.
Jim Rogash/Getty Images
Danny Ainge has one of the stronger track records among general managers in the NBA. Regardless of that fact, he and no one else could possibly prepare for an offseason as momentous as the Boston Celtics are poised to face.
Ainge will be poised with a serious question off the bat: what is the right decision to make about Ray Allen and Kevin Garnett?
On one hand, Allen remains one of the best jump shooters in the game. Garnett, meanwhile, was the most consistent player on the floor in every one of the Celtics' postseason series in 2012. On other hand, however, they are two aging players whose style of play may not best fit the open court dynamo Rajon Rondo.
Once that decision is made, Ainge will be faced with another key choice: should he pursue Brandon Bass if he declines his player option?
As nice as it would be to see the Boston Celtics start anew, I don't believe they will. At least one of the Allen-Garnett connection will return, and at this point, I'd guess both will return.
Taking some losses to build for the future is the right move. It's just not a move that the Boston Celtics feel capable of making.
Brooklyn Nets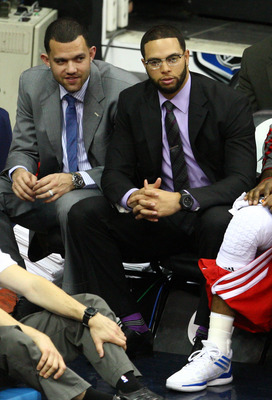 Losing Deron Williams should be the least of the Nets' concerns upon evaluating Billy King's complacent plan.
Chris Chambers/Getty Images
Coming off of a season in which the Brooklyn Nets finished with a disappointing record of 22-44, general manager Billy King has promised improvements. The issue is, King is setting himself up for the same old disaster.
According to Stefan Bondy of the New York Daily News, King plans on targeting four players: Brook Lopez, Deron Williams, Gerald Wallace and Kris Humphries. You know, the same cast that brought the Nets nowhere quickly.
One could argue, though, that the group has never spent a full season together, as Lopez has spent significant time on the sideline due to injury and both Deron Williams and Gerald Wallace were mid-season acquisitions. Nevertheless, this talented group is far from championship caliber.
If you plan to win now, begin by signing players with a history of winning.
Houston Rockets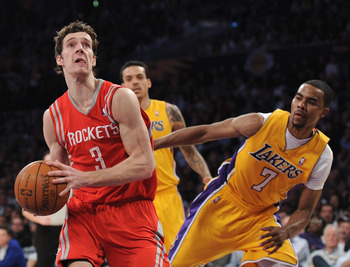 Goran Dragic may not be the only point guard that Houston loses this offseason.
Harry How/Getty Images
Franchise point guard Kyle Lowry doesn't want to play for head coach Kevin McHale. Reserve and breakout point guard Goran Dragic is poised to hit free agency. Samuel Dalembert remains the best option at the five. Luis Scola saw a dramatic decline in production from 2011 to 2012.
And in all likelihood, the Rockets will do nothing but look to the draft for answers. After all, middle-of-the-first-round draft choices always pan out.
Just ask Alexis Ajinca.
At this point, the best thing that the Rockets could do is execute a trade that brings in their first star player since Yao Ming and Tracy McGrady—two of the worst postseason performers of all time. Should they fail to do so, the Rockets will be stuck in the same pattern as a year ago.
Only worse, as Kyle Lowry and/or Goran Dragic end up elsewhere.
Indiana Pacers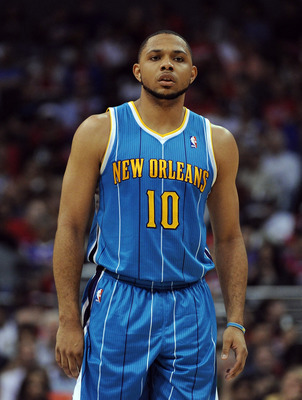 Could Eric Gordon cause Roy Hibbert to walk?
Harry How/Getty Images
One of the most popular free agency scenarios is that of the Indiana Pacers signing restricted free agent Eric Gordon. The reasoning is hometown related, as Gordon is from Indianapolis, Indiana and attended Indiana University.
For PR and on-court production on the offensive end, it doesn't get much better.
Unfortunately, the Pacers are going to make a decision that will alter the franchise entirely. Should they pass up on Eric Gordon, they'll have the necessary funds to retain Roy Hibbert and continue to dominate on the defensive end. They'll also continue to struggle to score points of their own.
Should the Pacers sign Gordon, those offensive woes would likely disappear. The Pacers would, however, find themselves in a situation in which they may not be able to re-sign Roy Hibbert. To lose their anchor would be to lose their status as an elite Eastern Conference team.
Assuming the Pacers orchestrate deals in which they land both Gordon and Hibbert, this now creates a question that very few have wanted to answer: what would come of the combination of Paul George and Danny Granger? In all likelihood, one of those men would be moved.
One way or another, the Pacers are going to make a decision that could have an uncertain effect on their championship chances.
Los Angeles Lakers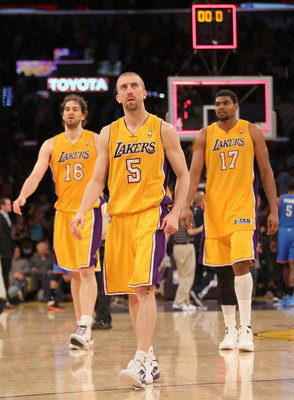 Steve Blake is the guy who spreads the floor for Bynum and Gasol. Seriously.
Stephen Dunn/Getty Images
There is a genuine misconception in the land of the Los Angeles Lakers. Fans and analysts alike believe that the No. 1 target for the Los Angeles Lakers must be a point guard.
It should not. The No. 1 target for the Los Angeles Lakers should be the one thing that they've lacked for three years running: a three-point shooter.
When your team is built around two low-post scorers, it's pivotal that you stretch the floor. While one might assume that the Los Angeles Lakers are aware of such a fact, they appear not to be. In fact, the best three-point shooter they've attempted to sign in 2012 was Jason Kapono—a player who saw the floor for an average of 10.0 minutes per game while shooting 29.6 from distance.
If the Lakers do not add three-point shooters, they stand no chance of executing their offense in a seven-game series.
That if just so happens to be a when, as history often dictates the future.
Memphis Grizzlies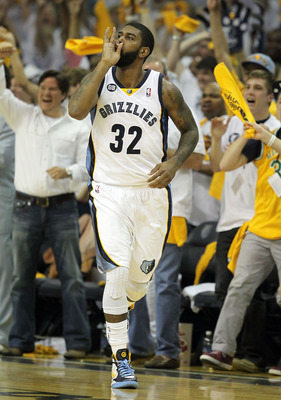 Losing O.J. Mayo would be a crushing blow to the Memphis Grizzlies.
Andy Lyons/Getty Images
O.J. Mayo has become one of the hotter names on the free-agent market. The 2009 first team All-Rookie member remains one of the better volume scorers in the NBA, something the Grizzlies value at a position where defensive-minded Tony Allen is their next best option on O.
What's important to note about Mayo is that he's more than just a scorer. At this point in time, Mayo is the Grizzlies' primary ball handler when Mike Conley Jr. is on the bench. Unless the Grizzlies sign or draft both a point guard and reliable scoring 2-guard, the loss of Mayo would be devastating.
Considering Mayo's stock is reportedly on the rise, this could rule Memphis out as a contender for re-signing him.
Miami Heat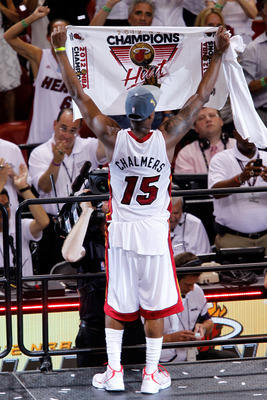 Mario Chalmers got himself a ring! Will he now lose his starting job?
Mike Ehrmann/Getty Images
According to Chris Tomasson of FOX Sports Florida, the Miami Heat are likely to pursue veteran point guard Andre Miller. While his presence would certainly be beneficial to the Heat's overall quality of play, it's hard to find logic in signing a potential starting point guard after both Mario Chalmers and Norris Cole burst onto the scene in the 2012 NBA Playoffs.
Miller's calm demeanor and tamed but productive game would certainly offer the Heat a change of pace from Chalmers and Cole's often erratic style of play. It would also alienate two of the better young point guards in the league, however, which may be just as detrimental as Miller's presence is beneficial.
The Miami Heat can win with the point guards they have now, the fact that they just did it is proof enough. Signing Andre Miller may just help secure another ring, but is it really worth losing the players who could play the point for you for the next half-decade?
Oklahoma City Thunder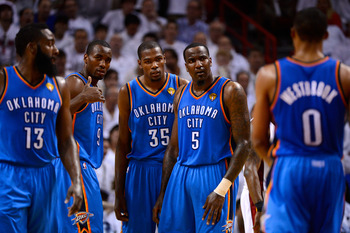 The Thunder have just two of their core players under contract for the long haul.
Ronald Martinez/Getty Images
Kevin Durant and Russell Westbrook are set to be members of the Oklahoma City Thunder through 2016. Unfortunately, two other key pieces are eligible for free agency after the 2012-13 season.
Reigning Sixth Man of the Year James Harden is set to become an unrestricted free agent after this coming season. The league's leading shot blocker, Serge Ibaka, is set to become a restricted free agent at the same time and an unrestricted freebie after 2014.
Even Thabo Sefolosha is approaching his contract year.
The unfortunate truth is that the Oklahoma City Thunder are unlikely to be able to retain their high-profile pieces. Both Ibaka and Harden play positions in which the demand is at a constant high, and at just 22 years of age, both have limitless potential.
While OKC will offer them the most money the team could afford to offer, it may not be enough.
The mistake that Oklahoma City will make this offseason is that it will not re-up its key players before they enter the season. The Thunder already have a contract situation with coach Scott Brooks, thus leaving their financial focus in places other than Harden and Ibaka's directions.
Orlando Magic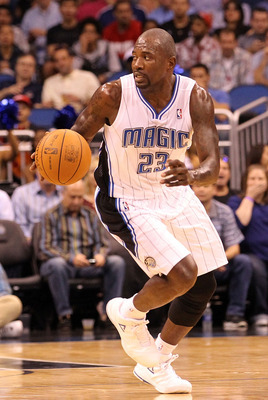 The Orlando Magic need a consistent scorer who can ease the workload for Dwight Howard. Jason Richardson is not that guy.
Sam Greenwood/Getty Images
Dwight Howard is one of the top-five players in the NBA. He's arguably the best two-way player in the game and has a history of postseason success.
With all of that being noted, the Orlando Magic have dug themselves a deep hole in which they cannot place anything around him due to financial constraints. The only way to overcome such a predicament would be to trade Jason Richardson and/or Hedo Turkoglu—two players who command far more money than they deserve; two players who will remain on the Magic's roster, regardless of what they need.
Phoenix Suns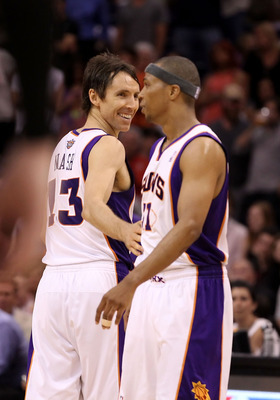 It's time for Steve Nash to leave the Phoenix Suns to the young guns.
Christian Petersen/Getty Images
Many have speculated where Steve Nash might end up. Once the smoke has cleared and the dust has settled, don't expect anything to change; Nash is going to remain in Phoenix.
While fans of the Suns may view this as a good thing, it's not. Nash is going to keep the Suns in gear and have them hovering around the eighth seed in the West as long as he's around. Unfortunately, the Suns are not built to maintain that level of success.
Whether they want to hear it or not, the Phoenix Suns are in need of a season that will land them a top-10 draft choice. Marcin Gortat and Markieff Morris will develop into a formidable frontcourt pairing, and the selection of a potential franchise player could truly turn the Suns around.
As long as Nash is in town, however, none of that will get done. The Suns will be a car stuck in drive with the emergency brake on.
Keep Reading