The LeBron James Era in the NBA Has Finally, Officially Begun
June 22, 2012

Ronald Martinez/Getty Images
It is not an overstatement to think of June 21, 2012 as the night the NBA changed forever.
LeBron James is a once-in-a-generation type of player, but until he won his first title, the league could never be truly his.

The NBA is LeBron's now.

There are a lot of really good players who never won a ring. There are even a handful of historically great players who don't have a title, thanks in large part to Michael Jordan and the Bulls winning so many in the 1990s. There has never been a generation in the history of the NBA where the best players did not win a championship.
From George Mikan to Bill Russell to Wilt Chamberlain to Magic Johnson to Larry Bird to Michael Jordan to Tim Duncan to Shaquille O'Neal to Kobe Bryant, and now, to LeBron James, the NBA has been built on the backs of historically great champions.

After nine years in the NBA and three trips to the Finals, LeBron James has at long last joined that list.
Immediately after the final horn sounded on the Heat's championship season, ESPN's Doris Burke asked James what it felt like to finally be a winner.
"It means everything. I made a difficult decision to leave Cleveland, but I understood what my future was about. This is a dream come true for me. I've been through a lot the last two years, but this is definitely the way that it pays off," James said emotionally.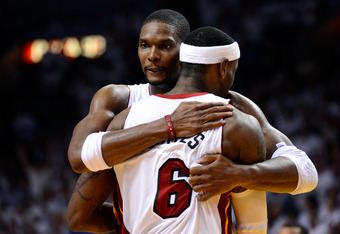 Ronald Martinez/Getty Images
James lauded his teammates, as well he should, given the fact that a team supposedly constructed without any go-to role players seemed to find someone night after night to help carry the big three of James, Dwyane Wade and Chris Bosh to victory.
Early in the series, it was Shane Battier. In Game 4, it was Mario Chalmers. In Game 5, inexplicably, it was Mike Miller.
As well as the Heat played as a team, this title really isn't about Miller or Chalmers or Battier. To some extent, this title really isn't even about Wade or Bosh, either. When James made the decision (sorry, Decision) to leave Cleveland for Miami, the road to that first title would forever be about him.
Until now, a series of failures defined his legacy; his career marred by shrinking in the clutch. James helped lead the Heat to the NBA Finals last year, and people were suggesting the Miami experiment was already a failure. One year later, the same arena was filled with confetti.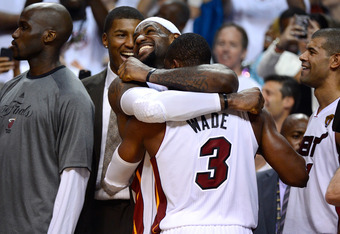 Ronald Martinez/Getty Images
The Heat defeated the Oklahoma City Thunder, 121-106, in a clinching game that was so lopsided in the second half that James and Wade spent the last four minutes celebrating on the bench.
James recorded a triple-double in the game—leading the Heat with 26 points, 13 assists and 11 rebounds—and it seemed almost too easy for him.
All the pressure was gone. All the tension and anxiety and stress of winning a championship had dissipated. James, who seemed to mature both on and off the court this season before our very eyes, got his chance to celebrate on the bench and soak in this moment.
The NBA is now his.
We knew it would happen at some point, but the longer it took James to win his first NBA title, the more pressure he had to feel. Year after year, series after series, Finals after Finals, James needed to win the title to shed the bugaboo of not being "clutch" enough.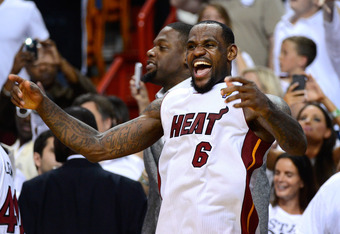 Ronald Martinez/Getty Images
James needed to prove that "King James" wasn't just a high-school nickname anymore. It was an NBA reality.

It is hard to believe the league went from starting with such a dreadful lockout to culminating in a fantastic finale between two of the game's best players.
In a way, it's harder to believe James is the new king. It's exciting to realize that while James is finally on top of the NBA, Kevin Durant's journey to usurp him has just begun.
Nothing will be the same from this day forward. Some may not like it (or like him), but the NBA couldn't be in a better place with James as king.