Thunder vs. Heat: NBA Finals Game 5 Recap, Highlights and Analysis
June 22, 2012

Mike Ehrmann/Getty Images
Finally, the haters are silenced—well, at least the ones who had any basketball-related criticism for LeBron James. The King (yeah, feel free to call him that) lead his team to a 121-106 victory in Game 5 and an NBA championship over a talented but undercooked Oklahoma City Thunder team.
They will be back, but this is James and the Heat's time.
LeBron messed around and got a triple-double: 26 points, 11 rebounds and 13 assists. He was the unanimous choice for NBA Finals MVP; anymore questions?
That said, he got plenty of help, Mike Miller must have found Bradley Cooper from the movie Limitless and copped him a double-dose of NZT because he was on fire from three-point range.
I'm kidding about the fictional NZT but not about Miller from deep. He made seven three-pointers and scored 23 points as the Heat were just too much. Dwyane Wade had 20 points, eight rebounds and three blocks, while Chris Bosh had 24 points and seven rebounds.
Kevin Durant had another strong scoring game with 32 points. He even rebounded Thursday night with 11 boards, but James would not be denied.
Russell Westbrook played hard as usual, but he was only 4-of-20 from the field. He did score 19 points, but 11 of them came from the free-throw line. James Harden showed up, but his quiet 19 points were not a factor.
Let's take a closer look at how LeBron got his ring:
The Numbers
Heat Three-Point Shooting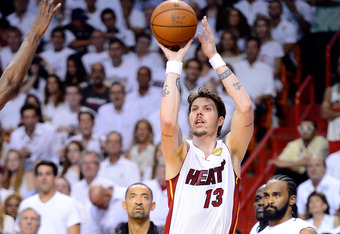 Ronald Martinez/Getty Images
Miami was unconscious from deep. They were 14-of-26 from beyond the arc—that's just under 54 percent. When you shoot the three like that, it's nearly impossible to lose.
Rebounding—Miami 41, OKC 38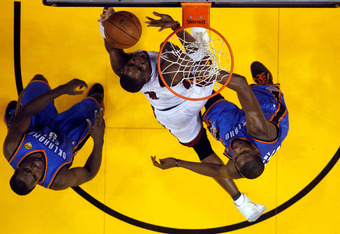 Pool/Getty Images
If you've followed my recaps, I sound like a broken record on this stat. Miami again out-rebounded the Thunder; this time it was 41-38. That was a much smaller margin, but when you're lights out from deep, there aren't as many rebounds.
Thunder Field Goal Percentage—41.4 percent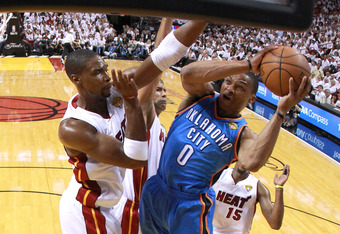 Ronald Martinez/Getty Images
The Heat did a much better job closing down the lane, and they held the Thunder to a low shooting percentage. OKC got to the line, but most every bucket they scored was a difficult one.
Moments of Sickness
Before the Heat's onslaught. Durant threw down this sick jam on a baseline drive:

The alley-oop from Mario Chalmers to Dwyane Wade was a pretty play. This was vintage Wade with the body control and finish:
The Turning Point
It was in the third quarter when the Heat blew the game wide-open. They had a double-digit lead most of the second quarter, but in the third the stadium employees started getting the champagne ready.
This run is what did it:
Twitterage
Why do so many people love Durant? This is why, he's a straight class-act:
Kevin Durant on LeBron James: "Hopefully, we can get a gold medal together this summer."

— Alex Kennedy (@AlexKennedyNBA) June 22, 2012
I truly hope that no one tries to do to him what people did to Bosh last year. Durant cried in the tunnel after the Thunder lost. Bosh was blasted and ridiculed for becoming emotional last year when the Heat fell short.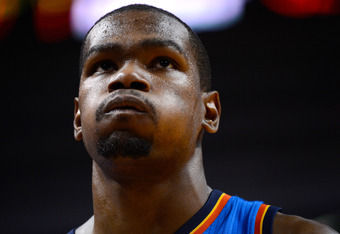 Ronald Martinez/Getty Images
They competed, they lost and it hurt.
If you've ever been involved in athletics and had that feeling, you know what Durant was feeling this year and what Bosh was feeling last year.
The Beast
Mike Miller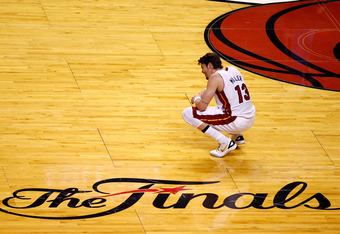 Mike Ehrmann/Getty Images
LeBron was clearly the Finals MVP, but Miller's performance turned this into a blow-out. His barrage from three-point range was amazing, timely and good to see for a guy playing in so much pain.
Next Up
A parade in South Beach.
For the gloves off-image recap of last night's game, click here
Follow Brian Mazique and Franchiseplay.net for reactions, analysis and news from the world of sports and sports video games.