NBA Finals 2012: How Small Ball Helped the Miami Heat Win the Championship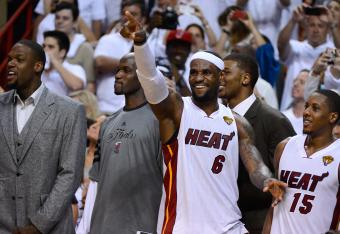 Ronald Martinez/Getty Images
Unless you are living under James Harden's beard, you know the Miami Heat have won the NBA Championship.
This is not a joke. I repeat. Not a joke.
In all actuality, LeBron James did not get his first ring last night. LeBron actually used one of Saturn's rings as a headband.
LeBron James elevated his game to unprecedented heights. Not only did he elevate his individual game, but also his teammates' games as well.
His unselfishness and passing skills were key components to the Heat's title run.
Mike Miller, Mario Chalmers and Shane Battier were the primary beneficiaries of these highly underrated qualities. Chalmers, Miller and Battier utilized their shooting abilities to terrorize the Thunder's defense.
All of this was done despite Dwyane Wade and Chris Bosh not playing at the superstar level they are normally accustomed to.
However, Chris Bosh's return after 65,000,000 years gave the Heat a much-needed boost down low.
Ultimately, no analysis can neglect the tremendous heart the Heat showed when their backs were against the wall. Their heart was the main reason why they won.
Biggest Contributor to Heat's title run?
At the end of the day, one man was a critical contributor to the Heat's title.
David Stern.
Stern is an incredible visionary.
He created spectacular drama and terrific ratings by forming a polarizing team in the Miami Heat and causing a contentious lockout that nearly wiped out this season.
All joking aside (otherwise I'd get fined), Erik Spolestra is the unsung hero in this championship run.
Did I just say all joking aside?
Just a week ago, Spolestra's seat was about as hot as a metal seat in the heart of the unforgiving swamp known as the Everglades!
Now, he has vindicated his much-maligned coaching career by getting a ring. Getting a ring makes you untouchable.
Spolestra's decision to go small really helped the Heat win the championship. The tactic played to their strengths while hiding their weaknesses (and hairlines).
Initially, small ball was a necessity rather than a choice with Chris Bosh's injury. It did not work out well when Pacers big man Roy Hibbert terrorized the Heat's anemic frontcourt.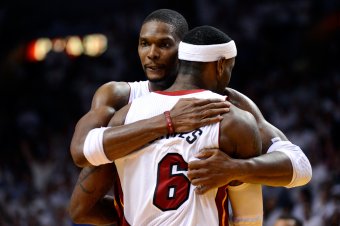 Ronald Martinez/Getty Images
Small ball played to the offensive and defensive strengths of the Miami Heat in the Finals. This article will delve into why it helped the Heat win it all.
Why Small Ball Benefited the Heat's Offense
The Heat's strength is their electric fast break. Increasing the total speed in the lineup made their fast break that much better.
LeBron James and Dwyane Wade are virtually unstoppable in the open floor. Mario Chalmers and Chris Bosh are no slouches on the break either.
This is not unlike Genghis Kahn's strategy of world domination: Spread the playing field with their incredible speed, then exploit the weaknesses.
Erik Spolestra must have learned under Kahn's tutelage because the Heat's strategy during the NBA Finals was highly similar to that of the Mongols.
Everything changed when the Heat moved Udonis Haslem to the 5 during the Pacers series. It gave the Heat three legitimate shooters to space the floor for LeBron and Wade.
Chris Bosh's return only made the Heat's smaller lineup stronger.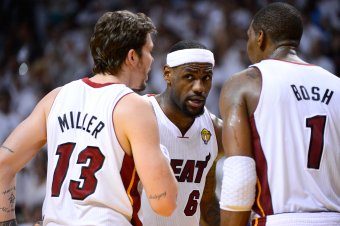 Ronald Martinez/Getty Images
Floor spacing caused opposing defenses to stretch out their help defense on the shooters. In turn, this allowed LeBron to attack the rim with reckless abandon.
In short, floor spacing, aided by small ball, was the main component of the Heat's improved offensive play. All the great offensive teams emphasize spacing to exploit defenses in not just basketball, but football and soccer as well.
Speaking of defense...
Why Small Ball Helped the Heat's Defense
The Heat's defense is predicated on containing dribble penetration with their tremendous closing speed. Their speed allows them to close out on shooters and play quality help defense.
It also allows them to quickly cover any mistakes the team might make. It does not allow them to quickly cover LeBron's hairline.
LeBron James was too worn out to guard the opposing teams' best player for 48 minutes. This was evident when he often could not handle the burden of guarding Paul Pierce while carrying the Heat's offense minus their pet dinosaur.
Are you happy the Heat won?
This allowed LeBron to take his talents to decimating the opposition on offense. Shane Battier's terrific defense on Kevin Durant gave the Heat the flexibility to use LeBron as a roamer on defense.
In short, small ball saved the Heat from utter failure. Now, they are champions.
Yes. LeBron James has a ring in the year the world is supposed to end.
Well done Mayans. Well done.
Follow me on twitter and become a fan.
Thanks for reading!
This article is
What is the duplicate article?
Why is this article offensive?
Where is this article plagiarized from?
Why is this article poorly edited?

Oklahoma City Thunder: Like this team?