NBA Finals: A Bitter Outsider's Perspective on the NBA Champion Miami Heat
June 22, 2012

Mike Ehrmann/Getty Images
I know there will be thousands of tweets, blogs and articles written about the title run by the Miami Heat that concluded tonight in Miami.  I am sure many people closer to the situation with a more insider viewpoint will write about the champs.
Sometimes, though, a view from an outsider is refreshing.  The average basketball fan doesn't have press credentials or sources in the locker room. The average basketball fan doesn't know any of the players personally.  The average basketball fan did not want the Heat to win.
I may not be an "average" fan by most standards.  I have been known to be pretty fanatical.  I have the NBA League Pass.  I went to a few NBA games this season in a couple different cities, including Game 4 of the Pacers/Heat series in Indiana.  But I am an average 26-year-old guy who loves basketball, and this sucks.
I'm not even mad that LeBron finally got his ring.  He earned it.  Cleveland sure is mad.  That city will be in a deep depression for a while.  The first place Indians and Brandon Weeden mean little to that city tonight.
I'm not mad at Wade.  He may be getting more whiny and "floppy" every game, but that's how he plays now, and so be it.
I could care less that Chris Bosh got a title.  Toronto still hates him about as much as Cleveland hates LeBron, but I don't live in Toronto. It doesn't really bother me.  I think Chris Bosh is a character and I get a kick out of him.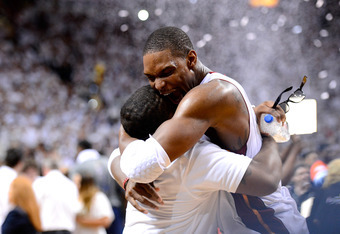 Ronald Martinez/Getty Images
I even kind of like Erik Spoelstra.  He has a very unappreciated job.  It may not be a "hard" team to coach, but it has to be stressful.  I am sure people will say, "what did Spoelstra really do?  Roll the ball out there?"  If you think that, maybe you should re-evaulate the whole "Phil Jackson is the greatest coach ever" theory.  But that is an argument for a different time.  Spoelstra always took the blame and the bullet when the Heat played bad.
The thing that makes me the most mad?  That Heat fans get this celebration while the average basketball fan is depressed.
Heat fans?  They didn't exist 24 months ago.  Sure, they did in South Beach.  At least for the second and third quarters, when nothing else was happening downtown.  I went to a game there two years ago against Atlanta.  It was as empty as, well, a Marlins game.
Heat fans just simply did not exist north of Orlando.  People throughout the United States were not Heat fans unless they had a family member on the Heat, had moved somewhere else from Miami, or loved the likes of Rony Seikely, Matt Geiger and Harold Minor.
The typical response is "I'm a LeBron fan."  Really?  Why?  Why would you cheer for him to win a title?  I am far from a vile LeBron hater.  I think he handled "The Decision" all wrong, but so does everybody.  I don't hate him.  But, how can you like him more than any franchise and consider yourself an NBA fan?
Regardless of if you think he should be hated, you have to admit he did quit on the Cavs.  He did make a spectacle of taking a dump on the city of Cleveland.  They did hold a championship-like celebration before they ever played a game together.
I didn't lose sleep over any of it, but how can that be endearing?  How can you cheer for this bunch that essentially said "Well, if we can't win on our own, let's join forces." How do you abandon whatever team you have cheered for in the past to cheer for the Heat the past two years?
You didn't grow up cheering for the Heat.  Unless, again, you are from Miami, or you are only two years old.
Congratulations to the Heat.  LeBron had a dominating playoffs.  Chris Bosh proved his worth when he returned from injury.  Wade had some magical games. The role players stepped up big time this series.
They deserved to win.
But.
Don't tell me you love the Heat, or you love LeBron, and try to talk trash to fans of the other 29 teams.  I hate the Bulls.  I hate the Lakers.  I hate the Celtics.  But at least those teams have had a following for years and years.  The Heat haven't.  Although, I am sure many angry comments will say otherwise.
It just doesn't seem right that a team with three stars built through a summer of free agency can defeat a team build through the draft, trades, and player development.  As a basketball junkie, it just doesn't seem right.
But, alas, they did win.  And to make matters worse, in a way, they deserved to win.  The Heat were the best team in the NBA over the last month.  I am admitting it for all the Heat-haters who do not want to admit it.
The Heat won.  If you are a true Heat fan, from Miami or otherwise, then I truly congratulate you on a wild season and an NBA Championship, but I think even true Heat fans will agree, their fan base has grown times a thousand recently.  It makes me feel bad for real Heat fans, because most people won't believe they really were fans before the "Big 3."  But, if you were, enjoy the summer as Champions.
To the people who are not long-term Heat fans, celebrate if you must, but don't rub in in the face of other NBA fans of other teams.  It will look bad when the next super-team you cheer for wins and you do it again. 
I think I need a drink.  Maybe just a nap, until next November when the season tips off again.