UFC 147 Weigh-In Results for Wanderlei Silva vs. Rich Franklin Fight Card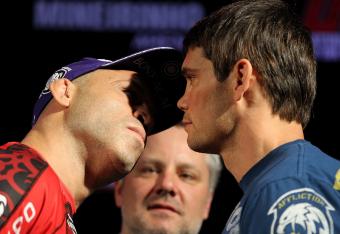 Josh Hedges/Zuffa LLC UFC via Getty Images

Less than 24 hours after UFC on FX 4 wraps up from the Revel Casino in Atlantic City, N.J., the UFC will present UFC 147 from Estádio Jornalista Felipe Drumond in Belo Horizonte, Brazil. The Brazilian card will be headlined by a catchweight bout between former Pride champion Wanderlei Silva and former UFC champion Rich Franklin.
Silva (34-11-1-1) and Franklin (28-6-0-1) have met in the past with Franklin taking home the unanimous decision victory at UFC 99.
In addition to the Silva versus Franklin rematch, the winners of The Ultimate Fighter: Brazil will be decided on the pay-per-view portion of the card.
Also featured on the main card will be a heavyweight contest between Fabricio Werdum and Mike Russow.
UFC 147 full weigh-in results

Rich Frankin (190) vs. Wanderlei Silva (188)
Cezar Ferreira (184) vs. Sergio Moraes (185)
Rony Mariano Bezerra (146) vs. Godofredo de Oliveira (145)
Mike Russow (248) vs. Fabricio Werdum (246)
Yuri Alcantara (146) vs. Hacran Dias (146)
Rodrigo Damm (146) vs. Anistavio Medeiros (146)
Francisco Drinaldo (183) vs. Delson Heleno (185)
John Teixeira (150)*vs. Hugo Viana (145)
Leonardo Mafra Teixeira (182) vs. Thiago de Oliveira Perpetuo (184)
Marcos Vinicius Borges Pancini (146) vs. Wagner Campos (145)
Felipe Arantes (146) vs. Milton Vieira (146)
*Will have two hours to drop four pounds.
The main event weigh-in is next, as Rich Franklin and his haircut take the stage. A smiling Franklin tips the scale at 190 for this catchweight bout. Wanderlei Silva enters the arena to a loud round of applause, no surprise there and he weighs in at 188.
Silva takes his time getting to the staredown, downing a post weigh in drink before donning his shirt and making his way across the stage.
Franklin acknowledges that the fight will be a tough rematch.
Silva says he looks forward to winning tomorrow night for Brazil.
Next up is the middleweight final of TUF Brazil. Sergio Moraes tips the scale at 185, while his opponent Cezar Ferreira comes in at 184.
Another staredown that nearly comes to blows, but you could see this one coming, so it's quick to be separated.
Onto the featherweight final of TUF: Brazil. First up we have Rony Mariano Bezerra who comes in at 146. His opponent Godofredo de Oliveira comes in at 145.
Mike Russow is the first fighter to hear any kind of boos from the crowd as he steps onto the scale at 248. His opponent, Fabricio Werdum, receives the opposite treatment as he checks in at 246.
On to the main card, Hacran Dias first to the scale and he comes in at 146, his opponent, Yuri Alcantara comes in at the same weight. Nothing spectacular during this staredown, ends with a hug.
Alcantara the second fighter to come to the stage draped in a flag that just lets it fall to the ground.
Final fight on the preliminary card and first up is Rodrigo Damm, who checks in at 146. Anistavio Medeiros takes to the stage and he to comes in at 146.
Interesting staredown, starts with a handshake and gets very close to fisticuffs as Burt Watson comes in to settle things down.
First to the scale for the next bout is Francisco Drinaldo, who comes in at 183. His opponent, Delson Heleno checks in at 185.
Joe Silva has to give the fighters two reminders to break the staredown.
Next up is Hugo Viana who comes in at 145, while his opponent John Teixeira tips the scales at a 150, which is just a bit overweight. Teixeira has two hours to drop four pounds...good luck with that.
On to the FX card. First up is Leonardo Mafra Teixeira and he checks in at 182. His opponent Thiago de Oliveira Perpetuo comes in at 184.
Wagner Campos is next to the scale and he comes in at 145. To say that he is excited, well, that's an understatement. His opponent, Marcos Vinicius Borges Pancini comes in at 146.
Joe Rogan gets things started by saying "Arianny Celeste, fresh out of jail."
Milton Vieira is up first and the crowd noise is damn loud, Vieira comes in at 146. Felipe Arantes makes his way to the scale and he comes in at the same weight.
This article is
What is the duplicate article?
Why is this article offensive?
Where is this article plagiarized from?
Why is this article poorly edited?