Twitter Explodes as LeBron James and Miami Heat Are Crowned NBA Champions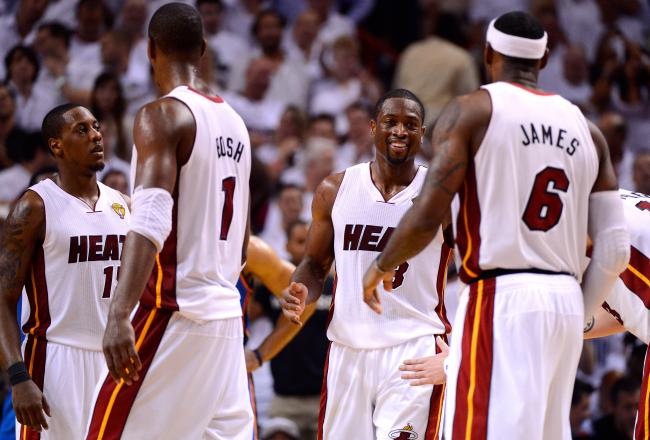 Ronald Martinez/Getty Images
LeBron James has finally won his first NBA championship, and Twitter is on the verge of experiencing a system overload because of it.
The Twitter-verse has blown up after the Miami Heat trounced the Oklahoma City Thunder by a score of 121-106 in Game 5 of the NBA Finals to win the best-of-seven series 4-1.
Here are the best tweets pertaining to this historic Heat victory.
Bob Wojnowski of the Detroit News offered his insight:
It's pretty clear the LeBron "hate" actually was helpful. It matured him. It fueled him. He deserved criticism and he answered. Good for him

— Bob Wojnowski (@bobwojnowski) June 22, 2012
LeBron dominated this one, as noted by ESPN's Brian Windhorst:
LeBron has triple double, 8th of postseason career. First player since Magic to do it twice in Finals.

— Brian Windhorst (@WindhorstESPN) June 22, 2012
The Honey Badger joined in on the party to get his kicks:
KING JAMES!!!! Haha at you haters!!!

— Tyrann Mathieu (@TM7_Era) June 22, 2012
Mike Miller scored 23 points, went 7-of-8 behind the arc and played just 23 minutes, impressing InsideHoops.com:
Mike Miller's like a 50-year-old Larry Bird out there! #HEAT

— InsideHoops.com (@InsideHoops) June 22, 2012
Bleacher Report's Chris Trapasso reminds us that LeBron isn't the only one getting a ring:
Looking like Juwan Howard's about to get a ring. Awesome. #Fab5

— Chris Trapasso (@ChrisTrapasso) June 22, 2012
You know something crazy happened when The Sports Guy is left speechless:
Triple double for LBJ... Fitting way to end it. What a run he just had these last few weeks. I'm kind of in awe.

— Bill Simmons (@sportsguy33) June 22, 2012
Too soon...just way too soon for that, Gabe Zaldivar:
Kevin Durant would appreciate it if you would all leave this game to go download Doodle Jump. #nbafinals

— Gabe Zaldivar(@gabezal) June 22, 2012
The fake Will Ferrell is almost as funny as the real one:
R.I.P LeBron James Ringless Jokes 2003-2012 😢

— Will Ferrel Parody (@FillWerrell) June 22, 2012
Had to make sure we included the obligatory Thunder tweet here, from The Oklahoman's Darnell Mayberry:
Thunder players hugging each other on the bench. Westbrook, Durant and Harden. It's as if they know they'll be back.

— Darnell Mayberry (@DarnellMayberry) June 22, 2012
LeBron ran roughshod on every team the Heat faced, as noted by Bleacher Report's Tom Kinslow. This can't come as a surprise to anybody:
This series was everything hoops fans wanted LeBron James to be, and it was a joy to watch. A virtuoso performance.

— Tom Kinslow (@TomKinslow) June 22, 2012
SportsCenter adds to this legendary postseason run:
#Heat: 1st NBA team ever to win title after trailing in 3 different postseason series via @ESPNStatsInfo

— SportsCenter (@SportsCenter) June 22, 2012
Kevin Durant appeared to shed a tear as he embraced his family in the tunnel following the game, as noted by Bleacher Report's Nicholas Goss:
Kevin Durant proved why he's the classiest superstar in sports and a true role model. #Thunder #Heat

— Nicholas W. Goss (@NicholasGoss35) June 22, 2012
You can find the photo of Durant's tearful embrace here:
The other side: Durant hugs his mom with tears in his eyes twitpic.com/9z46bc

— Bleacher Report (@BleacherReport) June 22, 2012
When will Skip Bayless put an end to his madness?
Finally.

— Skip Bayless (@RealSkipBayless) June 22, 2012
It took Bron Bron a while, but he finally got the ring he always desired (per Yahoo! Sports):
After nine NBA seasons, three Finals appearances and "The Decision," LeBron James is finally a champion --> yhoo.it/MxEpIN #FinalsChat

— Yahoo! Sports (@YahooSports) June 22, 2012
James absolutely owned the paint this series, says ESPN Stats & Info:
LeBron James dominated in the paint in this series. Here's a closer look at his shooting by area. yfrog.com/0jpyyvj

— ESPN Stats & Info (@ESPNStatsInfo) June 22, 2012
The monkey is off his back, the weight is now lifted off his shoulders—whatever you want to say, as Ernie Johnson observes, LeBron no longer has anyone to answer to:
If lebron stepped on a scale right now he'd weigh 73 pounds.

— Ernie Johnson (@TurnerSportsEJ) June 22, 2012
ESPN Stats & Info making sure nobody forgets how well LeBron played tonight:
Via #Elias- Triple-Double in title-clincher list-- LeBron James, Tim Duncan, James Worthy, Larry Bird, Magic Johnson (twice)

— ESPN Stats & Info (@ESPNStatsInfo) June 22, 2012
Just like a little kid:
LeBron James jumps around (with a Chris Bosh face in the background) GIF: ble.ac/La0etZ

— Bleacher Report (@BleacherReport) June 22, 2012
Talk about humiliation for Cavaliers owner Dan Gilbert:
Great NBA season. Enjoyed playoffs. Congratulations to Miami & OKC for an exciting Finals. Back to work on next weeks promising Cavs draft.

— Dan Gilbert (@cavsdan) June 22, 2012
This article is
What is the duplicate article?
Why is this article offensive?
Where is this article plagiarized from?
Why is this article poorly edited?