Colorado Avalanche: What's Next for Gabriel Landeskog?
June 21, 2012

Victor Decolongon/Getty Images
Gabriel Landeskog could get used to this.
Less than a year ago, Landeskog was the second name called in the 2011 NHL Entry Draft. On Wednesday, Landy stood in front of his peers in the bright lights of Las Vegas, cradling the Calder Memorial Trophy. Despite claiming his first piece of hardware at hockey's highest level, the Swede wasn't about to stray from humility. "I'm literally shaking right now," stated the latest Calder winner, who continued to say how he strives to improve every day. And finally, with a tearful sendoff, Landy dedicated the award to his late grandfather.
Do the Avs have a keeper or what?
Many are convinced this won't be the last time we see Colorado's young star on the podium. Maybe down the road, Landeskog will have Gary Bettman calling his name to receive a trophy, rather than Joshua Jackson.
Landeskog was tabbed by the majority of scouts as the most NHL ready player in the 2011 Entry Draft, but even his most devout critic would have doubted the prominence Landeskog displayed in his rookie campaign. He didn't just belong… he was a reliable force on Colorado's roster for all 82 games.
So what lies ahead for the reigning rookie of the year?
Ryan O'Reilly celebrated a breakout season and spurred thoughts of consideration for the Selke award. His dedicated two-way play made him arguably Colorado's best player in the first few months of the season. All things considered, Lando may already have a step on his teammate.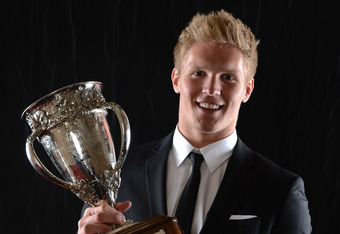 Harry How/Getty Images
O'Reilly saw plenty of action against opposing top lines and was a key piece on the penalty kill. His emergence probably made Jay McClement expendable to a certain extent.
The bearded, gap toothed 21-year old certainly deserves ample credit, but Landeskog possesses more skill and ability. Lando didn't see quite as much top level competition as "Radar," but the disparity in plus/minus cannot be ignored. O'Reilly was a minus-1, and Landeskog was a remarkable plus-20. O'Reilly is less heralded as well, and was hardly recognized by the rest of the league until this season. Landeskog is already on the map.
The scariest thing about Landeskog is the numbers to go along with Selke contention. The 52 point total by the freshman could reasonably evolve into a regular 30-goal, 75 point player. A skater with such impressive offense to go along with strong defense is an extreme rarity. The Avs have an X-factor coveted by every team in the NHL.
I expect Landeskog to return to the Vegas red carpet as a Selke winner in three seasons, and I expect him to do so as the fourth captain of the Colorado Avalanche. The tale of the Scandinavian star has just begun.