New York Giants: Grading Every Offseason Acquisition and Move for 2012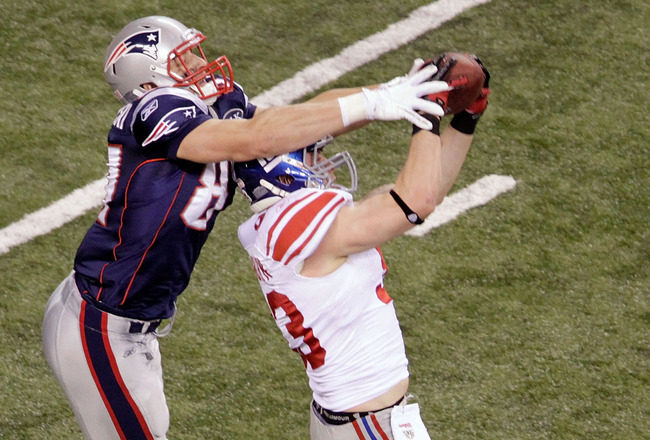 Joe Robbins/Getty Images
When the 2012 season begins on Sept. 5, the New York Giants will be coming in as the defending Super Bowl Champions.
After winning their second Super Bowl in four years, the Giants will have a lot of expectations placed upon them when the season kicks off, but with the team lead by Tom Coughlin, those expectations usually don't bother them.
Even with a second title in just a few short years, the Giants knew they still had work to do to the roster, and Giants GM Jerry Reese never stops working to make the team better.
Reese is one of the best talent evaluators and scouts in the game, which has made him such a successful GM in the NFL with the Giants.
Reese was busy making the Giants better for their title defense run in 2012, re-signing key players and bringing in new faces to Big Blue.
How did Reese do with his moves this offseason?
Find out as we grade all of the key offseason acquisitions.
Re-Signed: Steve Weatherford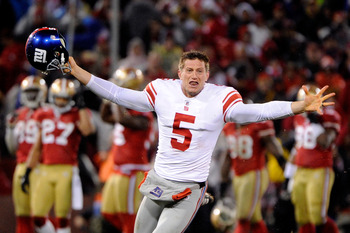 Thearon W. Henderson/Getty Images
The Giants would like to thank the Jets for letting go of Steve Weatherford last winter.
Weatherford was casted off by Rex Ryan and Mike Westhoff, and the Giants brought in the veteran punter to compete with Matt Dodge for the starting punter job.
Weatherford beat out Dodge for the job, and the Giants were blessed for it.
Weatherford made so many crucial punts, pinning teams inside their own 20 and 10, giving the opposing team's bad field position.
After the season, the Giants used their franchise tag on Weatherford, but later on, locked him up to a five-year deal.
Grade: A
Re-Signed: Terrell Thomas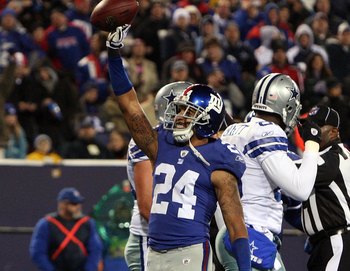 Jim McIsaac/Getty Images
Regarded as perhaps the best corner on the Giants, Thomas missed the entire 2011 season after tearing his ACL in a preseason game against the Chicago Bears.
The Giants' secondary struggled at times and really could have used Thomas' services on the field.
When free agency begun, one of the first moves the Giants did was lock up Thomas to a four-year, $28.4 million deal, which was crucial.
Thomas will solidify a secondary with Corey Webster and Prince Amukamara as the regular starters on defense.
They let Aaron Ross walk as a free agent, but they had to have Thomas back.
Grade: A+
Re-Signed: Domenik Hixon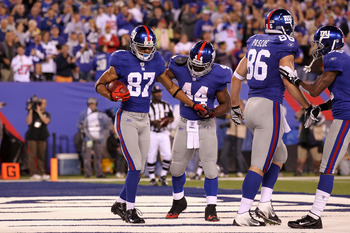 Al Bello/Getty Images
Poor Domenik Hixon.
After recovering from tearing his ACL and missing the 2010 season, Hixon tore his ACL again in Week 2 against the St. Louis Rams while making a circus-like touchdown catch.
Hixon isn't just important to the receiving corps, he's also their kick returner and a pretty good one too.
The kick returner position is one the Giants have struggled with when Hixon is on the shelf.
He's a good player to have at wide receiver, but when he's healthy, he's even more important to have on special teams.
Giants fans all over are hoping he has recovered from his second ACL surgery.
Grade: B
Re-Signed: Rocky Bernard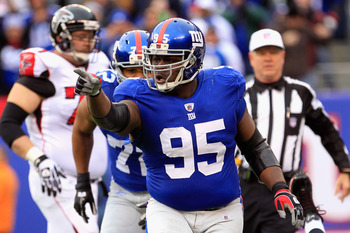 Chris Trotman/Getty Images
Rocky Bernard isn't going to have the flashiest stats, but he's a key component to the Giants defensive line.
What has made the Giants defensive line so good and so dominant over the last couple of seasons is they rotate different players in and keep them fresh throughout the game.
Bernard is a solid veteran who clogs up the middle and stops the run.
The Giants have a returning Marvin Austin and drafted Markus Kuhn, plus they have Linval Joseph and Chris Canty as their tackles.
But with the Giants rotating players on the line all the time, bringing back Bernard for at least one more season was a good move.
Grade: B-
Re-Signed: Chase Blackburn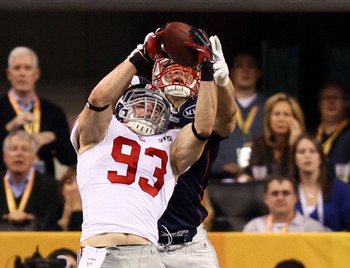 Win McNamee/Getty Images
Chase Blackburn will forever be remembered by Giants fans for his huge interception off Tom Brady in the fourth quarter of Super Bowl XLVI.
Brady had Rob Gronkowski going toward the end zone, but Blackburn was able to jump up and pick off Brady's pass that surely would have been an easy touchdown.
When the 2011 season first started, Blackburn wasn't on the team, and was a substitute teacher until the Giants had to bring him back in late November due to injuries.
Everyone was thankful the Giants did, and they rewarded him with a guaranteed roster spot and a one-year deal.
Blackburn might not be the best linebacker to ever play the position, but he knows the Giants defense and solidifies the depth at the linebacker spot.
Grade: B+
Re-Structured: Osi Umenyiora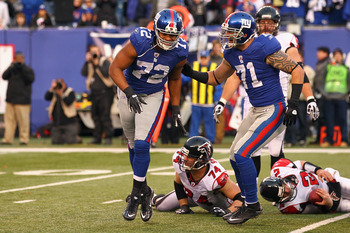 Al Bello/Getty Images
The Giants needed to do something with Osi Umenyiora, who was publicly unhappy with his contract.
The Giants either had to trade him, release him or pay him. They decided to pay him, which I think was the smart move.
The Giants ended up restructuring Osi's deal in which they gave him more money, paying him roughly $7.5 million in 2012 and allowing him to become a free agent in 2013.
Keeping Umenyiora on the defensive line with Jason Pierre-Paul, Justin Tuck and Mathias Kiwanuka was a move that Jerry Reese needed to make.
The defensive line and the defensive end spot is the strength of the Giants defense, and by reworking Osi's deal to make him a happier player, it ended all the drama that had been going on for more than two years.
Grade: A+
Free Agent: Shaun Rogers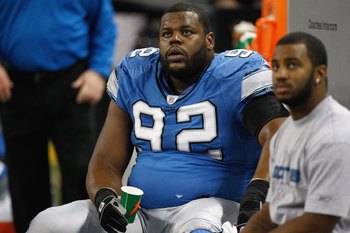 Gregory Shamus/Getty Images
This move really went under the radar for the Giants, mostly because they did it the day of the 2012 NFL Draft.
Rogers used to be a top defensive tackle when he was with the Detroit Lions and Cleveland Browns, but a broken leg claimed part of Rogers season and slowed him down.
He was on the New Orleans Saints in 2011, but wasn't a major factor on their defense and was let go after the season.
Rogers will get a chance to play on a defensive line that is one of the NFL's best and be in a rotation of tackles that features Chris Canty, Linval Joseph and Rocky Bernard.
If Rogers can even be part of what he used to, he can be a key piece of the Giants defense that helps clog up the middle.
It's a big what-if though. Rogers has to prove himself to Perry Fewell.
Grade: C+
Free Agent: Martellus Bennett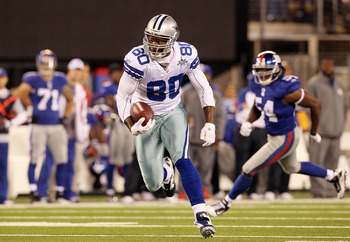 Jim McIsaac/Getty Images
Martellus Bennett really wanted a chance to be a starting tight end in the NFL, and as long as the Cowboys had Jason Witten, Bennett was never getting that job.
Because the Giants had a major need at tight end due to both Travis Beckum and Jake Ballard tearing their ACL's in the Super Bowl, it left a void in the starting lineup for a tight end.
So the Giants decided to take a chance on bringing in Bennett on a one-year, $2.5 million deal.
Bennett is an already proven run-blocker, but his ability to be a receiving tight end has yet to be established.
He'll get his chance to show the Giants and the NFL if he really can be an everyday starter on the field.
He did come into OTA's 20 pounds heavier, weighing in at 291 pounds, but has said that he's 20 pounds of strong muscle.
Guess we'll see once the season starts.
Grade: B
Free Agent: Sean Locklear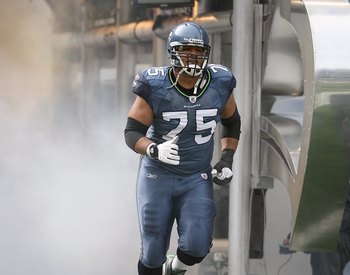 Otto Greule Jr/Getty Images
The Giants decided not to bring back starting right tackle Kareem McKenzie and will have a battle for the job in training camp.
They already have James Brewer, who has been the backup, but the Giants brought in former Seahawks and Redskins right tackle Sean Locklear.
Locklear was the starting right tackle on the Seahawks, who went to Super Bowl XL but lost to the Steelers.
With Seattle, he had moments where he struggled, and they ended up letting him go after 2010.
With Washington, Locklear spent time as both a tackle and guard.
Will he win the right tackle job over Brewer? It remains to be seen.
Grade: C
Free Agent: Antwaun Molden
Rich Schultz/Getty Images
The Giants decided to let Aaron Ross walk away as a free agent this winter to sign with the Jacksonville Jaguars.
To take his spot on the depth chart, the Giants signed former Patriots cornerback Antwaun Molden.
Molden played against the Giants in Super Bowl XLVI, but now he will be playing with them on defense in 2012.
Molden was claimed off waivers by the Patriots last September from the Houston Texans, and Molden was a solid defender who also contributed on special teams.
Molden may get a chance to not only play a crucial role in the secondary, but will also likely get a shot to play a big role on special teams as well.
Grade: B+
Trade: Keith Rivers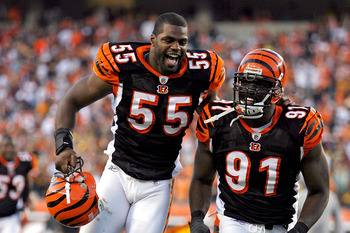 Andy Lyons/Getty Images
The Giants usually do not make many trades, but Jerry Reese made one that could end up being a steal.
In April, the Giants traded a fifth-round pick in the 2012 NFL Draft to the Cincinnati Bengals in exchange for linebacker Keith Rivers.
Rivers was a former number one draft pick of the Bengals back in 2008, but has had some injury problems.
Rivers has a lot to prove in 2012, which could turn out to be a great thing for the Giants.
By trading for him, Rivers called the deal for him "armed robbery" because of the high level he can play at. If Rivers can play like he once did, then Jerry Reese may have made one of the best trades in Giants history.
It's still unknown though whether Rivers will play at middle linebacker or outside linebacker for the Giants in 2012.
Grade: A-
Keep Reading

New York Giants: Like this team?