David Ortiz: Big Papi Is Right About the Media
June 22, 2012

Darren McCollester/Getty Images
According to Joe McDonald of ESPNBoston.com, Buster Olney discussed in his blog on the alleged "unhappiness" in the Red Sox clubhouse. Big Papi was in no mood to hear that and said there is too much media-induced drama surrounding the team. As a result, today we got an utterly jaw-dropping quote from David Ortiz.
As reported by McDonald, Ortiz told reporters, "It's starting to become the s--- hole that it used to be. Look around, bro. Playing here used to be so much fun, and now every day it's something new not even related to baseball."
Normally I'd dismiss Ortiz as just another overpaid athlete griping about the small stuff, but this time around he's absolutely right. Last year's collapse is still fresh on the minds of both the media and fans. I guess with all the drama that poured out about the '11 team, the media was going to revert back to their pre-'04 irrational state.
The nature of the coverage toward the team mellowed out in '05 and stayed soft until last year. Without a doubt the '04 and '07 World Series titles certainly caused us fans to become a little satisfied and complacent, but that subsides after a while. We're hungry to see another title. Missing the playoffs for two straight years certainly knocked all the complacency out of me.
The media does suck the fun out of following the team. Playing pro baseball is already difficult, and as much as some of the players annoy me, they really don't need a pack of hungry reporters blowing things out of proportion.
"People need to leave us alone and let us play ball, man, and let us do what we know how to do," Ortiz said.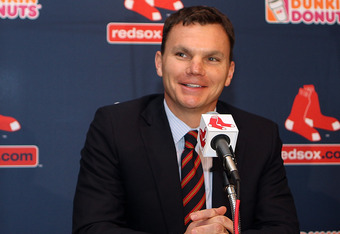 Jim Rogash/Getty Images
In a way, Papi's comments highlight the mental stress an incessantly negative media can have on a team. Lately, it seems like their goal is to pour gasoline on the fire when they should stick to informing us on the nitty gritty news of the team.
It's sad that in the blogs/Facebook/Twitter media we live in, the actual games aren't enough material for the 24/7/365 news cycle, so reporters resort to digging up and relaying controversial reports—often from unnamed sources.
Ortiz's contract situation is a touchy subject, and that was clearly on his mind when he vented about the media coverage of the team.  Speaking of that, am I the only one baffled the team hasn't re-signed him? If you had to go through a mental checklist of whether or not you should bring Papi back, let's see where we end up.
Is Papi an injury risk? Not really. Once he got the DH job in '03, he's played in 128, 150, 159, 151, 149, 109, 150, 145 and 146 games. 2008 was his only injury-plagued season. You can count on him to play at least 90 percent of the team's games every year.
Are there any red flags that point to injuries (like Pedro's shoulder) that could prevent Papi from playing well in the future? Not that we know of.
Does Papi fit the team's sabermetrics philosophy?  Absolutely.
Does he have all the characteristics to continue playing well that no stat or Carmine (the Sox's analytical computer program) could possibly measure? Yes.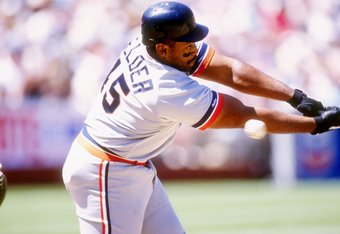 Otto Greule Jr/Getty Images
Is he the cream of the crop when it comes to DHs? To this day, he is simply the best.
Is the Red Sox a small-market team that has to pinch pennies to pay him? Nope.
Can he survive in the unique Boston market? Definitely.
Is his weight/conditioning an issue? Not exactly. It's not as if he has a Cecil Fielder-type of body that can rapidly fall apart. He's listed at 250 pounds, which isn't bad for a 6'4" frame.
Is he acclimated to the role of being a full-time DH? Yep. It's not as if he's an ex-position player who can't adjust to just being a hitter.
Do the pros outweigh the cons when it comes to Ortiz? Yes.
Even if he's declined slightly from his '04-'06 prime, is he still an amazing run producer? No doubt.
Sign him now before some savvy GM snatches him up.