Why the New Orleans Saints Are Far from the Best at Drafting Key Players
June 21, 2012

Chris Graythen/Getty Images
Bleacher Report's NFL Draft Lead Blogger Sigmund Bloom recently wrote a piece on the Saints' ability to formulate their football team through the draft. He gave the team an A at the end of the process. 
As a Saints fan and writer, I have to respectfully disagree.
I agree the team has done a good job of acquiring marquee talent at some positions and added some really good starters at others. But acquiring starters doesn't necessarily mean you've done a good job drafting. All it means is the team has called upon its drafted players as starters often. 
Let me go position-by-position as Bloom did and re-evaluate. We will then conclude based on the overall scope of the piece. 
Quarterback
Bloom is right. The Saints have made little effort in the Sean Payton era to draft a quarterback. And they've been unsuccessful in the one instance they did (Sean Canfield). 
Running Back
I'll give Bloom props for including undrafted free agents Pierre Thomas and Chris Ivory in his mindset at this position. Clearly both players have been fruit-bearing additions to the roster. 
I actually disagree with Bloom's perspective on second-year back Mark Ingram. Sure, he had a somewhat uneventful rookie season, but he showed flashes of brilliance and still projects for the future as an every-down back and potential All-Pro.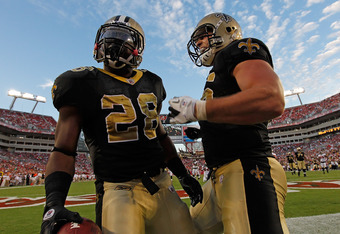 J. Meric/Getty Images
Wide Receiver/Tight End
Of course, Marques Colston was an amazing find in the seventh round out of Hofstra. And in the third round, Jimmy Graham was another great selection. Bloom is correct that Devery Henderson never really developed into the player he was expected to be. 
But Robert Meachem is a guy the Saints figured out how to use effectively in a variety of sub packages. Maybe he didn't live up to his first-round billing, but he was a very effective player in his time with the Saints. 
My main frustration with the Saints in this area has been their inability to find a third tight end through the draft. Before they bowed up and took Jimmy Graham, they were desperate for that developmental tight end.
Now they desperately need a third tight end.
The team apparently has no idea how to draft a tight end unless they luck into a relatively obvious choice like Graham (I had him rated as a second-round player). 
Offensive Line
I agree with Bloom that the Saints have been effective finding good offensive linemen in the draft. Jahri Evans, Carl Nicks and Jermon Bushrod were all low-round draft picks who became Pro Bowlers. 
But the Saints have failed to find and develop a good right tackle or center through the draft. Brian de la Puente was an out-of-the-blue free-agent signing last offseason. And Zach Strief is only average. Charles Brown looks like a bust. 
Defensive Line
Obviously Will Smith has lived up to his first-round selection in 2004. He's not the greatest defensive end ever, but there have been about a million defensive-end first-round busts from 2004 to now. 
Cameron Jordan is still a work in progress. The question still remains of whether he will make it. Steve Spagnuolo's defense figures to fit his strengths, but there's hardly a guarantee he will work out. 
Sedrick Ellis has been okay, but he certainly has not lived up to his draft slot (No. 7 overall in 2008). 
Only one of the drafted players has lived up their billing thus far. 
Linebackers
Jo-Lonn Dunbar and Marvin Mitchell were both seventh-round picks, and both contributed to the Saints. Aside from those two, the Saints, in the Sean Payton era, have not drafted a linebacker successfully.
Though Martez Wilson is moving to defensive end/hybrid, he figures to at least become a good player for the Saints' defense. Overall though, his grade has to be incomplete. 
Defensive Backs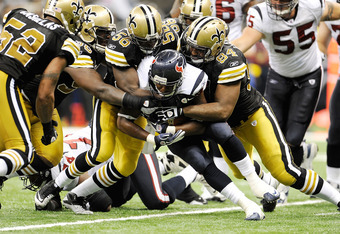 Stacy Revere/Getty Images
The Saints have done a good job drafting players in their secondary. Patrick Robinson is the most recent high-round pick to develop into a key contributor. 
Roman Harper, Malcolm Jenkins and Tracy Porter have all been high-round picks the Saints have hit on. 
Even with that said, the Saints clearly missed on Usama Young in the third round and David Jones in 2007, and it already seems likely they missed on 2012 fifth-rounder Corey White (though admittedly it's much too early to say for sure). 
Special Teams
The Saints guessed right in trading up into the fifth round of the 2009 draft to select Thomas Morstead. However, they missed on Wisconsin kicker Taylor Melhaff when they drafted him in the sixth round of the 2008 draft. 
Melhaff played about half a season for the Saints and has done nothing anywhere else in the league. 
Conclusion
There's no doubt the Saints have had some great success in the NFL draft in the Sean Payton era. But they also have missed quite a few times. 
To give the team an A is to assume that starting equates to good drafting. In reality, many of the best players on the team were acquired via free agency or trade.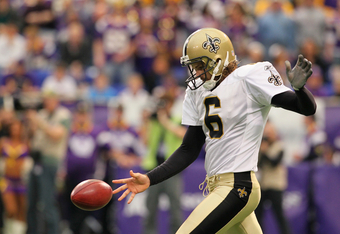 Adam Bettcher/Getty Images
Even using Bloom's argument, only 12 of the Saints' 22 starters were drafted by the team. A better measure shows that of the other key contributors only one or two were drafted by the team. 
Say there are 30-35 key Saints players. To only have 13 or 14 of those players drafted shows this is a team comprised mostly through free agency and trade. 
It is not a knock on Mickey Loomis and the team. Truthfully, the team has found a formula that works for them. It is only to say this is not a team that drafts incredibly well. 
My Grade: C-