St. Louis Cardinals: Grading Rookie Manager Mike Matheny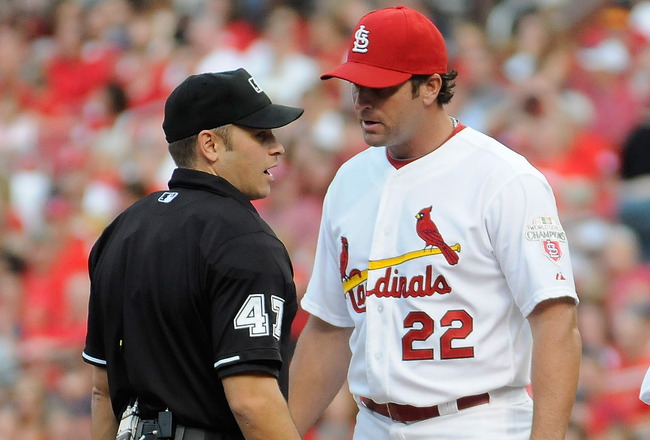 Jeff Curry/Getty Images
When St. Louis Cardinals General Manager John Mozeliak hired Mike Matheny to manage the team in late 2011, he knew Matheny's resume.
Matheny was a top-notch defensive player, served as a solid team leader and has an immense understanding of the game.
But the Cardinals' rookie manager has never coached in the majors, minors, college or high school.
In the weeks and months prior to spring training, Matheny soaked in information from numerous former managers and players. He was surrounded with smart baseball minds and ready for the challenge.
In the month of April, both he and Mozeliak were left looking like geniuses. The rotation was solid, the offense was the best in baseball and the bullpen was taking care of business.
In May, all of that changed.
The bullpen was the first to go. The rotation, or at least a portion of it, came back down to reality. The offense stayed mostly strong, but now, even the bats are struggling.
Following are grades of Matheny's performance in several aspects of the game.
The Bullpen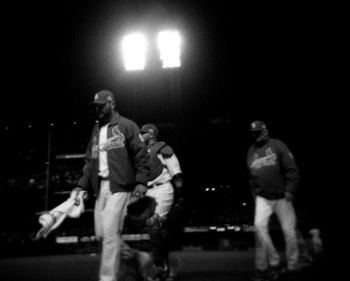 Ezra Shaw/Getty Images
The bullpen has cost the Cardinals more games than any other part of the team so far in 2012.
While it hasn't been all bad, the lack of a veteran presence, long relief and a second lefty has cost the Cardinals dearly.
With any luck, this is an area that will be addressed by the front office sooner rather than later.
It's still difficult to tell how much of an effect pitching coach Dave Duncan's retirement has had on that aspect of the game. His replacement, Derek Lilliquist, still has yet to make a lasting impression.
With that being said, a large portion of the bullpen's woes lie with the front office and injuries, so giving Matheny a rough grade as a result doesn't seem quite right. He can only work with what they give him.
Grade: C
The Starting Rotation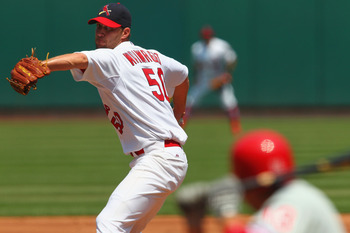 Dilip Vishwanat/Getty Images
This is an area where I feel like Matheny has good pieces to work with. Ranked sixth in the National League, the Cardinals rotation has been consistent in April and June.
Shy of its May struggles, it would likely rank quite a bit higher.
Kyle Lohse has been generally solid. Adam Wainwright seems to be improving with every start. Jaime Garcia looked good until his injury, but rookie Joe Kelly seems to be pitching well in his stead.
Lance Lynn has been, well, more than many dreamed he could be. The simple fact is, Lynn's doing exactly what he is supposed to do. He was drafted as a high-end starter and is performing like one.
Jake Westbrook, short of a five-consecutive-start hiccup, has been quite good. His complete game against the Detroit Tigers shocked everyone, but he's capable of that.
In general, he will be a career .500 pitcher. In April and now mid-June, he has shown what he can do. The question is, can he keep it up.
The rotation looks good, but it could benefit from increased depth and would look much better with Chris Carpenter thrown back into the rotation.
Grade: A-
Offense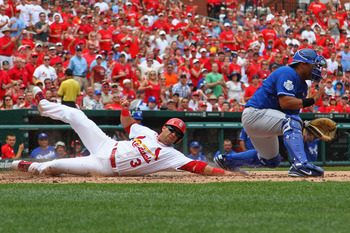 Dilip Vishwanat/Getty Images
Much like the starting rotation, the offense shined through April and then stumbled through May.
Free-agent pickup Carlos Beltran has been stellar putting up career-best numbers even for himself through 2012.
Rafael Furcal spent two months playing the best baseball he has in years as well.
The biggest struggle has been the Tyler Greene/Daniel Descalso experiment. Neither has been a solid performer and dominated at second base or with the bat.
Matheny has put together some dramatic lineups to see what works for this group of guys, possibly to the point of detriment. When the lineup juggles were at their wildest, the offense began to struggle.
It worked in April, and Matheny would be best served to leave it be and let it work. Despite everything, the Cardinals are still the top-ranked offensive team in the National League.
Injuries have played a big effect, but the offense has weathered the injuries quite well but seems to have reached its breaking point. The return of Matt Carpenter and Jon Jay should be a welcome shot in the arm.
Grade: B+
Defense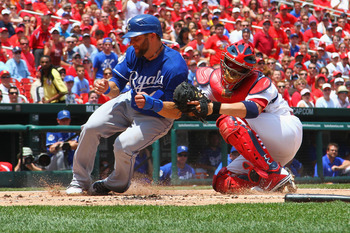 Dilip Vishwanat/Getty Images
The Cardinals' defense ranks sixth in the National League, same as the pitching.
Shortstop Rafael Furcal leads the team in errors with seven, but that's quite common for an infielder with a Gold Glove and impressive range. Players with great range like Furcal get closer to the ball more often; therefore, they miss balls other players wouldn't get near.
As a team, they've compiled 43 errors, but make up for it with a hefty 65 double plays.
The Cardinals rank 12th in runners caught stealing, but the reason is similar to Furcal's. They're next to last in stolen bases allowed. With a catcher with Yadier Molina's reputation, most team's know better than to be too light on their feet.
On a few occasions, Matheny has called for some strange shifts, but as a whole, things have been working for him in this department.
Grade: B+
X-Factor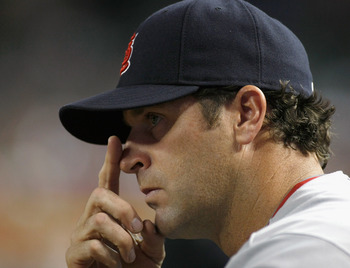 Ralph Freso/Getty Images
The x-factor is a category I'm using to rate his basic managerial instincts.
His decisions on when to pull a pitcher have raised some eyebrows. Matheny has been criticized for leaving guys in too long and using relievers in strange situations. On some occasions it has worked, but it hasn't worked every time.
There seem to be some underlying issues with signs from time to time. For example, a squeeze play is run instead of a hit and run.
Matheny has an extensive knowledge of the game and was one of the best defensive catchers to grace the diamond, so somewhere he has a reason for some of the strange decisions.
Grade: B-
Overall Grade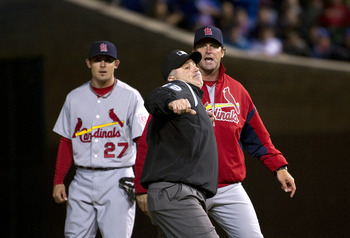 Brian Kersey/Getty Images
As a whole, Matheny has done a good job.
He has asserted himself as an authority figure and isn't afraid to jump out of the dugout when it needs to be done.
He's worked hard to not pull the plug on his starters too fast. A lot of that likely has to do with showing pitchers like Garcia that he has faith in their ability to take care of business.
While he's made some questionable decisions, we should remember he is a rookie manager. He has to learn as he goes, and he will have some growing pains.
To have had so many injured players, not to mention he's still building a team that lost its cornerstone in 2011, he's done a fine job.
He still has a lot to prove, but overall, the first half of 2012 has been a good learning experience for Matheny.
In time, he will grow into a successful manager. He has a lot of solid pieces in place, but once he gets his footing, I expect big things from him.
Overall Grade: B
Keep Reading

St Louis Cardinals: Like this team?