South Carolina Football: How Steve Spurrier Plans to Help Connor Shaw Grow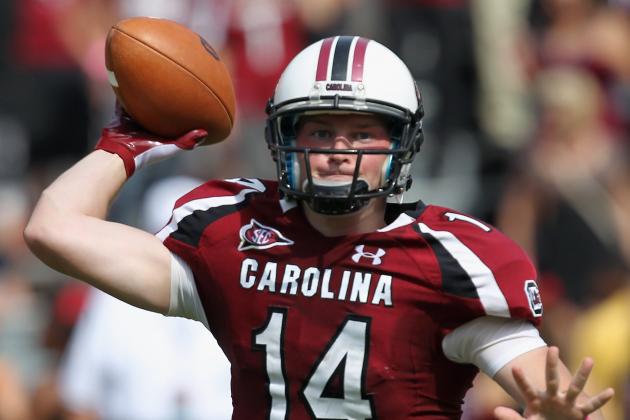 Streeter Lecka/Getty Images

This is why Connor Shaw came to South Carolina.
He has been given a chance to lead South Carolina to new heights under the guidance of one of college football's all-time greats, Steve Spurrier.
Spurrier is known for his love-hate relationships with his quarterbacks, but right now, it seems like it's a lot of love for Connor Shaw right now from the head ball coach.
Shaw worked his way onto the field in 2010 behind former quarterback Stephen Garcia. His time to shine, though, came in the middle of the 2011 season. He proceeded to lead the Gamecocks over wins against Tennessee, Clemson and Nebraska en route to 11 wins on the season.
This year, Shaw is regarded as one of the SEC's best quarterbacks. He has a lot to prove, but Steve Spurrier has some plans on how to help maximize his quarterback's potential.
Here are a few ideas on how to help Connor Shaw grow this year.
Begin Slideshow

»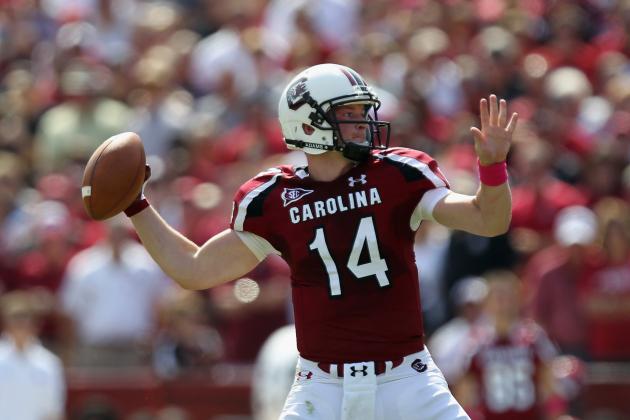 Streeter Lecka/Getty Images

It's time to let Connor Shaw loose on offense.
The way Shaw played at the end of the 2011 season should give Coach Spurrier confidence in his star quarterback for 2012.
As he progressed in the year, the offensive output seemed to improve each week. It's no secret that when Connor Shaw played well, so did the Gamecocks.
Steve Spurrier needs to give Connor Shaw the keys to the offense and let him drive the Gamecocks to victory. As the son of a football coach, Shaw has the perfect mindset to handle the entire playbook for Coach Spurrier. He's been raised around the game of football with a work ethic that is above and beyond most normal football players.
His leadership and business-like approach prove he's ready to handle what Steve Spurrier can throw at him. Give him the opportunity to call the audibles, make the adjustments and go out and play football.
He can handle it. It's in his blood.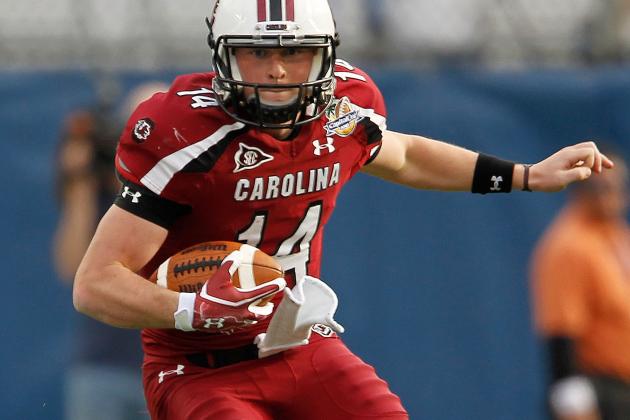 Mike Ehrmann/Getty Images

There's no questioning the athletic ability of Connor Shaw.
It's what attracted the Gamecocks to the quarterback from Flowery Branch, Georgia.
Today's college football game practically calls for a mobile quarterback, and Connor Shaw fits the bill. He's a player who has the ability to turn a negative into a positive on the football field with his running ability.
It takes a special player to be able to do both in the game of football.
Connor Shaw shows off some great vision with some surprising speed when breaking outside the pocket on the scramble. He initially tried to take on contact in the open field, but has since learned to protect his body and get down before the defenders make a big hit.
His ability to keep the play alive allows this offense to stay on the field. They need to let Connor Shaw run a few more run-based plays to keep the defense on its heels.
Shaw has become a great running quarterback who will only get better with more opportunities.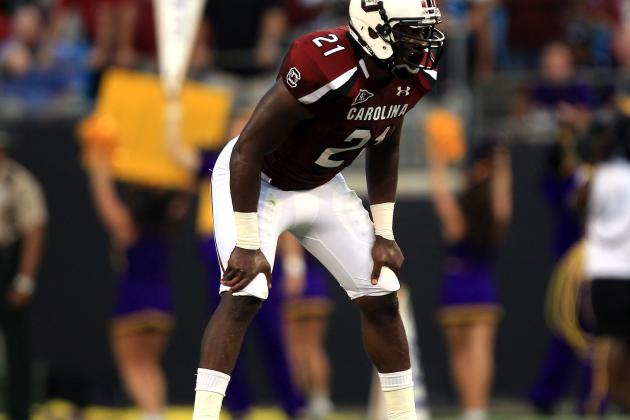 Streeter Lecka/Getty Images

A quarterback is only as good as the players around him, and Connor Shaw has some talent at his disposal.
Marcus Lattimore will return from last year's injury to lead the running game that will include players like Mike Davis, Brandon Wilds and Kenny Miles. He's got playmakers at the running back position.
The question mark is at the wide receiver position.
Losing Alshon Jeffery was a big blow to the receiving group, but Steve Spurrier has worked hard to give him some more options at the receiver position. Shaq Roland will be on campus soon, Kwinton Smith has impressed already during summer workouts and Jody Fuller is another talented player who could fight for playing time.
The good news at wide receiver is the return of Ace Sanders along with redshirt freshman K.J. Brent and Shamier Jeffery. These three players are all expected to step up their game this upcoming season and should give Connor Shaw multiple playmakers at the receiver position.
Spurrier and his staff have been building this team around its playmakers. Lattimore was a great start for South Carolina, and they've only added more names to the list.
Shaw has some great players waiting in the wings to help take the load off of his shoulders. He should be excited about the talent level that surrounds him at South Carolina.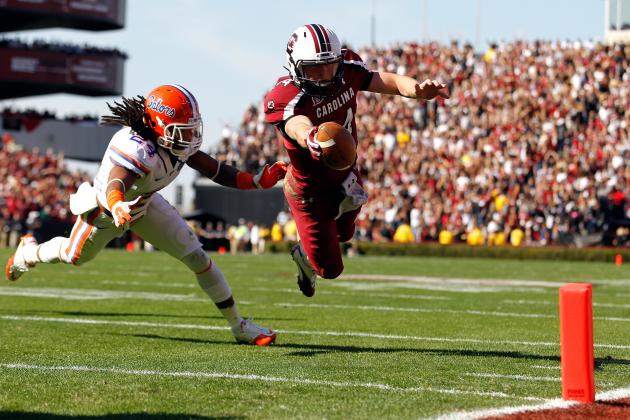 Streeter Lecka/Getty Images

We all know Steve Spurrier can ruin a quarterback.
As a former Heisman Trophy-winner, he understands what it takes to be a great quarterback. Spurrier will criticize quarterbacks in a heartbeat, but those who play well will get all the praise in the world.
Right now, even though he may not need it, Steve Spurrier could help Connor Shaw by building up his confidence. He started doing so in recent months as he talked about the potential that Connor Shaw has shown through spring practice.
Spurrier mentions how he "finished up last year as well as you can" (via ESPN). He also states that he's gained more experience and repetitions this spring to help him out. He likes how he works at things the way a quarterback should.
There seems to a lot more positives coming out of the head coach these days in regards to his starting quarterback. Shaw is the model football player for doing things the right way.
Steve Spurrier is excited about this upcoming season and Shaw's growth is a big reason.
Confidence level is key for football players. A mindset that's littered with questions about one's abilities will only hinder one's play on the field. A coach must help the players as much as possible.
Spurrier building up Connor Shaw's confidence level will only help the quarterback grow into the player he wants him to be.