5 Things Norv Turner Must Do to Keep His Job for 2013
June 22, 2012

Andy Lyons/Getty Images
Many San Diego Chargers fans saw their worst fears realized in January when Dean Spanos issued "The Indecision." 
After finally starting strong under Norv Turner and posting a 4-1 record in 2011, the Bolts lost six consecutive games.  They made their annual push in late November, which has become nothing more than a tease over the last two seasons.  After getting annihilated on Christmas Eve in Detroit, the Chargers won a seemingly meaningless game in Oakland.
Instead of looking at the losing streak and the face-plant in Motown, Spanos saw a team that fought for its coach up until the very end. 
There are other, more far-reaching theories as to why both Turner and A.J. Smith were retained: "He just wants to make money," "He's angling to move to Los Angeles" and "He's afraid of A.J." are just a few.  But the Bolts will be coached by Turner this season, regardless of Spanos' reasons.
Kevin Acee of the Union-Tribune believes that Smith would return to San Diego even if the Chargers miss the playoffs for the third straight season. 
Could Turner survive such a campaign in 2012? 
Acee also wrote that Dean will be able to separate Smith from the coach he hired if it came to it.  But nothing that has occurred in San Diego gives me confidence in that scenario. 
What does Turner need to do this season to keep his job?  My first reaction to that question is that nothing short of felony conviction could get him fired.  But here are five things that have to happen for many Chargers fans to accept him returning in 2013
No. 1: The Chargers need to show both nastiness and poise 
In other words, they need to win tough games in meaningful spots.  Last week, I cited the first of those six aforementioned losses as the turning point of the entire season.  It also represented the moment when the Chargers could have proved that Norv Turner can lead this team through a long January.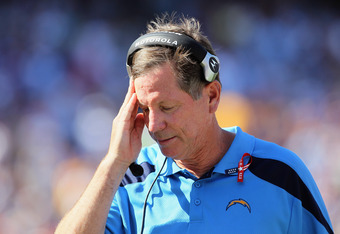 Jeff Gross/Getty Images
If you recall, Rex Ryan got a little flack for joking that if he'd been hired in San Diego, he'd have "a couple of rings by now."  But with Spanos on his feet in the visiting owner's box, Philip Rivers' deflection-turned-interception started a slide that would end with the Bolts blowing an 11-point halftime lead.
The Chargers' 4-1 start was far from flawless.  I was only one of many who openly bemoaned the turnovers, defensive lapses and apparent inability to put teams away during these games. 
After barely getting by Minnesota, Mike Tolbert's fumbles sank them in Foxboro.  The next three wins against Kansas City, Miami and Denver were all against teams who had yet to win a game at that point.  Denver put Tim Tebow in for good in the second half, and the Chargers barely escaped with a win for the second straight year.
They couldn't play like this against upper-echelon teams.  Even the players themselves said as much.
Then they came out of their bye week with a chance to win a "statement game."  They had already squandered such an opportunity against a team who had eliminated them from the playoffs twice.  Now they had another chance. 
As painful as it is to recall, I've already detailed that disaster.  Damon Hack offered a similar assessment in Sports Illustrated following the game.  It was painful to read, but more hurtful because it was true.
How would Bill Cowher have been remembered if Nick Harper hadn't gotten tackled on his return of Jerome Bettis' goal-line fumble in 2006?  Would Harper have scored if his girlfriend hadn't stabbed him in the thigh the night before?  What if Mike Vanderjagt hadn't hooked the ensuing field-goal try?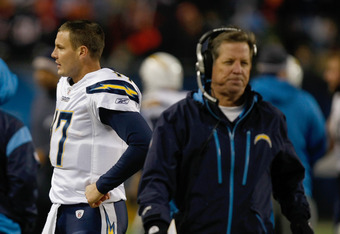 Scott Boehm/Getty Images
End results are all that matter, but Norv Turner appears to always be reacting as opposed to making other coaches adapt to his moves.  Philip Rivers claims Turner's still the offensive mastermind of his Dallas days and that he's just the calming influence this team needs.  There needs to be some more evidence of that this season. 
Tom Coughlin isn't remembered for an 0-2 start in 2007 or for squeaking into the playoffs a year ago because of what his team did when it truly mattered.
No. 2: He needs to appear to have control in crucial and difficult spots 
I'm not just talking about the "put up or shut up" games I just discussed.  Turner cannot look like the big moments are too big for him. 
He famously played for overtime against Denver in November and ended up letting Nick Novak try a 50-plus-yarder.  There were countless other questionable replay challenges or decisions not to challenge.  Dean Spanos personally mentioned that there needs to be better in-game decisions this year.  Of course, he doesn't seem to be holding Turner personally responsible for said decisions thus far.
But he was hired to fare better than his predecessor in those very situations.  If not for John Elway, Earnest Byner, Eric Parker and Marlon McCree, might Marty Schottenheimer have finally gone out a winner like his one-time player Bill Cowher? 
We'll never know, but Marty went for it on fourth down in his last playoff meltdown against the Patriots.  He wouldn't allow Nate Kaeding to try a long field goal in the first half.  Kaeding, of course, missed a long kick that would have tied the game anyway.  Marty challenged the infamous fumbled interception by McCree even though Troy Brown clearly stripped the ball from him. 
Schottenheimer clearly couldn't make the right decision in January no matter what he did.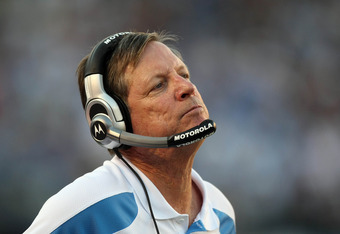 Donald Miralle/Getty Images
But after three straight losses dropped the Chargers to 1-3, fans were chanting for Marty during a home loss to Kansas City.  Let the record show that I was definitely not one of them. 
But the Bolts went 10-2 after that to earn another home playoff game.  Down at the half and with Antonio Gates sidelined after a dubious hit by the Titans, the Chargers found their soul and identity.  Turner had pledged to give Philip Rivers more responsibility, even if it meant taking the focus away from LaDainian Tomlinson.  When they needed it most, Rivers and the receivers stepped up. 
The following week, they shocked the defending Super Bowl champions at home with Rivers, Tomlinson and Gates all on the sideline by the end of the game.  Finally, it seemed that Turner's approach was better suited for the crises that inevitably arise in January.
The last playoff pratfall changed all that.  The Bolts had won 11 straight games and secured the No. 2 seed.  But the Chargers unraveled against the Jets.  Missed field goals, crucial interceptions and temper tantrums returned. 
Unfortunately, Dean Spanos had just given Norv a new contract.  Once again, the timing in San Diego proved impeccable.
No. 3: He needs to field a team that shows both passion and poise 
In that first season, the Chargers stumbled out of the gate but eventually rose to the occasion.  If not for the Giants' upset of the team that ended the Bolts' season, the Chargers would have been the big story of that year.  But the Bolts have proven both passive and hot-headed on Turner's watch.  Incidentally, the same thing happened under Marty Schottenheimer, despite Marty's focus on discipline.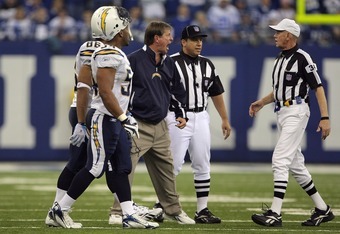 Doug Pensinger/Getty Images
In 2010, when wide receiver Richard Goodman left the ball on the ground, only to be recovered by the Patriots, Norv's lackadaisical style was cited once again.  When the Patriots suggested that such a mistake would result in running laps under Bill Belichick, the suggestion that Turner's running of a loose ship was sinking the Chargers became all too evident. 
The Chargers can somehow look both disinterested and quick-tempered under Turner.  There are games where they play without urgency, and then they only seem to show emotion when that very apathy causes them to get stomped on.  Bart Scott recalled that the Chargers were yelling across the field that the 9-7 Jets didn't deserve to be in the postseason.  Yet the Bolts hardly played like a team with a chip on its shoulder that day.
Shaun Phillips was undoubtedly doing a lot of barking that day.  But he'll be remembered more for a foolish head-butt penalty than anything.  When asked about it on San Diego's XX1090 that offseason, he was noticeably offended. 
Vincent Jackson was bottled up all day by Darrelle Revis, and he showed his frustration by chucking the challenge flag in the fourth quarter.  I'm sure being in handcuffs earlier that day didn't exactly sweeten the mood. 
But these have been the Chargers in crunch time over the last three seasons.  It is frighteningly similar to the Bolts that led to Marty Schottenheimer's dismissal.
No. 4: Philip Rivers must play better under the coach he loves so much 
As Rivers goes, so do the Chargers.  The opposite holds true as well.  The Bolts were often in holes that their quarterback thought he could single-handedly pass his way out of.  Rivers has told anyone who would listen how great a coach Turner is.  This season, he needs to show everyone what all the fuss is about.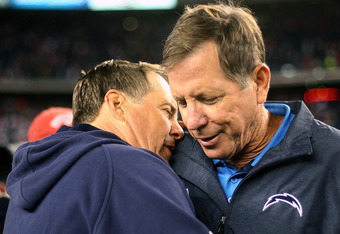 Jim Rogash/Getty Images
The 2008 season, which marks the Chargers' last playoff win, seems like a lifetime ago.  As his 2004 counterparts rack up more Lombardi Trophies, Rivers is still at the top of the "next young quarterback to break through" list.  He's not really young anymore and his development seems to have stalled.  That's when yelling at your coaches and teammates looks like immaturity instead of assertiveness.
Decembers through Februaries and fourth quarters are all that really matter in the end.  Philip Rivers used to dominate in those moments.  Now, situations and seasons look too big to overcome.  A more balanced attack and stronger defense would allow Rivers to occasionally "manage" a game.  He can still take over, but it's far different when you are forced to. 
Norv Turner has always been credited with the success of quarterbacks, from Troy Aikman to Alex Smith.  Up until recently, Rivers was at the top of the list of reasons that Norv is seen as a teacher of quarterbacks. 
I'm a huge Rivers fan, but there's no denying that he's got a lot to prove this year.  Even Rivers himself would agree.  His success will have a lot to do with the future of his chosen head coach in San Diego.
No. 5: He must get to the playoffs and win at least one game in January 
This isn't my criteria for success and it's not for many fans I know.  However, it's the most likely compromise of expectations. 
To me, a world championship is the only thing that will validate this team and this organization at this point.  When Norv Turner took over, there was definitely a "Super Bowl or Bust" mentality surrounding the Chargers.  Even though they fell short in his first two seasons, you could at least make the case that they were getting closer.  They beat the Colts in the playoffs both years, which seemed like a big deal at the time. 
Now the Chargers are just trying to get back into the postseason.  Peyton Manning is in Denver, but he's hardly been a nemesis for the Chargers in the past.  Of course, if they continue to slide, they could anoint a new hero for the opposition. 
This team needs to be moving closer to a title, instead of falling farther away.  Just getting back to the playoffs only to be immediately bounced from them once again won't do.  Finishing the job this season would be amazing, but there at least needs to be hope for the future if they don't. 
The Chargers won two, one and zero postseason games in Norv's first three seasons.  The last two years they haven't even gotten there.  Trending downward would be a more-than-accurate description of their recent results. 
The Bolts need to stem the tide if guys like me are going to have Norv Turner to kick around in 2013.