San Francisco Giants: Predictions for 5 Key Players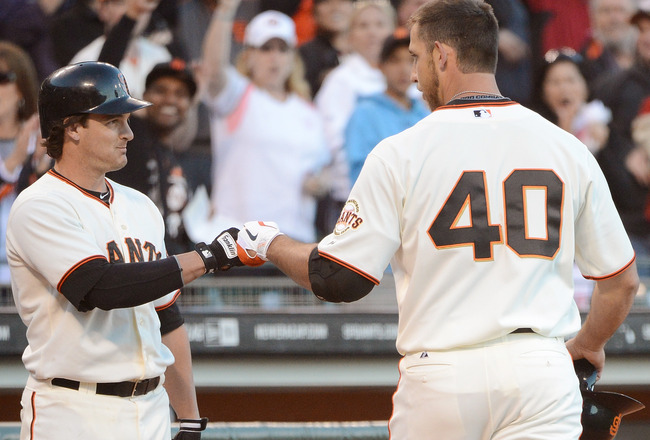 Thearon W. Henderson/Getty Images
With the Giants approaching the middle of the season they are only four games behind the Dodgers and right in the middle of the Wild Card race.
The Giants have already gone through a lot this season. They lost Brian Wilson, Pablo Sandavol missed a month and Aubrey Huff has become a non-factor.
The Giants starting rotation has been strong with Cain, Vogelsong and Bumgarner all having sub 3 ERAs, but Lincecum has struggled all season, and Zito has been completely ineffective recently.
The Giants have had to a lot of role players step up to keep them in contention for the postseason. Which of these players will continue to perform and which won't?
Brandon Belt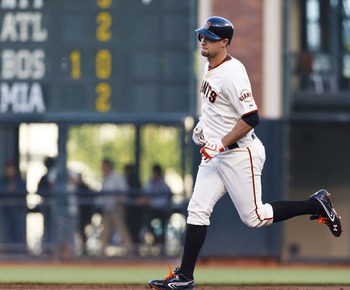 Jason O. Watson/Getty Images
Brandon Belt has been off to a slow start this season, but I expect a big second half for him. It took him 61 games before he hit his first home run, and his average has been below .250 for most of the season. Belt has an above average BABIP (batting average on balls in play) of .337.
Belt started to improve his average recently, being able to put the ball in play more often. Belt struck out every 3.04 at bats last month, and this month he has only struck out once every 5 at bats. I am expecting this trend to continue, and Belt's average to improve quickly.
Also, Belt has recently started to display the power that the Giants expected from him.
End of season prediction: Avg: .286 OBP: .382 HR: 12 RBI: 68
Ryan Theriot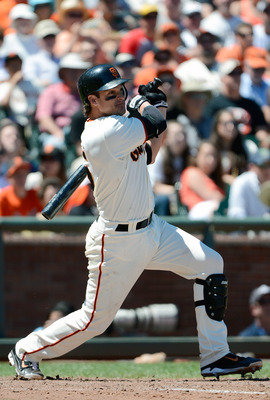 Thearon W. Henderson/Getty Images
Ryan Theriot has been playing well recently, but I am not convinced that it will continue.
When the Giants acquired Theriot they didn't expect much power, but the little power that he previously had seems to be gone. Theriot's ISO (slugging percentage minus batting average) this year is .047, which is down from his career ISO of .070 despite his season average (.275) being similar to his .282 career average.
I expect Joaquin Arias to be platooning with Ryan Theriot at second base, so Theriot's at bats will be limited. Also, he will become a backup if Freddy Sanchez returns, although that seems unlikely.
End of season prediction: Avg: .256 OBP: .306 HR: 0 RBI: 31
Brandon Crawford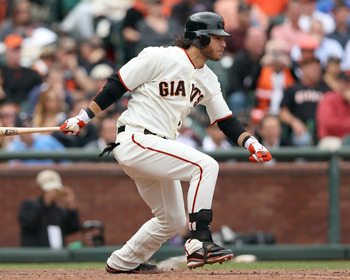 Ezra Shaw/Getty Images
Brandon Crawford has had a rough start to the year, but I expect him to be a reliable and more effective shortstop than he has been so far. I expect Crawford to lay off of more breaking balls in the dirt, and for his on base percentage to improve.
Last year Crawford walked 10.8 percent of his times to the plate, but this year he has only walked 5.7 percent of the time. So look for his walk percentage to be somewhere in between where it has been this year and what it was last year.
Even though Crawford's defense has been criticized so far this year, his dWAR (defensive wins above replacement) has been higher this year (.8) than it was last year (.6). I look for that to continue as long as he gets consistent playing time
End of season prediction: Avg: .244 OBP: .297 HR: 5 RBI: 53
Gregor Blanco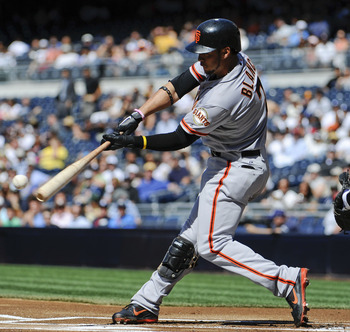 Denis Poroy/Getty Images
Gregor Blanco has been a very pleasant surprise for the Giants so far. I am anticipating Blanco to continue to be the Giants leadoff hitter, and his OBP and average should be stable.
Blanco's BABIP this year is very close to his career average, as well as his BB/AB. But Blanco's slugging percentage (.402) should return to normal (career slugging percentage is .340). Expect less extra base hits from him for the rest of the season.
End of season predictions: Avg: .278 OBP: .354 HR: 6 Runs: 75
Madison Bumgarner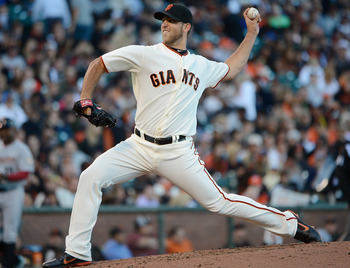 Thearon W. Henderson/Getty Images
Madison Bumgarner has continued his positive momentum gained from a strong second half last year, and has had a great start to the season.
Expect Bumgarner's success to continue as he has allowed the fewest BB/9 out of any pitcher in the Giants' rotation. He has done a great job pitching to contact this year with his .268 BABIP much lower than his BABIP last year (.322). Bumgarner's excellent BABIP and BB/9 display his improved command and ability to effectively pitch to contact.
End of season prediction: Record: 16-7 ERA: 3.03 SO: 167 WHIP: 1.18
Additionally, if the Giants can make it to the postseason, Bumgarner should pitch well. He was 2-0 with a 2.18 ERA in the 2010 playoffs.
Also, Bumgarner displayed his power at the plate when he homered off the Astros' Bud Norris. Anticipate an increase in his average and at least one more home run.
Keep Reading

San Francisco Giants: Like this team?