NHL Draft 2012 Results: Comparing Each 1st-Round Pick to a Current NHL Player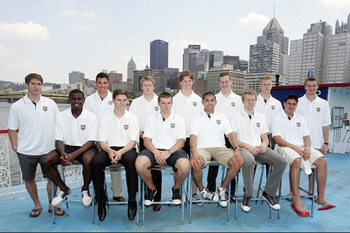 photo: rantsports.com
When the new face hits the ice for the new team, the first thing out of everyone's mouth is, "Wow, he reminds me a lot of _______." Whether it's a fan, a teammate, an announcer, coach or Zamboni driver, the new guy will always remind us of something we've seen before.
The otherworldly talents of the Malkins, Datsyuks and Stamkos of the world often leave our collective jaw agape at things we have certainly never seen. Their skills come around once every few years.
The significance of the first round can not be understated. Fifteen of the last 16 Art Ross Trophy winners have been first-round picks. Fifteen of the last 17 Stanley Cup winning captains have also been selected on day one. Franchises quite literally can be built on draft day.
This year's consensus star and top pick is Russian sniper Nail Yakupov. There is no denying his skill set and potential to be great, but Yakupov's drive and work ethic have scouts and coaches drooling at the young Russian's potential.
Yakupov and any of his fellow draftees from the class of 2012 may well become the kind of talent that we have never seen before. But until they make us jump out of our seats with something new, here's who they remind us of. For now.
Please bear in mind that just because someone's "style" or "game" resembles a current NHL player, that they are not on the same level of that NHL player. We are talking about flashes and glimpses from players competing with significantly smaller, slower and less skilled players.
Though talented, the cream clearly rises at the junior level. Most of these first rounders won't slip on a "real" NHL jersey any time soon, while others might get thrown right into the mix right away.
With that disclaimer out of the way, here's the 2012 NHL Draft's 1st Round and their NHL level facsimile.
1. Nail Yakupov—RW—Edmonton Oilers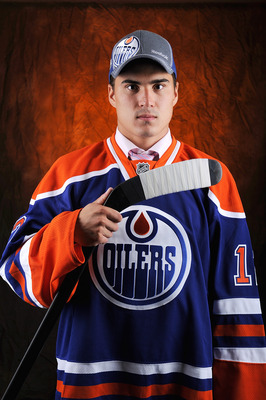 Jamie Sabau/Getty Images
Yakupov's idol is Pavel Bure, which is reflected by his choice of the No. 10 jersey he sports. His explosive skating style, enthusiastic celebrations and shoot-happy style reminds me of a smaller version of another Russian winger: Alex Ovechkin. Other pundits compare him to Kovalchuk and I've also heard Zach Parise mentioned, but I think Yakupov's style looks the most like the Capitals winger.
A compact, low center of gravity make Yakupov difficult to take off the puck, and his foot speed get him up to top speed in a flash. His ferocious one-timer and trademark celebrations might get tempered at the next level, but Ovechkin seemed to explode onto the NHL scene immediately with similar gusto and flair. He might be a bit one-dimensional now, but it is believed that some top level coaching can make Yakupov a more complete player in the future.
2. Ryan Murray—D—Columbus Blue Jackets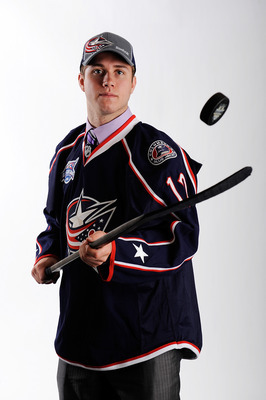 Jamie Sabau/Getty Images
Ryan Murray will certainly find tougher competition at the NHL level, but many believe he is the most NHL-ready defenseman available in the draft this year. While he is certainly not the most physical defenseman in the draft, he isn't afraid to use his size.
The name most often heard to describe the puck-moving blueliner is Scott Niedermayer. For the sake of making a comparison to a current player, Murray's style is comparable to another Ryan, free agent-to-be Ryan Suter.
The Blue Jackets will need Murray to step in almost immediately. The rebuilding process is officially underway in Columbus and the biggest question remains with their captain. All signs point to a Rick Nash departure, but Columbus will certainly receive some talent in return.
3. Alex Galchenyuk—C—Montreal Canadiens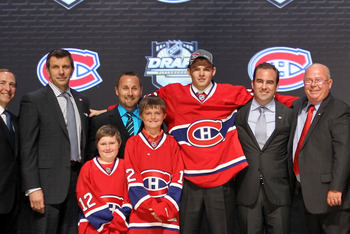 Bruce Bennett/Getty Images
Alex Galchenyuk lost the better part of last season because of a knee injury. Had he not crashed into a goal post, rupturing his ACL last September, he very well could be sitting in the position of his linemate and pal Nail Yakupov.
Galchenyuk has been compared to Marian Hossa, but as a center reminds me of Eric Staal. His size, vision, and hockey sense are comparable to the Carolina center. He will be a welcome addition to a Canadien team that needs size up the middle and could start the season on the Habs' roster.
4. Griffin Reinhart—D—New York Islanders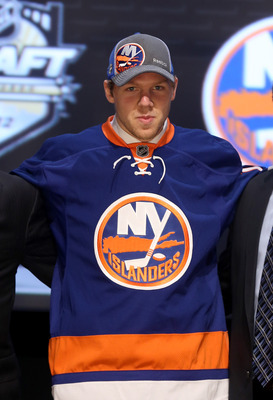 Bruce Bennett/Getty Images
Griffin Reinhart possesses all the tools that scouts love and has the size that could make him extraordinary. However, his reluctance to use his big body has some scouts backing off. Make no mistake, Reinhart is Round 1 material based entirely on his skating, puck moving and shot. He has a keen hockey sense and always seems to be positioned well.
He's very much like a slightly smaller Victor Hedman in Tampa.
The Islanders' acquisition of Lubomir Visnovksy gives Reinhart a built-in tutorial on what it takes to make it in the NHL. Reinhart's father was also a first-round pick in 1979 for the Atlanta Flames.
5. Morgan Rielly—D—Toronto Maple Leafs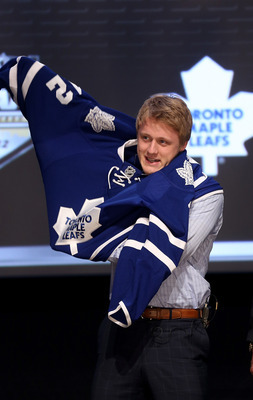 Bruce Bennett/Getty Images
Rielly could be a sleeper pick in the first round or he could be the first defenseman taken. Rielly was an offensive force in Moose Jaw before an ACL injury ruined his season. Questions will always surface regarding knee injuries, but Rielly is the premier offensive defenseman in this year's draft.
He's still considered a wild card because of his injury, and how much of his offensive talent will translate to the NHL. I would compare him to Drew Doughty.
Toronto's selection of Rielly shows faith in his recovery from the knee injury, and the belief that he can help the Leafs soon.
6. Hampus Lindholm—D—Anaheim Ducks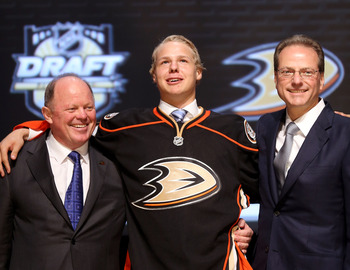 Bruce Bennett/Getty Images
Swedish defensemen and Swedish chefs are two groups of people who represent excellence in the world today. That being said, a bunch of defensemen were projected to go before Hampus Lindholm. When his career wraps up, it's possible that Lindholm could have the better numbers.
Lindholm is a great skater and puck mover. He impressed scouts, specifically Bob Murray, with Swedish club Rogle BK as a youngster among men. Lindholm will probably be in Sweden another year before he puts on his Duck suit. With a limited body of work to compare Lindholm, Brian Campbell is the name most associated with the young Swede.
7. Mathew Dumba—D—Minnesota Wild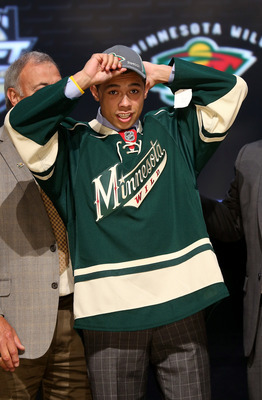 Bruce Bennett/Getty Images
Mathew Dumba better pile on some more muscle mass if he wants to take the "Dumba train" to the NHL. Everyone loves the big hits, but Dumba's talents go beyond launching his body at opponents.
His heavy shot and puck moving rushes look a lot like a young Dion Phaneuf.
Dumba goes to a Wild team that is in need of an offensive spark plug, and one that will certainly welcome his physical presence in the defensive end.
8. Derrick Pouliot—D—Pittsburgh Penguins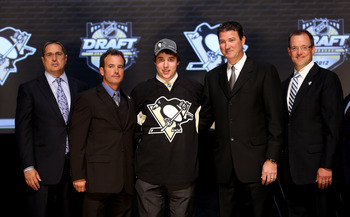 Bruce Bennett/Getty Images
Pouliot of the Portland Winterhawks was a bit of a surprise as the crowd was still reeling from the trade of Jordan Staal. Pouliot will need to get some size to get on the Pens roster, and can use some work in his own end.
With his offensive skill, Pouliot models his play after Nicklas Lidstrom and Drew Doughty. While he's closer to Doughty than Lidstrom, I'll compare him more to Tobias Enstrom at this point.
9. Jacob Trouba—D—Winnipeg Jets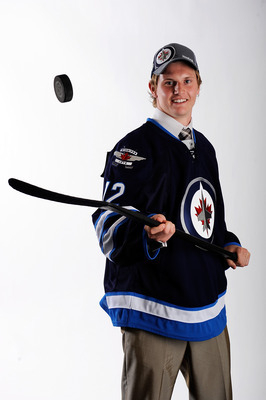 Jamie Sabau/Getty Images
Jacob Trouba is the highest ranking American defenseman that seems to have all the tools to make it at the NHL level. With his size, skating, two-way style of play and big shot, Trouba also has a bit of a nasty edge to him.
I would compare him to a mini-Shea Weber of Nashville. The Jets will be lucky to have him as they push for the playoffs next year. Trouba is not quite NHL-ready, and is slated to play for Michigan in the fall, but when he breaks into the lineup he will pair nicely with any number of capable Jets defensemen.
10. Slater Koekkoek—D—Tampa Bay Lightning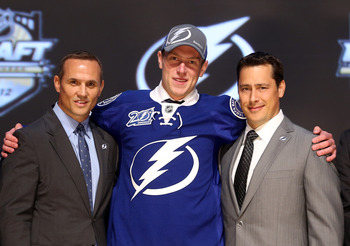 Bruce Bennett/Getty Images
The Tampa Bay Lightning addressed an area of focus immediately with the drafting of Petersborough's Slater Koekkoek. The big defenseman went a bit earlier in the draft than projected, but playing on Yzerman's junior club might have helped Koekkoek's standing.
He's a big defense-first blue-liner who had shoulder surgery to cut his season short. Good size and great footwork make Koekkoek a can't miss for the Lightning. I would compare him to Kevin Shattenkirk.
11. Filip Forsberg—LW/RW—Washington Capitals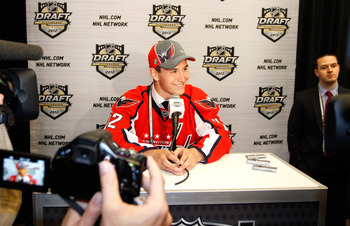 Justin K. Aller/Getty Images
The lanky Swede is of no relation to the guy they call "Foppa," Peter Forsberg, but his play does have some similarities. He's not afraid to throw his body around, and he has great speed and silky hands.
If he can pack about 15-20 pounds on, he can become a true power forward and get a cool Swedish nickname. I would compare him to Corey Perry because of the sniping skills and checking.
The Capitals could very well have gotten the best player in the draft. After slipping to the 11th spot, Forsberg goes to a team loaded with talent, and will now have a chip on his shoulder for the teams that passed on him.
12. Mikhail Grigorenko—C—Buffalo Sabres
Bruce Bennett/Getty Images
Some scouts have the incredibly gifted Russian center as the best pure talent in the draft, but "the Russian Factor" and mononucleosis have dropped his stock lately. I hate to throw the comparison out there, especially after mentioning the Russian bias, but Alexander Semin comes to mind.
He has all the talent in the world, but he sometimes appears to be indifferent and listless. If scouts who watch every one of his games can make that assessment, I guess I don't feel as bad.
It will be interesting to see if Buffalo will provide the appropriate venue to display Grigorenko's talent. The working-class town won't put up with an apathetic Russian millionaire who doesn't bring his A-game every night.
13. Radek Faksa—C—Dallas Stars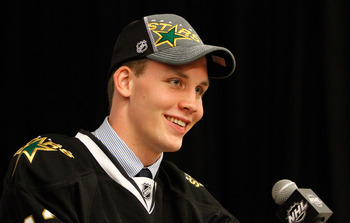 Justin K. Aller/Getty Images
Another player who saw his stock rise leading up to the draft was center Radek Faksa. The big, gifted Czech playmaker was a point per game player in his rookie year with the Kitchener Rangers. Experts predict him to fill out even more and be a potentially dominant force. He plays a complete game at both ends of the ice.
He plays very much like former Kitchener star Gabriel Landeskog. With the movement of Mike Ribiero to the Capitals, Faksa might get time on the Stars sooner rather than later.
14. Zemgus Girgenson—C—Buffalo Sabres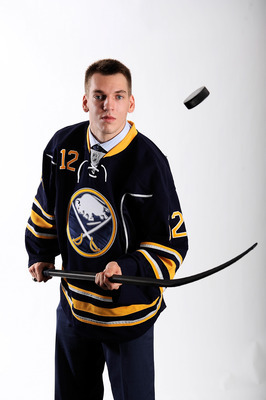 Jamie Sabau/Getty Images
With a name like Zemgus, what's not to love? The best Latvian player available is a gritty two-way center who certainly has the potential to be a top six forward on an NHL roster. He is a strong skater, unafraid to muck it up in the corners and is a great forechecker.
Girgensons is far from the best offensive talent, but his willingness to do the dirty work will keep him in the NHL for a long time. Buffalo seems like a good fit for the big center. Sabres fans will appreciate his hard work and natural leadership.
If his goal production carries over from the USHL, he could be a left-handed Ryan Kesler.
15. Cody Ceci—D—Ottawa Senators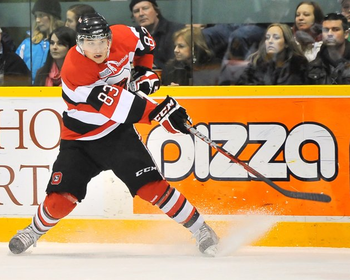 photo: yahoo.com
One of the bigger bodies available in the draft, Ceci is physically ready to play at the next level. His offensive prowess saw his stock rise with almost every NHL scout. While they would all like to see him use his size to be a more physical presence, Ceci's transition to the next level should be seamless.
I'm thinking Ceci's style resembles Brent Seabrook.
Ceci will have the chance to play in his own backyard, something that few athletes are given the opportunity to do. If he can stay focused, look for Ceci's booming shot to join Norris Trophy winner Erik Karlsson on the Senators power play for years to come.
16. Thomas Wilson—RW—Washington Capitals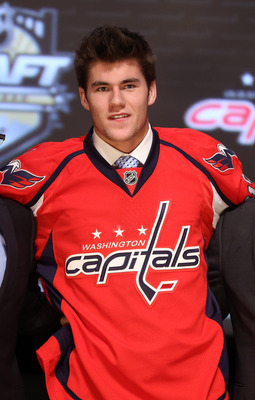 Bruce Bennett/Getty Images
With their second pick in the first round the Capitals have decided to take Tom Wilson. Wilson is a chippy, feisty player who isn't afraid to get his hands dirty or drop the gloves.
Milan Lucic comes to mind. With his imposing size, rugged play and timely goal scoring, Wilson should be able to skate on the Caps roster for years to come. He has a nose for the net, a deft scoring touch and a mile-wide mean streak.
17. Tomas Hertl—C—San Jose Sharks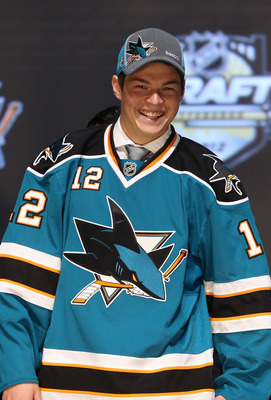 Bruce Bennett/Getty Images
The versatile, big forward impressed many at the World Junior tournament and caught the Sharks' attention. He plays well in both ends, though he will probably remain in the Czech Republic through next season.
Possible comparisons would be fellow Sharks Logan Couture and Martin Hanzal.
18. Teuvo Teravainen—LW/RW—Chicago Blackhawks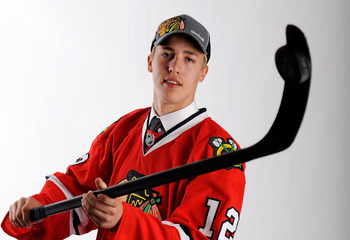 Jamie Sabau/Getty Images
The smallish, slick skating Finn has been ranked as high as the top five on some boards and is the most touted player from Finland since Saku Koivu. In spite of being 5'10" and only 165 pounds, his great hands, great speed and vision keep him upright and out of danger.
He has innate hockey vision and playmaking skills which remind me of Claude Giroux.
Falling from a projected top ten, Teravainen could be the steal of the draft. He joins a Chicago roster that is loaded with talent, but may have underachieved this season.
19. Andrei Vasilevski—G—Tampa Bay Lightning
Bruce Bennett/Getty Images
Continuing the trend of filling areas of need, the Lightning used their second first-round pick on their potential goalie of the future in Vasilevski. The young Russian bucks conventional wisdom, and western hemisphere bias by remaining calm under fire.
His even keel and composure were on display at the World Junior tournament where he won a new set of admirers. He's a few years from seeing NHL action, but Vasilevski will be a player to watch on the Lightning farm.
His hybrid butterfly style is comparable to fellow Russian Ilya Bryzgalov.
20. Scott Laughton—C—Philadelphia Flyers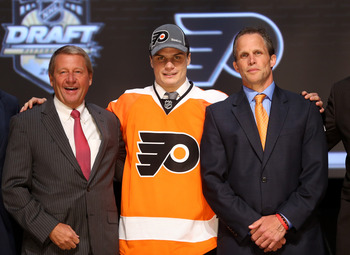 Bruce Bennett/Getty Images
Scott Laughton's gritty two-way play has been described as being a "Flyers-style" of play. Comparing the Flyers' current style to the rough and tumble style of the '70s and '80s is like apples and completely different apples.
Laughton will remind Philly fans of Mike Richards because of his commitment to all corners of the ice. He may currently lack Richards' offensive skills, but has developed nicely over the last couple of months.
Laughton has Richards' mean streak and then some, accumulating 101 penalty minutes to go with his 74 points last season in Oshawa.
21. Mark Jankowski—C—Calgary Flames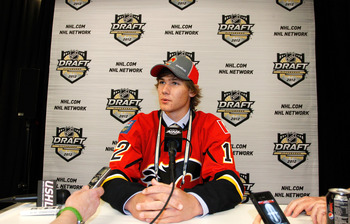 Justin K. Aller/Getty Images
Mark Jankowski is a bit of a surprise in the first round, but his progress will be interesting to track. Friday he chose to attend the draft in lieu of possibly missing his high school graduation back in Quebec. Jankowski put up video game numbers against high school competition last season and will certainly need some seasoning at Providence College before he gets the call up to Calgary.
Scouts are drooling over his size and skill, and Calgary GM Jay Feaster said that "In ten years Jankowski will have shown that he is the best player in this draft." Given his size, skill and strengths, I'll compare Jankowski to Joe Thornton.
22. Olli Maata—D—Pittsburgh Penguins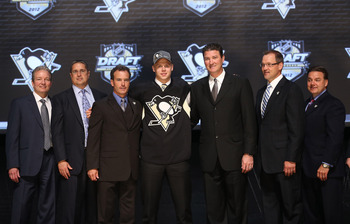 Bruce Bennett/Getty Images
In addition to having a name full of vowels, the Finnish defenseman is a solid pick because of his bullish size and maturity. He is a defense-first defenseman but has shown that he is a capable puck mover and can produce offensively.
Forgive the Finnish generalization, but I'll compare him to Kimmo Timmonen. Don't cringe Pens fans, Kimmo may be a Flyer, but he's a sturdy, solid defenseman.
23. Michael Matheson—D—Florida Panthers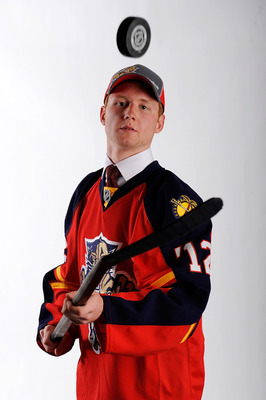 Jamie Sabau/Getty Images
The Panthers' first-round selection is headed to Boston College in the fall and that's fine with everyone. Regarded as the best pure skater in the draft, and a mean streak a mile wide, Matheson will hone his skills with one of the nation's elite collegiate programs.
His style of play will remind you of a mean Duncan Keith.
24. Malcolm Subban—G—Boston Bruins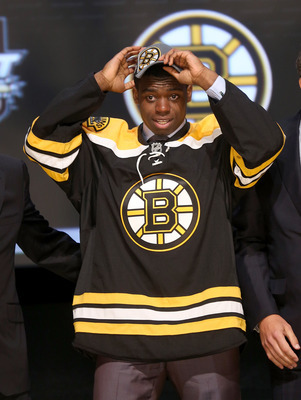 Bruce Bennett/Getty Images
Pernell Karl's younger brother may soon outshine the flamboyant Montreal blueliner. Predicted to be the cream of the goalie crop, Subban compensates for his average stature with lightning quick reflexes and unrivaled athleticism. Subban's temperament also wins praise as he stays composed even during the bad times.
His style and quickness is very much like Marc-Andre Fleury.
Subban gets picked up by the Bruins and will have a legitimate shot to make the Bruins this fall. Tim Thomas is writing his own ticket out of town, retired or not, and Boston seems ready to move forward without him.
25. Jordan Schmaltz—D—St. Louis Blues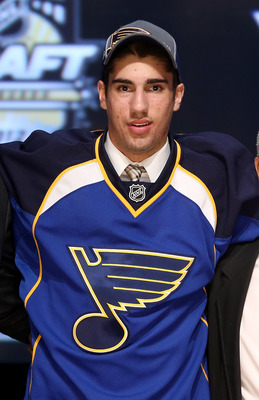 Bruce Bennett/Getty Images
The Blues add to an already stingy defense with Jordan Schmaltz. He'll be suiting up for North Dakota this fall, but Blues winger T.J. Oshie took the exact same path before returning to St. Louis to begin his career.
Schmaltz is an offensive defenseman by nature, which is why I feel he compares to Blues defenseman Alex Pietrangelo.
26. Brendan Gaunce—C—Vancouver Canucks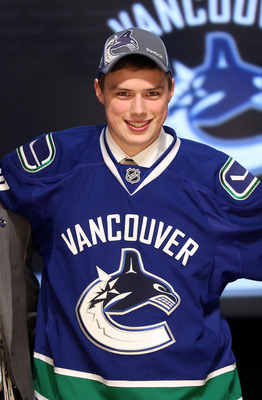 Bruce Bennett/Getty Images
A big two-way forward is probably just what the doctor ordered in Vancouver. With a surplus of offense, the Canucks need more fresh, younger legs for both ends of the ice. While Gaunce may be a year or two away, his style and leadership bode well for the future of the Canucks franchise.
Gaunce's play closely resembles that of new Carolina Hurricane Jordan Staal.
27. Henrik Samuelsson—RW—Phoenix Coyotes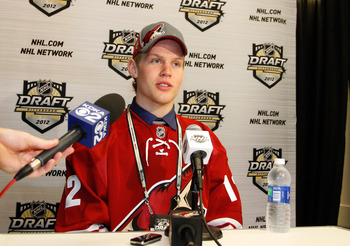 Justin K. Aller/Getty Images
The son of former NHL defenseman Ulf Samuelsson, Henrik is a power forward who has drawn comparisons to Claude Lemieux and to his father. A current player similar to Samuelsson would be Scott Hartnell. Both need improvement in the skating department, and both crash the net without a second thought.
28. Brady Skjei—D—New York Rangers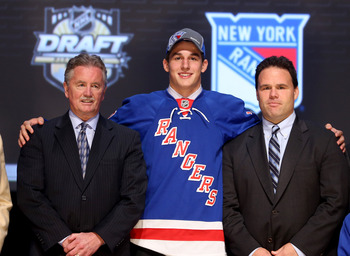 Bruce Bennett/Getty Images
With the long list of defensemen taken in this year's draft, the Rangers wanted in on the action too. Brady Skjei (pronounced Shay) has most of the characteristics to be a great defenseman but could stand to work on his puck-moving skills. Steady and dependable with a big body, Skjei is great in his own zone.
Set to skate for the University of Minnesota in the fall, Skjei reminds me of Ryan McDonagh.
29. Stefan Matteau—C—New Jersey Devils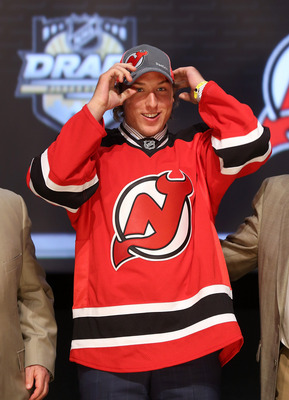 Bruce Bennett/Getty Images
No, irony is not lost on the front office in New Jersey. Eighteen years after his father dashed the Devils' Stanley Cup hopes, Lou Lamoriello drafted Stefan Matteau in the first round. The younger Matteau is a center who, like his father, plays at both ends of the ice.
He's got a big body, good bloodlines, great hockey sense and a nasty streak. He's a prototypical power forward who I would compare to Steve Ott.
30. Tanner Pearson—LW—Los Angeles Kings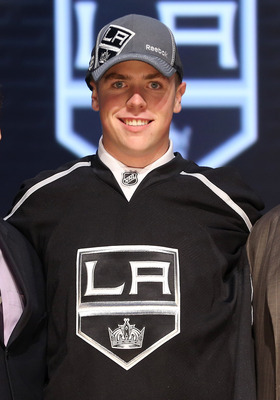 Bruce Bennett/Getty Images
The Stanley Cup Champs chose last in the first round, picking Tanner Pearson. A great goal scorer with gaudy stats from the Barrie Colts, Pearson was projected by many to be an earlier pick. Bypassed over the last two drafts, Pearson wears the title, or albatross of "late bloomer." The Kings might have gotten a steal with the last pick in Round 1.
Finally breaking out and making a name for himself this year, I liken his game/style to Paul Stastny or even a Nicklas Backstrom.
Keep Reading