College Football Playoffs: How We Think the Future Will Be Decided
June 21, 2012

Erich Schlegel/Getty Images
The titans of college football may have assuaged the anger of some of the madding crowd on Wednesday, but they haven't shut them all up.
The news that the BCS commissioners had reached a consensus on having a four-team playoff in the game starting 2014 had a lot of people dancing for delight, but there are still some major questions.
1) Where are the semifinals going to be played?
Larry Scott, the Pac-12 commissioner, says that it's going to be in the current bowl system. That's good news for the bowls and other schools because the schools will really, really want their payday. Unless you're a UConn and you're being sent to play a game in Arizona, which will mean that your fanbase doesn't show up and you lose some serious change.
WHAT THAT MEANS: The Rose Bowl guys got their way and that means that they'll at least be happy. So has the new SEC/Big 12 bowl, and the other BCS bowls.
2) Where's the National Championship Game going to be played?
Details are hazy on this.
PREDICTION: The powers-that-be in college football decide that the National Championship Game is played on a rotating basis as it has always been, rather than letting individual cities bid to host the game like the Super Bowl.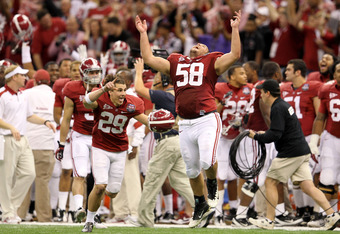 Andy Lyons/Getty Images
3) What's going to happen with strength of schedule?
This writer introduced a college football playoff proposal, but details are again fuzzy with the perma-one due out next week.
Some people think that a selection committee will be formed for the best four teams in the country. Some people think that computers will decide RPI—in the same way as they gauge how good a college basketball team is.
This will then force college football teams to schedule harder games instead of the likes of North Texas or Eastern Washington.
In a boon for college football season ticket holders, this will mean better games for their season tickets. After all, there's only so many games against UAB or South Dakota an Ohio State fan can stand, right?
PREDICTION: In the most controversial move yet, the powers-that-be decide that non-conference schedule is the biggest factor that will influence a team's right to be No.1, setting off a scramble for the likes of Alabama to play Oregon. But they won't go as far as asking for home-and-home games, so we see a lot of games played on neutral territory.
Later down the line (say in 2018), the ruling parties decide that teams will get more credit for winning a true away game than on a neutral site.
4) What's going to happen with scheduling in general?
Matt Zemek of College Football News has been very vocal about getting teams to adopt a flexible schedule to help evenness. In other words, he wants to put an end to the saga that the Georgia Bulldogs enjoyed when they went to the SEC Championship Game despite losing to South Carolina. They got in ahead of South Carolina because the Gamecocks lost against Auburn and Arkansas.
"If college football doesn't turn to flex scheduling, evaluating teams will be futile," he tweets.
In other words, you know the 2017 series between Big School X and Big School Y that you're looking forward to? Well, it's not happening because with the flexible scheduling, Big School X is now having to play Big School Z because it wants to get to the playoffs. Big School Y is sucking this year.
PREDICTION: Thanks to what's happening with RPI, flexible scheduling is adopted and the headache continues for ADs, but we see better non-conference games in September and November.
5) And how about the committee idea?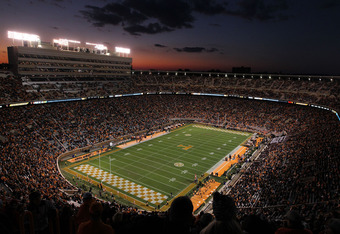 Andy Lyons/Getty Images
Again, nothing clear's come out about Committees, but there's rumor and conjecture that a committee may decide the top-4 teams. Who's on the committee? Who shouldn't be on the committee?
Mark Ennis, the great writer for Big East Coast Bias has recommended a committee made up of one representative from the big conferences (and we imagine, Notre Dame, too) to throw in their vote, while Bleacher Report writer Barrett Sallee recommended a "10-member committee, mandated to watch all games, mandated to make votes public and explain them". Transparency, of course, is the key.
PREDICTION: The committee idea will go for about four years until continued accusations of bias and malice aforethought end up with the BCS simply going on a RPI basis following the excellent college basketball model, saving coaches, writers and people a lot of headaches—and TV watching.