Florida Football: Power Ranking the Projected Starters on Defense for the Gators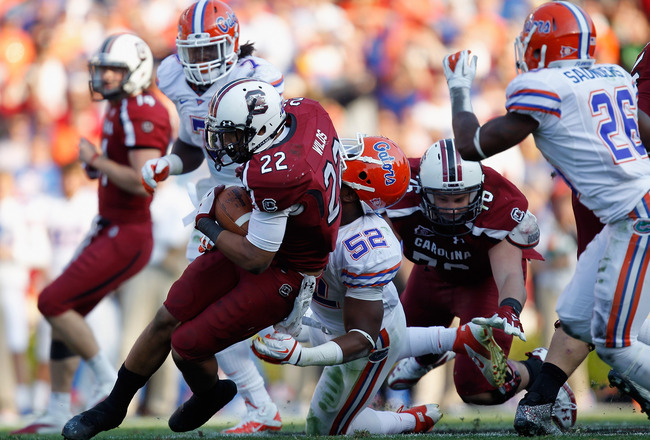 Streeter Lecka/Getty Images
The Florida Gators return 10 starters to a defense that finished eighth nationally a year ago (h/t cfbstats.com).
Despite being young in 2011, the defense was constantly asked to bail out the offense and answered that call on more than one occasion. For the third year in a row the Gators will have a new offensive coordinator, and until the offense becomes comfortable with a new playbook the defense will be called on again to be the strength of this team.
The difference between the 2011 defense and the 2012 defense is experience. The Gators played 17 underclassmen on defense a year ago and have all but two of those players back (Graham Stewart and Josh Shaw transferred) this coming season.
With a defense that is on the cusp of being one of the most feared in the country, let's take a look and power rank each projected starter on defense (h/t Michael DiRocco, ESPN Insider).
11. Loucheiz Purifoy, CB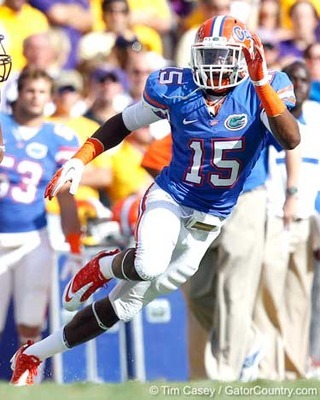 Photo Credit: Tim Casey/GatorCountry.com
Loucheiz Purifoy was mainly a special teamer in 2011, but after a solid performance in the Gators bowl and a strong spring camp he has moved himself to the top of the depth chart.
Purifoy led the team with 22 tackles on special teams in 2011 and contributed five tackles and a forced fumble against Ohio State.
At 6'1'', Purifoy has more of the body type that Muschamp is looking for in his defensive backs. Muschamp asks his corners to play on an island a lot during the course of the game and a bigger-bodied defensive back can get on a receiver at the line and disrupt a route. Florida's smaller cornerbacks had trouble staying with receivers when playing bump and run and it caused too many pass interference calls as they struggled to catch up.
Purifoy will still need to have a solid fall camp, but he seems to be the starter and has shown the ability to handle that job.
10. Josh Evans, FS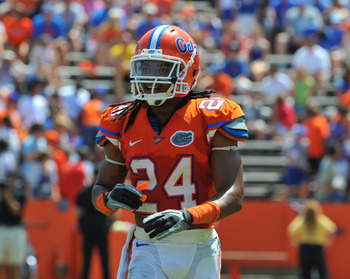 Al Messerschmidt/Getty Images
Evans will be the seasoned vet in the Gators secondary.
Evans started eight games last season and finally overtook sophomore-to-be De'Ante "Pop" Saunders during spring camp.
Evans leaves something to be desired in his covering ability but is an excellent tackler and can cover a lot of ground very quickly.
Evans will have to continue to fend off against Pop Saunders and rising star Valdez Showers if he wants to retain this starting role, but as a senior in his last year of eligibility Evans will be more motivated than ever to have his best season in orange and blue.
9. Michael Taylor, SAM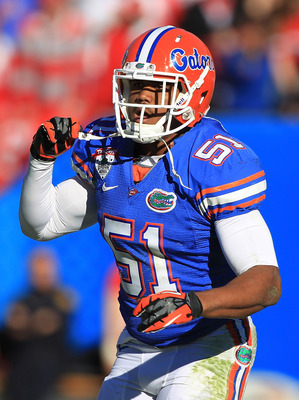 Scott Halleran/Getty Images
If you have read my articles in the past, you know that I am very high on freshman Antonio Morrison.
With that being said, I think Taylor will win the starting job, at least to start the season.
Taylor played well in mainly backup duty last season recording 36 tackles, one interception, 4.5 tackles for loss and a forced fumble.
Ronald Powell going down with a torn ACL opened the door for Taylor at SAM linebacker. Lerentee McCray is the early favorite to replace Powell at BUCK leaving a gap in the once set-in-stone linebacking corps.
While Taylor will start and should play well, Morrison will see plenty of field in his freshman campaign and the two should form a great duo in the years to come.
8. Omar Hunter, NT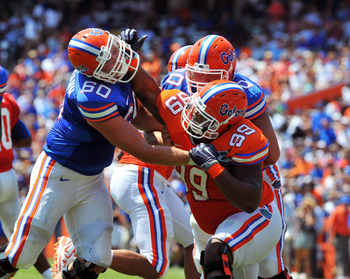 Al Messerschmidt/Getty Images
Hunter is the most seasoned player on the Gators defense. A fifth-year senior, Hunter has seen action in 43 games during his career, including 18 starts.
At 6'1'', 314 lbs, Hunter is a big-bodied physical player who can take on double-teams and open up lanes for the linebackers.
While the work Hunter does on the field may not show up in the box score, he sets the table for other players and is a valuable asset to the defense.
7. Lerentee McCray, BUCK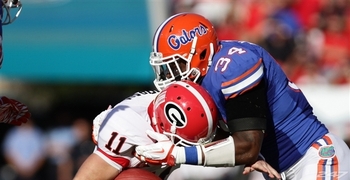 Photo Credit: 247sports.com
McCray missed four games last season and much of the spring following a shoulder injury and subsequent surgery.
Before going down with his injury, McCray was having a productive season as the least-heralded of Florida's linebackers.
McCray will now be asked to switch positions and play in Muschamp's BUCK linebacker spot unless incoming freshman Dante Fowler Jr. can step up and play right away.
McCray can be a disruptive force in the run game, but it remains to be seen if he can play with his hand on the ground and get pressure on the quarterback.
6. Marcus Roberson, CB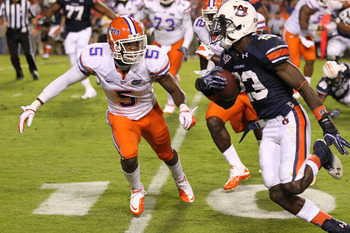 Following in the footsteps of Joe Haden and Janoris Jenkins, Roberson became just the third freshman cornerback to start in his first game.
Roberson played well as a freshman before a neck injury cut his season short. Roberson is the unquestioned starter at the CB No. 1 spot and barring a setback will be starting on September 1.
Roberson is an outstanding cover corner who will regularly draw the matchup against the opponent's best receiver. It will be important for Roberson to play against Bowling Green so he can re-acclimate to the game speed that cannot be simulated in practice.
Expect another solid season from this player.
5. Sharrif Floyd, DE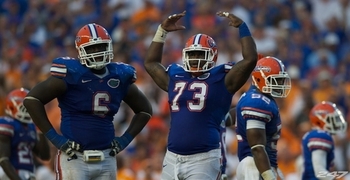 Photo Credit: 247sports.com
Ever since LeBron James, Chris Bosh and Dwayne Wade teamed up in Miami the national media has been consumed with the idea of the "Big Three." Well the Heat were not the only team that year to assemble a big three.
The signing of Ronald Powell, Sharrif Floyd and Dominique Easley gave Florida's defensive line a big three of their own.
Floyd was recruited as a defensive tackle but played on the outside last year due to depth concerns. Floyd was not his usual disruptive self at his new position but should continue to acclimate himself and his play should pick up in 2012.
Floyd will split time between end and tackle this season with Easley, and the two should make a permanent home in the opponents' backfield.
4. Jelani Jenkins, WILL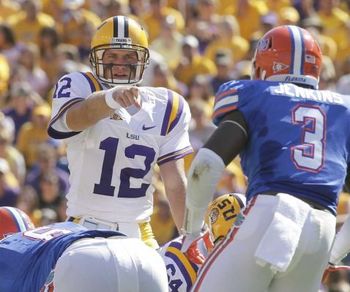 Photo Credit: thebullgator.com
Showing up to spring practice notably bigger, it has become apparent that Jelani Jenkins is flourishing under a new strength and conditioning program. When he is not in the gym Jenkins has been in front of a JUGS machine.
Despite having a top-10 ranked defense, the 2011 defense had a hard time creating turnovers. By Muschamp's estimation the Gators dropped 15 surefire interceptions and Jenkins was the main culprit with six. Jenkins has been teased by his teammates for the drops and he is taking the necessary measures to improve for 2012 (h/t Michael DiRocco, ESPN Insider).
Jenkins will be looking to impress NFL scouts and is one of the best weak-side linebackers in the country.
3. Dominique Easley, DT
Dominique Easley is definitely a unique character who knows how to have fun and can entertain himself. Easley has been seen dancing on the sidelines and singing and dancing between snaps on the field, but when he puts his hand in the dirt Easley is all business.
Easley is a crucial member of the defensive line and has developed into an emotional leader in the locker room and on the field.
Easley is also playing to impress NFL scouts this season and will try to prove that he has recovered fully from knee surgery that caused him to miss the final game of the season.
2. Matt Elam, SS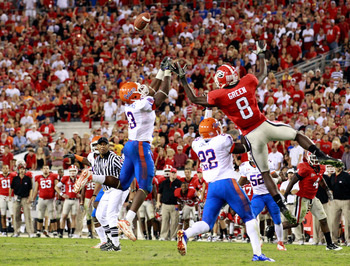 Sam Greenwood/Getty Images
Matt Elam has become the enforcer of the Gators defense.
Elam has shown his versatility and plays as well on the line of scrimmage as he does in coverage. In his first year as a starter, Elam accounted for 78 tackles, two interceptions, 11 tackles for loss, two sacks, two forced fumbles and seven passes broken up.
Talk about filling up a stat sheet.
Elam is one of the best safeties in the country and he will look to build upon a stellar 2011 season.
1. Jonathan Bostic, MIKE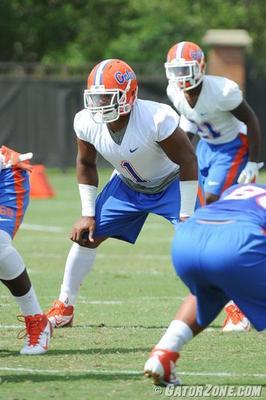 Photo Credit: GatorZone.com
After finishing third on the team in 2010 with 57 tackles, Jon Bostic broke out in 2011 with 94.
Bostic is everything you look for in a middle linebacker. Bostic has turned himself into a solid tackler, run-stopper and is the defensive field general.
Bostic is the leader of the defense and is poised for another big year in 2012.
Keep Reading

Florida Gators Football: Like this team?