NHL Free Agents 2012: Ranking Top Wingers Available This Offseason
June 21, 2012

Jim McIsaac/Getty Images
Now that the season is over, hockey fans aren't left with much to talk about but the free-agent wire.
This year's free-agency period will surely be exciting. There are plenty of players who are coming off the books for their teams and will be looking to leave for greener pastures.
Here are the top three wingers available this offseason.
Parise is set to come of the books for the New Jersey Devils as an unrestricted free agent this offseason after making $6 million last season.
He's a superior talent at the left wing position and would be a welcome addition to any team that he would like to join. He led the Devils to the Stanley Cup Finals where they ran into a playoff juggernaut that was the Los Angeles Kings.
The 27-year-old registered 69 points last season with 31 goals and 38 assists. He'll come at a steep price, as he'll be sure to maximize his earnings on what will likely be the last big contract of his career, but it will be worth it for whoever takes him on.
Parise has notched 410 points in 502 games, including a 94-point campaign in the 2008-2009 season.
Alexander Semin
Semin will scare some teams off because he hasn't played 80-plus games in a season at any point in his career. Teams will also be turned off because of his inconsistency. Sometimes Semin is one of the best wingers in the league, and other times it doesn't look like he cares about the situation unfolding in front of him.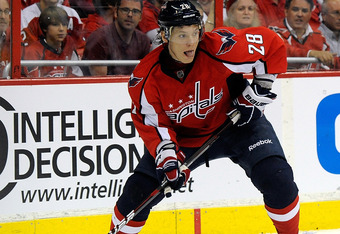 Patrick McDermott/Getty Images
He's a streaky player, but there are a bunch of teams out there who would benefit from his hot streaks more than they would suffer from his cold streaks. Semin has tailed off the last two seasons after he put up a career-best 84 points in 2009-2010, but will be one of the most highly courted wingers in this free agent class.
The 28-year-old left winger will likely remain with the Washington Capitals unless he decides that he wants an inordinate amount of money he doesn't deserve, but it wouldn't be a surprise to see him snatched up by another club.
Ray Whitney
Whitney might not be the guy you would expect to see on this list, but he would be smart sign for any team. A 40-year-old player is not as likely to command a huge contract, but his play would be worth one.
No team in their right mind would sign a player his age to a mega-contract, which is what makes Whitney such an intriguing free agent. He's put up 269 points in the last four seasons, which is a great number, but he's not going to get that type of payday.
His age puts him at risk, and he may not be the best left winger out there. But he would be a bargain, and that puts him on this list. It will be interesting to see what becomes of Whitney this offseason.