Heat vs. Thunder: What Oklahoma City Must Do to Win Game 5
June 21, 2012

Mike Ehrmann/Getty Images
One moment, the Oklahoma City Thunder look like world-beaters against the San Antonio Spurs. The next, they look like they don't even belong in the NBA Finals.
What has happened to the team that was supposed to be coming into its own after the Western Conference finals? What has happened to James Harden? What the heck is going on?!
Well, part of it is being a young, inconsistent team. Another part of it is adopting the wrong strategy against the small-ball Miami Heat. There's also that guy named LeBron James, who apparently can't be stopped right now.
But there is some glimmer of hope still. Here's what the Thunder must do to take Game 5 and make the NBA Finals a series.
Get James Harden Going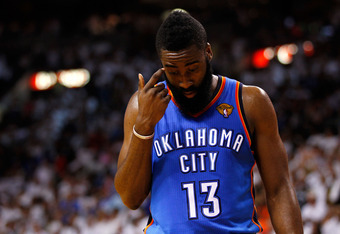 Mike Ehrmann/Getty Images
The way James Harden has played thus far in the NBA Finals, he doesn't deserve a lot of looks. Unfortunately for the Thunder, they need him if they are going to beat the Heat.
One option is to use someone else to defend James, like Kevin Durant or Thabo Sefolosha. That would allow Harden to focus more on offense and keep his energy up. 
Harden has had one good game in the series (21 points in Game 2), so there's still the possibility he catches lightning in a bottle. As the Sixth Man of the Year, he undoubtedly has the ability to play well. I think it's more of a mental thing than anything.
But the Thunder, whether they like it or not, need to feed Harden early and set up screens for him. His scoring ability is critical against a solid defensive team like the Heat.
Play Small Ball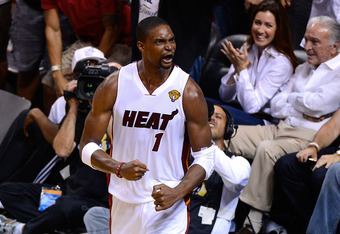 Ronald Martinez/Getty Images
The matchup of Kendrick Perkins vs. Chris Bosh is an absolute nightmare for the Thunder. Perkins may be a good low-post defender, but he can't defend Bosh adequately on the perimeter. He's not quick enough. Bosh's struggles in Games 1 and 3 were more a product of his poor shooting than Perkins' defense.
But the Heat are also a smaller team in general when it comes to the starting lineup. You have Shane Battier, James and Bosh at small forward, power forward and center respectively. Harden should be at shooting guard, Sefolosha should be playing small forward, Durant should be playing power forward and Serge Ibaka should be at center. Then they can mix-and-match the defensive match-ups.
Of course, taking Perkins out of the starting lineup is easier said than done. That could create some bad blood between Perkins and management. Nonetheless, it must be done at this point.
Bench Play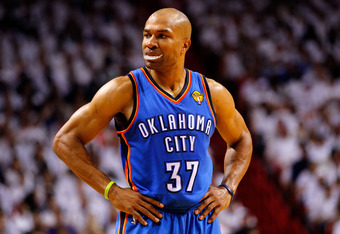 Mike Ehrmann/Getty Images
The Thunder apparently don't have as deep a team as we thought they did. Derek Fisher and Nick Collison need to step up off the bench. The 10 rebounds Collison collected in Game 1 looks like a mirage at this point, and Fisher can't knock down anything lately, even when he gets a decent amount of shots.
Fisher's struggles are particularly troubling. We already know he has trouble guarding anyone at this stage in his career. When you couple that with minimal offensive production, you have a player who is, to be frank, worthless on the court.
Collison and Fisher must bring their "A" games on Thursday or the series will be over before the second half.
Follow me on Twitter. We can talk about the NBA together.