Is Nationals' Innings Plan for Stephen Strasburg Forward-Looking or Foolish?
June 21, 2012

For Washington Nationals ace Stephen Strasburg, the 2010 season was a mere tease that unfortunately met a disappointing end. He had to undergo Tommy John surgery, and he didn't reappear in the big leagues until late in the 2011 season.
Strasburg's 2012 season looks like the real deal. Through 14 starts, he's 9-1 with a 2.46 ERA and 1.04 WHIP. He's struck out 110 hitters in 84 innings pitched, good for an MLB-best 11.79 K/9.
What Strasburg is doing this season is pitching like all the experts and various baseball people said he would pitch. He's pitching like a No. 1, and there aren't many of those.
Note the language here. He only "looks" like the real deal, and he's only pitching "like" a true No. 1.
It's too soon to anoint him as either the real deal or a true No. 1 (a la Justin Verlander), and the reason it's too soon to do that is because this season is essentially just another tease.
Or, at least, such is the plan.
Everyone knows that Strasburg's season is going to be interrupted and brought to a screeching halt at some point. The Nationals made it clear before the start of the season that their plan was to be as careful as they could possibly be with Strasburg in 2012, and that's a plan that includes an innings limit.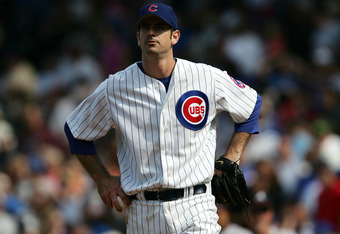 Jonathan Daniel/Getty Images
This, of course, is understandable. The last thing the Nationals want is for their prized 23-year-old right-hander to turn into the next Mark Prior. They want him to have a long, healthy, productive career. 
The tricky part is that the Nationals hammered out their plan for Strasburg before the start of the season. They were no doubt hoping for the team to succeed, but even they probably didn't think the team would be sitting in first place in the NL East and knocking on the 40-win door on June 21.
If the Nats stay on their current pace, they'll win 96 games. They're not going to do that, however, unless Strasburg stays on his pace to pitch 206 innings and win 22 games (according to ESPN.com).
So, what was once a smart plan, now looks like a stick inching closer and closer to the Nationals' spinning spokes. 
The question is this: Do they stick with it, or toss it out—stay the course with Strasburg and hope for the best? Do they continue to maintain that their plan is what's best for the future of the team, or do they come to regard it as foolish?
Well, first of all, everyone should understand that it's not like there's a countdown going on. The notion for a while was that Strasburg's innings were going to be capped at 160, meaning he would already be more than halfway there at this point with an even 84 innings under his belt. 
Here's what Nats GM Mike Rizzo told Baseball Prospectus back in April (h/t Yahoo! Sports):
"Look, the media put (the 160-innings limit) out there, not me. It probably comes from what Jordan Zimmermann pitched last year.

"I don't have a specific pitch count in my mind, a specific innings count in my mind. I am going to refer to my experience as a farm director, as a player development guy, and knowing his body. In conjunction with [manager] Davey Johnson and [pitching coach] Steve McCatty, when we feel he's had enough, we're going to shut him down.

"Just like we did with Jordan Zimmermann last year. We felt he had enough at 160 innings. Could he have pitched more? Sure, he could have. We felt that if he went from 70 innings to 200 innings, I would not have been doing my job developing the talent. With Stras going from 64 innings to X amount of innings, I'm going to dictate that."
Rizzo had told the Washington Post in February that the plan was to keep sending Strasburg out to the mound "until his innings are gone and then stop him from pitching." There is not, however, a set number. Rizzo and the rest of the team's decision-makers are basically going to play it by ear.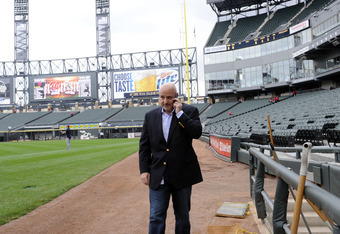 David Banks/Getty Images
But again, the team never said that Strasburg "could" be shut down; they have continued to insist that Strasburg "will" be shut down. There's at least a chance that he could pitch straight through to the end of the season, but not a good one.
If the Nats stay true to their word, they'll shut down Strasburg at the first sign of trouble, and then keep him shut down.
This would be fine if the Nationals were a bad team that had no hope of making the postseason. Shutting down Strasburg could also be forgiven if the Nationals were an obvious overachiever, a team that would gladly accept a postseason berth and not demand more. 
Neither of those descriptions fits these Nationals, though. They may be ahead of schedule, but that doesn't mean their 2012 season is a fluke. These guys are legit, and they have a legit chance to do something special this season.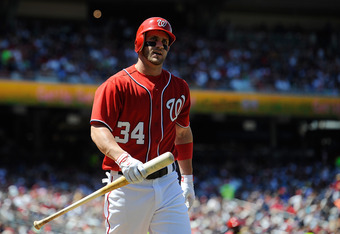 Patrick McDermott/Getty Images
The rest of the National League should be afraid of the Nationals.
Their starting pitching is excellent, and their lineup is deeper than it appears at first glance now that key players like Ryan Zimmerman and Michael Morse are healthy at the same time. Jayson Werth will soon be back, too. Bryce Harper has provided the team with a ton of energy, and he has a real chance of having the best statistical season ever for a 19-year-old. 
The Nationals don't boast eye-opening offensive numbers, but make no mistake about it—their offense has potential.
Of course, their pitching is their main strength. The San Francisco Giants proved in 2010 that you can go really far with great pitching, and the Nationals will have the staff to duplicate what they did if Strasburg is active and ready to go once the postseason arrives. He and Gio Gonzalez are the National League's top 1-2 punch, and Jordan Zimmermann is one of the best No. 3 starters in baseball.
A starting trio of Gonzalez-Zimmermann-Edwin Jackson would still be pretty good, but it wouldn't be nearly as lethal as a Strasburg-Gonzalez-Zimmermann starting trio. The three of them would be dynamite in a short postseason series.
If the Nationals stick to their guns, Strasburg won't be pitching in the postseason. He'll instead be removed well ahead of the start of the playoffs, thus putting the rotation down a man and sucking a significant amount of life out of the team as a whole.
Any notion of winning the World Series this season will die that day. The Nationals will effectively be waving a white flag.
It was a good plan then, but not now. The Nationals are a quality team capable of going far in the playoffs, and the NL lacks a true superpower team to stand in their way. Success is theirs for the taking.
If that means shutting down Strasburg on Sept. 1 and saving his bullets for the playoffs, so be it. If it means skipping a start here and there down the stretch, so be it. If it means limiting him to five innings per start for every start he makes after the All-Star break, so be it.
If they have to send him to a distant planet to acquire some sort of arm-rejuvenating ooze, so be it.
Just do what it takes to make sure Strasburg is healthy and ready to contribute when the postseason arrives. That's where this team is headed, and he needs to be a part of it.
They need to let him be their real deal, their ace. Not later. Now.
The Nationals have been planning for the future like it wouldn't arrive until 2013 or 2014, but it's arrived in 2012. 
They should put their best-laid plans aside and dive right in.
If you want to talk baseball, hit me up on Twitter.