Can Eli Manning Guide the Giants to a Dominant Regular Season?
Use your ← → (arrow) keys to browse more stories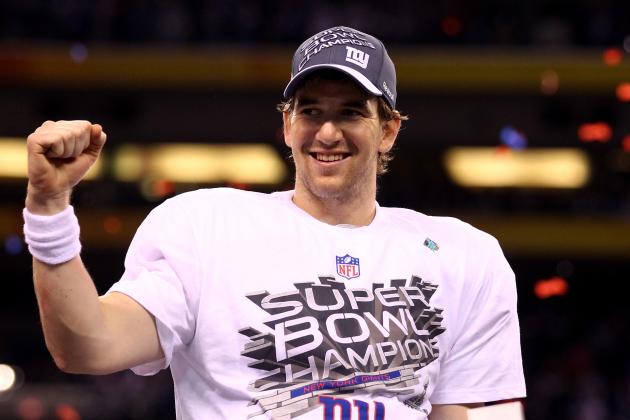 Al Bello/Getty Images

You'd be hard-pressed to find a more criticized athlete in the sport of professional football than New York Giants quarterback Eli Manning. Even after winning a Super Bowl in 2007—and being the game's MVP—his critics were still adamant that the Ole Miss graduate was not even a top-10 quarterback.
Even after three seasons in which he put up top-10 numbers, prior to the 2011 season you would still find many critics placing 10 or more quarterbacks ahead of Eli. His peers did not even place him in the NFL top 100 after the 2010 season, ranking 12 quarterbacks ahead of him.
Obviously things have changed. Eli put up gaudy numbers in 2011, throwing for 4,933 yards, 29 touchdowns and 16 interceptions. He also led seven game-winning drives in the fourth quarter and set the NFL record for fourth quarter touchdowns with 15.
He guided the Giants to a win over the New England Patriots in Super Bowl XLVI, winning his second MVP.
Needless to say, the Eli Manning critics have silenced, more or less.
One thing you can say about the Giants since Eli took over is they have not dominated the NFC in the regular season consistently like a Drew Brees has or Aaron Rodgers will.
The 2008 season is the only year the Giants have secured a top seed in the conference, and even that year they faltered towards the end of the season and lost their first game in the playoffs.
Prior to 2008, the fault could rest on Eli's shoulders. He was inconsistent and it drove fans crazy. One moment he would have a terrific performance, and the next he would have a game like this. Seeing his potential greatness would give fans a reason to keep believing, then he would erase all that with a three-interception game.
Is Eli Manning a Top-Five Quarterback?
To say it was maddening would be an understatement.
However, in recent years Eli clearly turned a corner. The Giants have ranked in the top 10 in offense each of the past four seasons and Eli is a big reason for that. So why have they only been able to put together one dominant regular season?
The simple answer is defense and injuries. Not many teams have dealt with the rash of injuries the Giants have since 2009. The 2009 defense was record-setting in terms of how bad they were. They gave up 40 points five times—it was one of the worst seasons in team history.
In 2010 the Giants were signing wide receivers off their couch and the team still somehow finished 10-6. Unfortunately it wasn't enough to make the playoffs that season.
The 2011 season takes the cake in terms of injuries, which is why it is a miracle the Giants made the playoffs. They lost Terrell Thomas, Jonathan Goff, Clint Sintim and four key backup cornerbacks for the season prior to any games being played.
Not to mention guys like Osi Umenyiora missing seven games, Justin Tuck missing four and Michael Boley missing two. All of this led to a major step back for the Giants defensively. It was only until late in the season when they got marginally healthy and ripped off their six-game winning streak.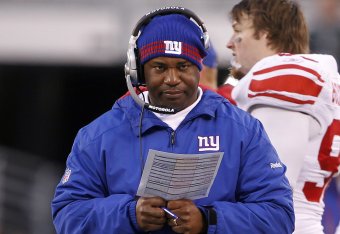 Rich Schultz/Getty Images
It's no wonder the Giants have had to fight to make the playoffs the past several years. The 2008 season was the one year they stayed moderately healthy, and wouldn't you know it, they won 12 games.
So the question remains—can Eli Manning lead the Giants to a dominant regular season? Absolutely. Even if the Giants do get bit by the injury bug, they are far more deep than they were a year ago, especially at key positions.
They have been hit hard in the secondary and wide receiver corps the past two seasons, which could arguably now be the two deepest positions on the team.
They get Thomas and Justin Tryon back from injury, Prince Amukamara is healthy, they signed Antwaun Molden and drafted Jayron Hosley. I think it's safe to say the Giants are set at corner.
Now, they did lose Mario Manningham this offseason, but they drafted Rueben Randle, get Domenik Hixon back from injury, and have 2011 third-rounder Jerrel Jernigan all ready to replace Manningham's numbers.
I do not think there are any questions the Giants are a top-five offense in the NFL. They have two of the best wide receivers in the game, and added two potentially dangerous weapons in Martellus Bennett and Adrien Robinson.
Obviously to put together a dominant regular season, you need a complete team. With the defense getting several key components back, and adding a player like Keith Rivers, the Giants could field one of the most complete teams in the NFL.
If you do not think the Giants can be a 13-win team, you're not looking at the same roster I am. Not to mention, when you have a top-five quarterback, wins can be easy to come by.
Now, will they win 13 games? That's a question for another column. But to ignore the possibility would be foolish.