Heat vs Thunder Game 5: Bold Predictions for Crucial Finals Matchup
June 21, 2012

Mike Ehrmann/Getty Images
If you say you knew this is how the NBA Finals were going to play out, you're lying.
If you say you knew Shane Battier was going to turn into Reggie Miller and not only hit 63 percent of his threes but bank in a crucial one late in the fourth quarter of Game 2, you're lying.
If you knew James Harden was going to poop his pants and average 10.8 points per game while looking tentative and scared, you're lying.
If you knew the Heat would be up three games to one after collapsing in the opener, you're lying. 
To sum up, this has been a weird series. If you begin to expect the unexpected, the expected would probably happen. 
With that being said, I'm going to take a shot at it. Here's a look at some bold predictions for the all-important Game 5. 
Russell Westbrook Continues to Give His Middle Finger to Media
During this series, Westbrook is averaging 29 points on 48 percent shooting, seven rebounds and 6.8 assists (and just 2.3 turnovers!) per game. 
And he continues to get absolutely ridiculed and torn apart by fans and media. Uhh, what?
Westbrook had one of the greatest Finals games in recent memory during Game 4. He dropped 43 points to go along with seven rebounds and five assists. He was absolutely and unequivocally unstoppable and put the Thunder on his back.
Yet, a boneheaded foul late in the game somehow means he lost it for them? How about the fact that without him scoring the previous 30 straight points (or so it seemed) on the same play over and over, the Thunder would have been down by double digits?
Westbrook has faults, sure, but what he's doing in this series is unfathomable. I'm expecting a 32-8-8 performance in Game 5, and I'm also expecting everyone to blame him for taking 20 or more shots. 
And James Harden Continues to Disappear
It's not his injured hand. It's not that he's lost his shooting stroke all of sudden. It's just that James Harden is playing with no confidence whatsoever.
This play says it all:
As ESPN/Grantland's Sebastian Pruiti put it, Bosh was able to guard two players because of that hesitation. 
You can point to Harden's atrocious stats in this series, but when it comes down to it, he's lost all faith in his game. He's disappearing from action, and when he does get the ball, he isn't pulling the trigger like he has been all playoffs.
Maybe his beard is losing its magic, maybe he's scared, I don't know. I just know that this isn't a shooting stroke problem that will eventually fix itself. It's something that won't immediately get better.
I'm preparing myself for another stinker from Harden in Game 5. 
Heat Win, LeBron Doesn't Get Enough Credit
If the Heat manage to close out this series, there is absolutely nothing else LeBron James can do to prove he's the best player in the league. 
In this series, he's averaging 29.3 points, 10 rebounds and six assists per game. He's hitting clutch shots while playing with painful cramps. He's knocking down his free throws (81 percent). He's playing all-world defense.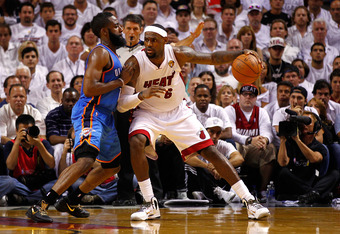 Mike Ehrmann/Getty Images
But if I know the media, I know they will find a way to take away from this historic performance.
For some reason, I'm thinking LeBron goes out in Game 5 and has an average game. He has to have one sometime, right? Something like 20-5-5, so you know, average for him. 
It won't even come close to taking away from what he's done during these playoffs, but you will see things like, "Heat Win Title Despite LeBron Choking."
It's just inevitable.