Mailbag: Talking Oklahoma, Texas and Who Will Win the Big 12 Championship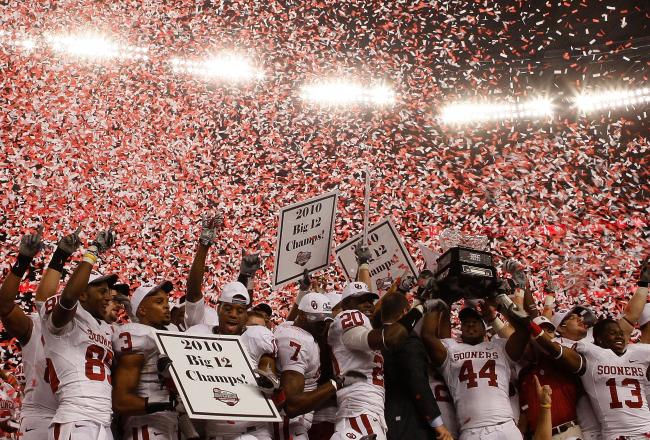 Ronald Martinez/Getty Images
Every Thursday, I will be answering questions that you, the readers, asked about the Big 12, Pac-12, Big East and ACC. No topics are off limits, unless I feel like I only want to talk about something specifically. This week? We're talking Oklahoma, Texas and who will win the Big 12 Championship (because none of the other conferences apparently had questions this week)!
@helloerinmarie for TX to have any shot at Big 12 title they need better QB play, can they get it from either, Ash, McCoy, or frosh Brewer?

— Bruce Zigmont (@AstrosFan1975) June 21, 2012
Can I just go ahead and first say how much fun it is to talk about the Big 12? Let's keep this between you and me, but I've really missed you Big 12 folks. Since Nebraska parted ways with you, I've often whined (yes, whined) about how I missed the Big 12. I just can't quit you. Anyway, let's move on.
Texas definitely has been struggling at the quarterback position since the Colt McCoy days ended. I remember everyone thinking Case McCoy was going to be just like his brother and all would be well. Things didn't work out quite like that, did they? Now head coach Mack Brown has three options to work with - sophomore David Ash, junior Case McCoy and freshman Connor Brewer.
I'm going to say you can throw Brewer on the bench for the season, unless he is otherwise needed. It's not that Brewer doesn't have potential; it's just that Brown will most likely stick with the two guys he knows. While Brown is staying quiet on the starter, I think you can put your money on Ash.
Regardless of who starts, I do think Texas has the potential to win the Big 12 with this group. They are not the quarterbacks of the past, but they aren't that bad either. Brown's a strong head coach. I can't imagine he hasn't been pushing these guys in practice to compete.
Ultimately, Texas is a talented team. Even with an "alright" quarterback, they'll make a run at it.
@helloerinmarie Is the Big12 Oklahoma's to lose or do Texas or Okie State have a chance?

— gary (@gkize) June 21, 2012
I like this question because it's a question I've been wondering about myself. Oklahoma, Oklahoma State and Texas really are the front-runners for the Big 12 Championship (which might I add, welcome back to the ol' championship game!). Although, I keep hearing TCU may make a run for it and they just might. I seriously doubt they will win it all, but the Horned Frogs could at least shake things up a bit.
As for Oklahoma, I do believe the championship is theirs to lose. In fact, I think it will be a battle between the Sooners and Longhorns for the title in the end. While Oklahoma State is still in the running, I just see this being more of a rebuilding year for the Cowboys. A true freshman that has never started a game will make like a bit challenging, so Oklahoma State shouldn't be too upset if they don't contend for the title in 2012.
I'd keep my eyes on Texas and Oklahoma. I think Mack Brown has a chip on his shoulder and Bob Stoops most likely does too. I can see them both coming out with a vengeance.
@helloerinmarie When will Kansas win their next national championship...in football?

— Bob Bulldog Fescoe (@fakebobfescoe) June 21, 2012
I have to say: I like Kansas. One of the oldest rivals with Nebraska, I've just always had a soft spot for the Jayhawks. It was even better when Turner Gill was the head coach because of how awkward Bo Pelini was when the two faced-off.
Anyway, I don't think the question you should be asking is when Kansas will win their next football national championship. I actually think the question is how long it will take for someone to make a "Fire Charlie Weis" website, a la the former "Fire Turner Gill" site. May it rest in peace.
I want to hear from you! If you have a question about the Big 12, Pac-12, Big East of ACC, tweet me @helloerinmarie. I want to hear from all four conferences, so send your questions my way.
This article is
What is the duplicate article?
Why is this article offensive?
Where is this article plagiarized from?
Why is this article poorly edited?