Why Jeff Ireland Should Not Be on the Hot Seat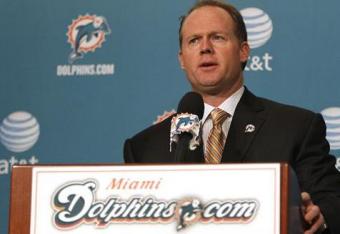 Photo via USAToday.com/Lynne Sladky, AP

Jeff Ireland is only entering his fifth season as general manager of the Miami Dolphins, yet he's already enshrined as one of the most polarizing figures in team history.
In fact, he might be the most polarizing figure in Miami's 50 year history.
No player or coach has drawn a modicum of the criticism that Jeff Ireland has. Fans were furious when Ricky Williams abruptly retired in 2004, but nobody flew a plane above Sun Life Stadium or protested outside of team facilities afterwards.
I'll be the first to admit that I too carried a trident and a torch and bellowed for Ireland's head on a stake.
But, now that the storm has calmed, I can't help but think we overreacted.
Look, Jeff Ireland is not a great general manager—let's make that clear. He has embarrassed the franchise on multiple occasions and failed to assemble a formidable team.
Ireland obviously has to take responsibility for his off the field gaffes, but should he be held responsible for Miami's struggles?
Not entirely.
Bill Parcells should shoulder most of the blame.
This isn't news to Dolphins fans, but it's time to disassociate Ireland with Parcells.
Consider this: 2011 marked Ireland's first year of independence from Bill Parcells.
Ireland scooped up Matt Moore, traded for Reggie Bush, drafted a franchise center and grabbed two promising playmakers in the sixth and seventh rounds. If Daniel Thomas rebounds in 2012, then this draft class will go down as one of the best in recent team history.
Now entering his second year of independence, Ireland is abandoning Parcells' outdated philosophies.
He's becoming his own man.
Ireland hired a head coach who brings a complex, uptempo, pass-first offense—a stark deviation from Parcells' smashmouth, run-first ideology.
Then, he spent five of his nine 2012 draft picks on skill players and drafted an undersized pass rusher in the third round—something that surely wouldn't have happened if Parcells was still around. More importantly, this draft class generated a positive buzz, which is no easy task with a fan base as impatient and frustrated as Miami's.
In the course of a few months, the Dolphins have leaped from hapless to hopeful.
Ryan Tannehill is waiting in the wings, there's a three-headed monster in the backfield, a slew of playmakers primed to breakthrough (Charles Clay, Legedu Naanee, Brian Hartline, Roberto Wallace, etc.) and a slowly improving offensive line.
The Dolphins boast one of the league's best front sevens, and if they can get solid play from whichever two safeties earn starting jobs, then this defense should be a top-10 unit.
Miami is still far away from competing for a Super Bowl, but it feels like this team is definitely headed in the right direction, and it's refreshing to watch the 'Fins build through the draft.
Ireland isn't off the hook, though. His seat is still hot but he's bought himself time, a precious commodity for NFL general managers.
The biggest variable in Ireland's job security is Ryan Tannehill. If Tannehill is a bust, then Ireland will be gone so fast we won't even have time to protest. If, however, Tannehill is the savior, then Ireland could be around for a long, long time.
Either way, Ireland will be around for at least another year barring disaster, so you might as well try to warm up to the guy.
This article is
What is the duplicate article?
Why is this article offensive?
Where is this article plagiarized from?
Why is this article poorly edited?

Miami Dolphins: Like this team?