NBA Finals Schedule 2012: Game 5 Win Would Put Oklahoma City in Driver's Seat
June 21, 2012

Mike Ehrmann/Getty Images
Things seem dark for Oklahoma City down 3-1 in the NBA Finals, but a win in Game 5 would make the Thunder favorites to win the series.
Right now, the Thunder are lacking confidence. The team's top four scorers are all under the age of 24 and, aside from a couple of players, are very inexperienced.
They have performed extremely well throughout the season and playoffs leading up to the Finals, but the spotlight shines brightest in the Finals. It seems that some players simply are not ready to step up on the big stage.
Impact players like James Harden and Thabo Sefolosha have looked hesitant and have not fulfilled their roles on the team. 
Russell Westbrook has not been afraid to play, but the extra attention has definitely affected his game. The NBA's fifth-leading scorer averaged less than 20 shot attempts per game during the year, but he has taken 25 attempts per game against the Miami Heat.
The point guard had an outstanding performance in Game 4, but he still needs to make sure he does not take too many ill-advised shots in the next contest. Playing within himself and giving the ball to his teammates will be the best way to win the game, assuming those teammates can play like they have all year.
If the Thunder can keep their composure for Game 5, a return to Oklahoma City could be enough to give them the confidence needed to put the team over the top in the Finals.
During the regular season, the team only lost seven games in the Chesapeake Energy Arena. In the playoffs, it is an impressive 9-1. The Thunder have one of the loudest home crowds in the country. and it will be a challenge for the Heat to win a second road game in the series.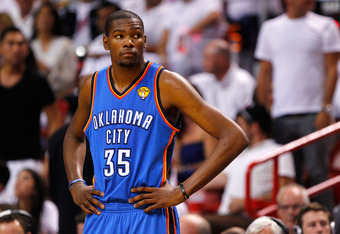 Mike Ehrmann/Getty Images
Another factor for the last two games will be the criticism from the media. Right now, the pressure is on the Thunder to improve as they are 48 minutes from elimination. However, it will only take one win to put the pressure back on the other side.
Miami star LeBron James has received praise for his performance so far in the playoffs. A loss in a clinching game will force the MVP to answer questions about choking and a possible collapse. 
Playing in front of 18,000 angry fans with all of the pressure on you would hurt anyone's performance.
The Thunder are not in an ideal situation, but they still have two of the best players in the league between Westbrook and Kevin Durant. With these great athletes and a solid team around them, they will never be out of contention until the final whistle.