4 Things We've Learned from Baltimore Ravens' OTAs and Minicamp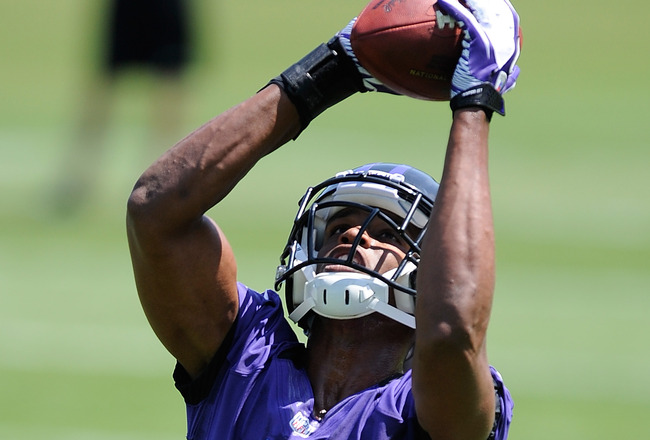 OTAs and minicamps are the first chance rookies have to show what they can do on the field.
Patrick McDermott/Getty Images
The Baltimore Ravens wrapped up their offseason program and head into the one-month lull before training camp starts. This is a time of optimism for every team around the league, but for the Ravens it's also a time of anxiety.
That anxiety stems from losing linebacker Terrell Suggs for perhaps the entirety of the season to a torn Achilles' tendon. It doesn't help that running back Ray Rice sat out OTAs and minicamp while in a contract holdout or that safety Ed Reed hasn't shown up for primarily unknown reasons.
So what have we learned from Baltimore's OTAs and minicamp? Click through to find out.
The Ravens Have a Real Wide Receiver Battle on Their Hands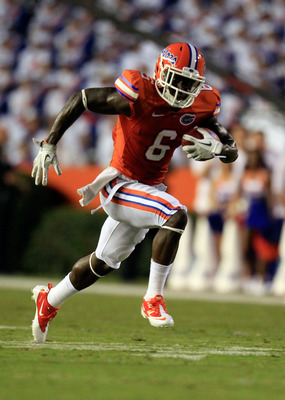 Deonte Thompson, who many thought had no chance to make it in the NFL, could win the Ravens' No. 3 receiving job.
Sam Greenwood/Getty Images
The Baltimore Ravens have their No. 1 and No. 2 receiving jobs settled with Torrey Smith and Anquan Boldin, but the battle for the No. 3 position is anything but finalized. Four players—including one surprising dark horse—are currently fighting for the job.
Heading into OTAs and minicamp, it was believed the No. 3 spot would go to either Jacoby Jones, Tandon Doss or LaQuan Williams. But an undrafted standout may change all of that.
Former Florida Gator Deonte Thompson, much-maligned for his dropped passes and overall inconsistency, has been impressive thus far.
Bleacher Report's Sigmund Bloom breaks down the outpouring of praise Thompson has received from members of the media after watching his performances in both minicamp and OTAs. If this keeps up, he may jump from being on the roster bubble to a full-time starter.
There's Still a Ways to Go before We Know Who the Ravens' No. 2 RB Is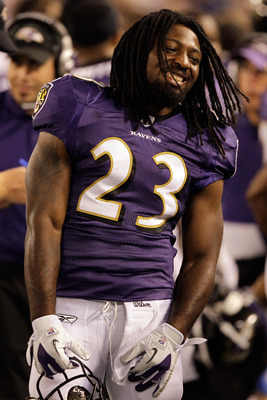 Damien Berry is one of three backs trying to earn the No. 2 roster spot.
Rob Carr/Getty Images
With Ray Rice on a contract holdout, it's given the Ravens a chance to take a very close look at the three other running backs on their roster to try and figure out who would be the best fit as Rice's backup.
Bernard Pierce, Anthony Allen and Damien Berry are all fighting it out for the job, but it likely won't be determined until training camp and the preseason when the three can put on pads and make contact.
Pierce, a third-round 2012 draft pick, seemed to be an early front-runner to take the No. 2 job, but he sat out minicamp with a hamstring injury and Allen and Berry both split time with the first-team offense.
Backup running back is likely going to be of greater importance to the Ravens this season than it was in the last, so the ongoing competition between these three backs is something worth paying close attention to once training camp begins in July.
Left Guard Might Go to Bobbie Williams after All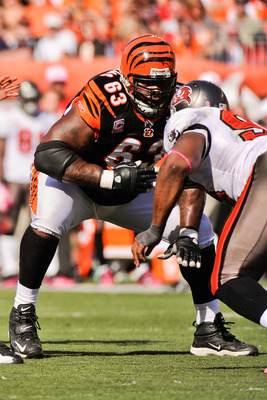 Former Bengals RG Bobbie Williams may step right into the starting LG spot in Baltimore.
Jamie Sabau/Getty Images
When the Baltimore Ravens brought in veteran free-agent offensive guard Bobbie Williams, it was thought to be a depth addition and little more. But now, it seems he might win the vacant starting left guard job that once belonged to Ben Grubbs.
Williams, who has been in the league since 2000 and played for the Cincinnati Bengals last season (landing on injured reserve with an ankle injury that has since healed), is now firmly in the competition, up against Jah Reid and rookie Kelechi Osemele.
Both Reid and Osemele have been battling injuries that kept them off the field at minicamp. Aaron Wilson tweeted on June 13th that Osemele's quad injury would sideline him for weeks, which is likely a reason why the team brought Williams into the fold.
Williams spent all of minicamp with the first-team offense and was reportedly impressive as a starter. With Williams having the most starting experience of all three players, the left guard job could be his to lose.
Courtney Upshaw Is Improving Rapidly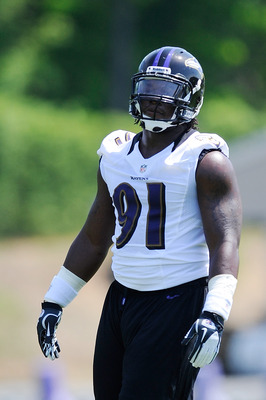 Courtney Upshaw already appears capable of being a full-time starting linebacker.
Patrick McDermott/Getty Images
Rookie linebacker Courtney Upshaw has a lot of pressure on him this offseason, considering he's one of three players in serious competition to take one of two vacant starting linebacker spots.
Paul Kruger is almost certain to get Terrell Suggs' job, meaning it's down to just Upshaw and Sergio Kindle to fight it out for the outside/strongside linebacker spot that once belonged to Jarret Johnson.
But luckily for Upshaw—and for the Ravens' defense—he's picking up his new position quickly, and amassing praise from his contemporaries as a result.
Upshaw looked a bit green during rookie camp, but has steadily improved in OTAs and this month's minicamp. Suggs said (via the Carroll County Times) that Upshaw looks better and more comfortable than he did at this point in his own rookie year—some seriously high praise from the reigning NFL Defensive Player of the Year.
Upshaw's quick development is a good sign that he'll be able to effectively take the field and make a major impact. He's being held to a very high standard as a member of one of the consistently best defenses in the NFL, and it seems as though he can live up to it.
Keep Reading