Roy Oswalt Set to Make 2012 Debut for the Texas Rangers
March 26, 2017
Christian Petersen/Getty Images
Veteran right-hander Roy Oswalt will make his much-anticipated debut for the Texas Rangers Friday night opposite Christian Friedrich and the Colorado Rockies in Arlington, Texas.
Oswalt officially signed on with the Rangers on May 29, and has been pitching in the minor leagues for them ever since. After a shaky stint in the minors in early June, where he compiled an ERA of 5.87, Oswalt went six innings, threw 100 pitches and gave up two runs in his last Triple-A start on Sunday. 
On a radio program for ESPN Dallas, Texas owner and president Nolan Ryan said that he was impressed with Oswalt's outing:
"I thought he pitched to both sides of the plate [Sunday] night and maintained his stuff throughout the game. There wasn't a wow factor to his game, but the ball was coming out of his hand well. I thought he went about his business the way I would expect him to. He was making pitches and doing things I anticipated seeing him do." 
After impressing Ryan, who was there to see Oswalt in person last Sunday, Oswalt got the OK to join the Rangers' revamped starting rotation.
Oswalt has not pitched in the major leagues since last October, when he started in Game 4 for the Philadelphia Phillies in the NL Division Series. In that start, Oswalt gave up five runs in six innings of work, capping off a less than stellar 2011 campaign. 
All told, Oswalt went 9-10 with a 3.69 ERA last season. Back problems caused him to hit the disabled list twice last season and were a main culprit for his struggles on the mound. In 2010, however, Oswalt had what many consider to be the best season of his career, going 7-1 with a 1.74 ERA after a midseason trade brought him to Philly.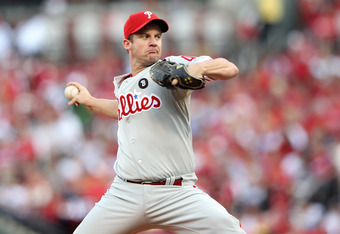 Jamie Squire/Getty Images
By his own account, Oswalt is ready to make a comeback in the majors, saying that: "I feel as good as I've ever felt. I don't have any complications." 
Rangers manager Ron Washington echoed the pitcher's sentiments.
"He's ready to go," manager Ron Washington said before the Rangers' game on Wednesday against the Padres. "The reports we got say he's ready to go. That's what we brought him for, to bring him to the big leagues, and he's ready, so we made the decision to do it. We challenge him now."
Everything appears to be in order as Oswalt returns to the mound, joining a Rangers rotation stacked with quality arms. If he can regain his old form and stay healthy, Texas will be getting a major boost in its bid for a third consecutive AL pennant.