Projecting Career Arcs for Each Lottery Pick in 2012 NBA Draft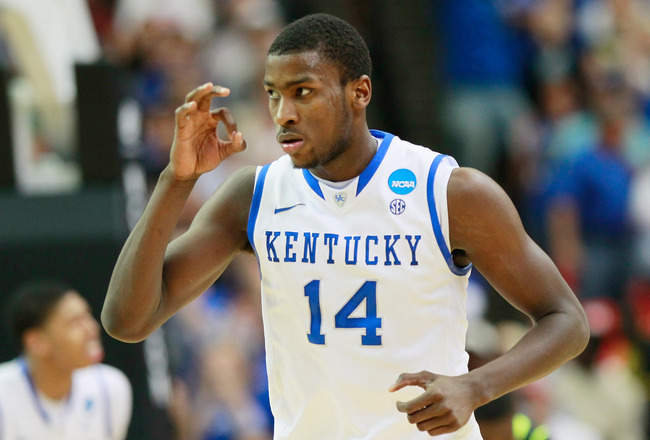 Kevin C. Cox/Getty Images
A great way of judging a college basketball player's talent is by comparing them to a current or past player in the NBA that they resemble.
Sometimes these comparisons are based off of the player's skill set.
Other times, players are compared to other players that have the same style of play that they do.
Here are my projected career arcs and player comparisons for every lottery pick in the 2012 NBA draft, according to Chad Ford's latest mock draft on ESPN.com.
1. New Orleans Hornets: Anthony Davis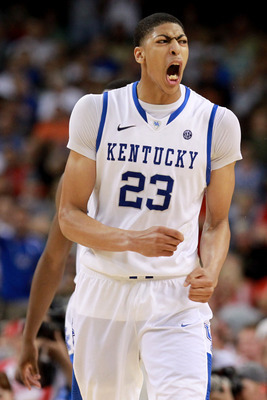 Ronald Martinez/Getty Images
Best Pro Comparison: Kevin Garnett
Anthony Davis 2011-2012 Statistics (Kentucky): 14.3 PPG, 10.0 RPG, 4.6 BPG
Kevin Garnett's 1994-1995 Statistics (High School): 25.2 PPG, 17.9 RPG, 6.7 APG and 6.5 BPG
These two players have very similar styles of play.
On offense, both players like to play at the high post. Kevin Garnett may be a better shooter than Davis is, but they definitely like to shoot from the same spots on the floor.
On the defensive end, both Garnett and Davis can extend their defense all the way out to the three-point line and get a tremendous amount of blocked shots. Like Garnett was, expect Davis to be an enforcer in the paint for years to come.
2. Charlotte Bobcats: Thomas Robinson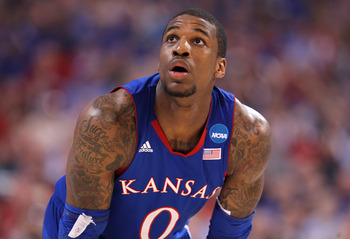 Andy Lyons/Getty Images
Best Pro Comparison: Chris Webber
Thomas Robinson's 2011-2012 Statistics (Kansas): 17.9 PPG, 11.8 RPG, 1.9 BPG
Chris Webber's 1992-1993 Statistics (Michigan): 19.2 PPG, 10.1 RPG, 2.5 BPG
The thing that separated Chris Webber and Thomas Robinson from their competition in college was their aggressiveness. Both players physically dominated their opponents with their superior strength and quickness.
Like Webber, Robinson is a great low-post scorer and ferocious rebounder. Both of these players do most of their scoring down low, since neither player really has much of an offensive game outside of the paint.
Robinson can only hope to match Webber's production once he reaches the NBA.
3. Washington Wizards: Brad Beal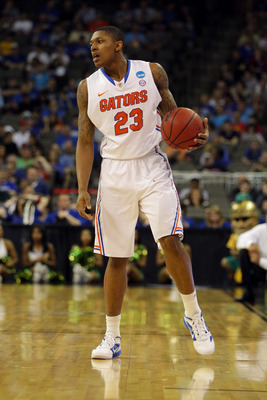 Doug Pensinger/Getty Images
Best Pro Comparison: Eric Gordon
Brad Beal's 2011-2012 Statistics (Florida): 14.6 PPG, 6.5 RPG, 2.2 APG
Eric Gordon's 2007-2008 Statistics (Indiana): 20.9 PPG, 3.3 RPG, 2.4 APG
Eric Gordon and Brad Beal are both very dynamic offensive players. They both are very athletic and aggressive with the ball in their hands.
Not only can both Gordon and Beal drain three-pointers on a consistent basis, but they also both have the ability to drive and finish at the rim.
The thing that these two guys need to work on his their defense. Neither player is really the greatest defender yet, but they both have the ability to be since they have long wingspans and quick feet.
Expect to see these two players in the conversation for best shooting guard in the NBA for the next decade.

4. Cleveland Cavaliers: Michael Kidd-Gilchrist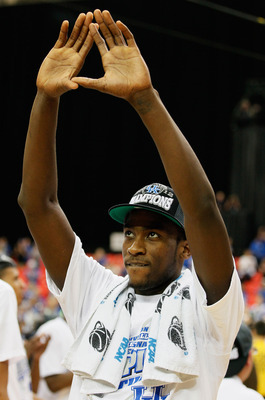 Kevin C. Cox/Getty Images
Best Pro Comparison: Ron Artest
Michael Kidd-Gilchrist's 2011-2012 Statistics (Kentucky): 11.8 PPG, 7.6 RPG, 2.0 APG
Ron Artest's 1998-1999 Statistics (St. John's): 14.5 PPG, 6.3 RPG, 4.2 APG
Both Michael Kidd-Gilchrist and Ron Artest play the game of basketball with tremendous hustle and intensity.
They have both shown they have the ability to play great offense at times, but it's really their defense and rebounding that makes them both stand out. Like Artest was, Kidd-Gilchrist will be responsible for guarding the opposing teams best perimeter player regardless of what position they are playing.
Kidd-Gilchrist will follow in Artest's footsteps and be named to multiple All-Defensive teams before his career is over.
5. Sacramento Kings: Harrison Barnes
Kevin C. Cox/Getty Images
Best Pro Comparison: Luol Deng
Harrison Barnes' 2011-2012 Statistics (North Carolina): 17.4 PPG, 5.2 RPG, 1.0 APG
Luol Deng's 2003-2004 Statistics (Duke): 15.1 PPG, 6.9 RPG, 1.8 APG
These two players, Harrison Barnes and Luol Deng, are both pure scorers. They both use their length and strength to their advantage to create their own shots. Like Deng, Barnes has a very smooth mid-range game, but can extend it out to the three-point line when necessary.
The thing that these players need to work on though is their ball handling skills. They both have a great work ethic though and are constantly improving their game.
Barnes is built just like Deng is with long arms and quick feet, but needs to learn how to play defense like Deng in order to become an All-Star in the NBA.
6. Portlant Trail Blazers: Andre Drummond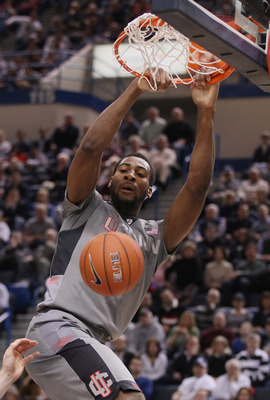 Elsa/Getty Images
Best Pro Comparison: DeAndre Jordan
Andre Drummond's 2011-2012 Statistics (Connecticut): 10.2 PPG, 7.7 RPG, 2.7 BPG
DeAndre Jordan's 2007-2008 Statistics (Texas A&M): 7.9 PPG, 6.0 RPG, 1.3 BPG
Just like when DeAndre Jordan was drafted, everyone is considering Andre Drummond a raw talent and is focused on his potential rather than his production in college.
Drummond has shown he can be a dominant defender like Jordan currently is, but still needs to work on his offensive game. Neither player really has any solid post moves, making it difficult for them to score when they are backing down their opponent.
Both have great athleticism and can score very well in transition for their height.
7. Golden State Warriors: Dion Waiters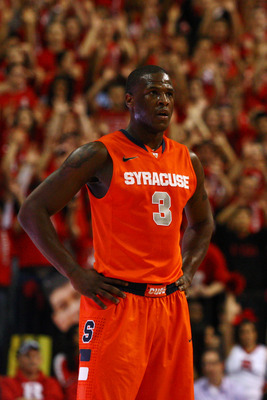 Chris Chambers/Getty Images
Best Pro Comparison: Dwyane Wade
Dion Waiters' 2011-2012 Statistics (Syracuse): 12.6 PPG, 2.3 RPG, 2.6 APG
Dwyane Wade's 2002-2003 Statistics (Marquette): 21.5 PPG, 6.3 RPG, 4.4 APG
Dion Waiters just looks like Dwyane Wade on the court.
Like Wade, Waiters is at his best when he is going one-on-one against his defender and exploding to the basket. They are both extremely crafty when attacking the rim and are superb finishers in traffic.
Waiters' upside is through the roof. Since he also has a deadly three-point shot to go along with his driving ability, he may be even more dangerous than D-Wade is.
8. Toronto Raptors: Damian Lillard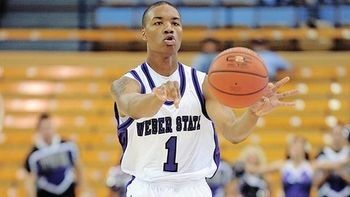 Best Pro Comparison: Steph Curry
Damian Lillard's 2011-2012 Statistics (Weber State): 24.5 PPG, 5.1 RPG, 4.0 APG
Steph Curry's 2008-2009 Statistics (Davidson): 28.6 PPG, 4.4 RPG, 5.6 APG
Damian Lillard and Steph Curry have a lot in common. Both players were point guards for mid-major schools and put up a ton of points.
Like Curry, Lillard is an excellent three-point shooter and can shoot off the dribble and when catching the ball in rotation. He has an extremely high basketball I.Q. and finds open spots on the floor very easily, giving him great looks at the basket.
Also, like Curry though, he will need to improve his passing once he reaches the next level to really be an effective NBA point guard.
9. Detroit Pistons: John Henson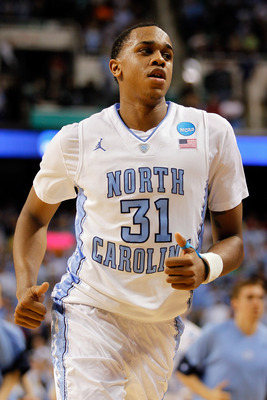 Mike Ehrmann/Getty Images
Best Pro Comparison: Ed Davis
John Henson's 2011-2012 Statistics (North Carolina): 13.8 PPG, 10.1 RPG, 2.9 BPG
Ed Davis' 2009-2010 Statistics (North Carolina): 13.4 PPG, 9.6 RPG, 2.8 BPG
John Henson replaced Ed Davis at UNC and brought almost exactly the same skill set to the table. The two of them put up almost identical point, rebound and block totals during their final seasons at UNC.
Both Henson and Davis have great length, which allowed them to be effective scorers and rebounders in college. They are also both strong finishers at the rim, not afraid to take contact and still get a good shot off.
Henson and Davis both need to bulk up, though, if they want to ever become elite big men in the NBA.
10. New Orleans Hornets: Austin Rivers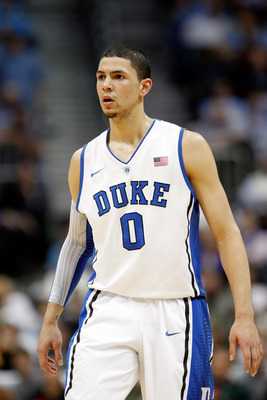 Streeter Lecka/Getty Images
Best Pro Comparison: Gilbert Arenas
Austin Rivers' 2011-2012 Statistics (Duke): 15.4 PPG, 3.4 RPG, 2.1 APG
Gilbert Arenas' 2000-2001 Statistics (Arizona): 15.4 PPG, 4.1 RPG, 2.1 APG
Austin Rivers was the most confident player in college basketball last season, just like Gilbert Arenas was when he played. Like Arenas, Rivers is never afraid to pull up from anywhere on the court.
These to players are extremely quick and posses incredible ball-handling skills. This allows them to create space for themselves to get good looks at the basket, even when being tightly guarded.
The biggest issue with both of these players is their ball distribution. Both players were really combo-guards since they were built like point guards, but would prefer to shoot over pass.
11. Portland Trail Blazers
Jim McIsaac/Getty Images
Best Pro Comparison: Tracy McGrady
Jeremy Lamb's 2011-2012 Statistics (Connecticut): 17.7 PPG, 4.9 RPG, 1.8 APG
Tracy McGrady's 1996-1997 Statistics (High School): N/A (Sat out senior season with knee injury)
Like Tracy McGrady, Jeremy Lamb has the ability to score from any spot on the floor. Both players use their height to their advantage to shoot over smaller opponents. They also both have a great leaping ability and can score over defenders in the paint.
Lamb and McGrady both had a very lazy attitude while on the court, but could turn on the intensity in a flash and score in bunches.
Like McGrady when he first came into the league, though, Lamb is way too thin and needs to add some muscle if he doesn't want to get pushed around on defense and on the boards.
12. Milwaukee Bucks: Meyers Leonard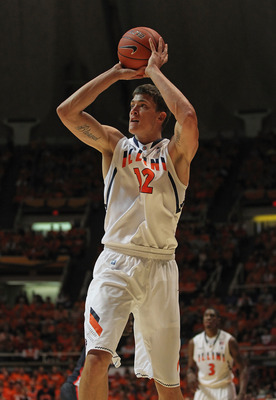 Jonathan Daniel/Getty Images
Best Pro Comparison: B.J. Mullens
Meyers Leonard's 2011-2012 Statistics (Illinois): 13.6 PPG, 8.2 RPG, 1.9 BPG
B.J. Mullens' 2008-2009 Statistics (Ohio State): 8.8 PPG, 4.7 RPG, 1.1 BPG
Meyers Leonard is currently being described the same way B.J. Mullens was when he first entered the league, tall and athletic, but posses very little skills.
They both looked comfortable on the low post at times during college, but not consistently enough to make them a top-5 pick. They both need to develop a few post up moves that they can use when they get the ball on the low block. Also, both Leonard and Mullens would really benefit from improving their mid-range jumper.
It took Mullens a few years, but it appears he finally found his groove in the NBA this season. Whichever team drafts Leonard will hope he figures out how to be an effective big man in the NBA quicker than Mullens did.
13. Phoenix Suns: Terrence Ross
Jeff Gross/Getty Images
Best Pro Comparison: Rip Hamilton
Terrence Ross' 2011-2012 Statistics (Washington): 15.3 PPG, 6.5 RPG, 1.4 APG
Rip Hamilton's 1998-1999 Statistics (Connecticut): 21.5 PPG, 4.8 RPG, 2.7 APG
Both Terrence Ross and Rip Hamilton thrive on their outside shooting ability. Sometimes they may even rely on their jump shot too much instead of taking it too the rim.
These guys are so similar because they both love to come off screens and shoot from mid-range. They are both also great at backing down their defender and shooting out of the low post.
Ross and Hamilton are both great scorers, but really need to be set up by a teammate and have difficulty taking their defenders off the dribble and creating their own shot.
14. Houston Rockets: Tyler Zeller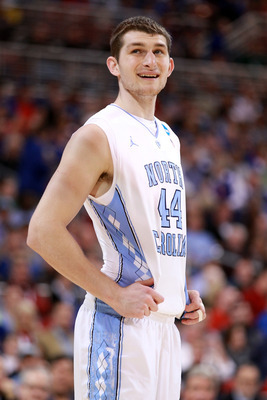 Andy Lyons/Getty Images
Best Pro Comparison: Greg Monroe
Tyler Zeller's 2011-2012 Statistics (North Carolina): 16.5 PPG, 9.3 RPG, 1.3 BPG
Greg Monroe's 2009-2010 Statistics (Georgetown): 16.1 PPG, 9.6 RPG, 1.5 BPG
Tyler Zeller and Greg Monroe are both just about 7'0" tall and have the skills to play either the power forward or center position.
Both players excel in the same areas and need to improve in the same areas. These two big men are both smart basketball players who have a great touch on their mid-range jumper for a 7-footer. Also, they both pass out of the post very well and find their teammates in good scoring positions.
The thing they need to improve on is their physicality and toughness in the post. In college they were able to use their size to dominate their opponents, but in the pros they need to be more aggressive to really be effective.
Keep Reading