NBA Finals 2012: Why LeBron James' 1st Title Won't Mean Anything
June 21, 2012

It's time we all admitted it: LeBron James is about to win his first title.
If not tonight, in Game 5, then in the coming days. It's happening, folks, and the sooner we come to grips with it, the less painful it will be when it smacks us across the face. The Heat are too good. LeBron himself is too good. Quite simply, the time has come.
So, naturally, the question then becomes: so what?
For years (and especially throughout last season), media chatterboxes everywhere have dissected LeBron's play. They've called him a non-finisher. A flower that wilts in important moments. His legacy, they've said, will be cemented down by his big-game failures. His greatness, they've said, will perpetually be in question.
Now, though, LeBron sits on the doorstep of a land he's never been. All of us, in fact, wait on that same precipice. The sports world is about to be a changed place, because where there was once Michael Jordan and no one to compare him to...there will soon be two. Yes, with his first title, LeBron should enter the conversation. That conversation.
He should, of course, but that doesn't mean he will.
See, most believe that LeBron engineered this title. Not through sheer determination and grit (okay, there was some of that), but more so by biding his time, then calling up his buddies and forming a super-squad. One that ultimately could not be denied, no matter how bad everyone wished it could.
As much as LeBron wants nothing more than to remove the ringless monkey from his back, there are those types of questions lurking on the other side. Big questions.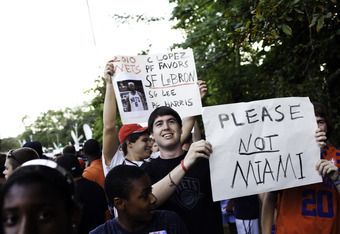 Christopher Capozziello/Getty Images
But allow me to step back for a moment.
The only reason I'm writing this is to jinx the LeBron. Otherwise, I couldn't care less about the NBA. Kevin Durant winning a title doesn't interest me. Nor do the raucous Oklahoma City fans, the legacy of Pat Riley or the phantom officiating that everyone seems to assume is a big ol' conspiracy.
I really just don't want LeBron to win anything. Ever.
Which is why writing about his inevitable first title seems somewhat stomachable. Maybe a few of my bitter, inflammatory paragraphs will somehow make waves in the cosmos, allowing the Thunder to do what no team has ever done in a NBA Finals series (come back, down three to one). Here's hoping.
See, what I'm ashamed to admit is that I was once a Cavaliers fan. And unlike every other sports venture I've ever undergone, that fanhood was completely and utterly of the bandwagon variety. Sure, I'm from Ohio. But I'm from southern Ohio, where there's football, baseball, fried food and not much else. So, the Cavs weren't in my blood.
It was only when LeBron came along with his otherworldly talents and charm that I decided to don the wine and gold.
I know, it's repugnant. And in every other sports arena, I spit on fair-weather fans. They're the lowest of the low. Spineless weasels. But with LeBron, I couldn't help myself. I started watching Cavs games on TNT. I bought tickets when they came to Philly. I even bought a Nike "Witness" t-shirt. I was basically all in. A loyal follower of the LBJ traveling circus.
Mike Ehrmann/Getty Images
Then July 8, 2010 happened.
Every sports fan knows the story. It was the day that a light went out over the city of Cleveland. It was a day the people's champion delivered an unexpected, traitorous blow. By fleeing to Miami's sunnier pastures, LeBron immediately went from king of the jungle to cowardly, self-serving hyena.
That day, I stopped watching.
I crawled back into my baseball/football comfort zone. Without LeBron, the Cavs were immediately an NBA doormat, a team so bad that even the sterling play of a young Kyrie Irving couldn't help them get close to contending for a playoff spot.
Ideally, I would have stuck around, learned to love watching Irving, Antawn Jamison and Omri Cassipi charge into their nightly suicide missions. But I just couldn't. Because I wasn't a Cavs fan, not a true one.
I was a "James Gang" fan. One of the millions of Ohio hopefuls hanging onto every battle the King waged, in pursuit of the Cavs' first title. And when James' loyalty to that cause went out the window, so too did mine. I'm not proud of it, but that was the effect July 8, 2010 had on me.
Which brings us back to the issue at hand: so what?
When James migrated to Miami, he immediately assumed several different identities. First, to impartial media members and sports pundits everywhere, he was the guy whose expectations were undoubtedly the highest. No one (possibly ever) had his combination of innate talent and supporting cast. In short, LeBron had to win championships. There was no alternative. Unless you include disappointment and shame.
Second, to NBA fans anywhere besides Miami, LeBron became sports' pariah numero uno. He was the Good Guy Turned Bad. The Sell Out. The Coward.
And third, to basketball fans in South Florida, he became the hired gun. Every impression I've gotten is that, for Heat fans, LeBron is a means to an end. Dwyane Wade is their heart and soul. Pat Riley is their mastermind. Chris Bosh is their pet dinosaur. But LeBron? LeBron's the muscle. There's no one else in the world that can ensure a ring like LeBron can. In Miami, he's a business venture.
So you have all three of these weights piled onto James' shoulders, just as he slides on his new jersey. Then, you have that tumultuous first season, where the moment the team struggled, LeBron and Wade's chemistry was questioned.
And despite often playing brilliantly, the majority of the national heat came LBJ's way. Even still, the Heat went to the NBA Finals in the Big Three's first season together. And when they ultimately lost to the Mavericks, it felt like a crater of disappointment.
Flash forward to this year, and LeBron has somehow been more magical than ever. His numbers are off the charts, he was awarded his third MVP award and most importantly, he now has the Heat a few minutes from winning it all.
Yet still, when it comes to the expectations, legacies and conversations about the Greatest Of All Time, one has to wonder how one title with the Heat will really change anything.
Of course, LeBron detractors have had one stalwart argument for the last two years, which is that James "hasn't won anything." A title this year, I suppose, will be enough to squash that. Seemingly. But those are just words. The court of common opinion, I fear, won't budge. Even when LeBron and his boys run the deflated Thunder out of town tonight.
We can all agree that the talent is there for LeBron to be considered the best ever. He's bigger than Jordan. He's a better passer. And in some ways, he's more dynamic. But the fact that his titles (as it seems to stand currently) will be born from some arbitrary alliance of schoolyard standouts will certainly stick in most people's craw.
Honestly, I'm not sure what it will take for the fans to accept LeBron onto that sacred plane. As unfair and as backwards as it might be (because sporting "greatness" should be entirely objective), LeBron's decision to leave Cleveland, the way he announced it and the combustible aftermath all play as much a role as anything he's done on the court in the crafting of his legacy.
More than anything else, LeBron put himself in a major hole when he basically said "I've given up on doing this alone."
Still, the better LeBron plays, the easier the debate will be. He and his teammates will win this series, and by winning, they'll make the only argument they need to make for Heat management to keep them together. In doing so, they'll remain poised to win just as many titles as LeBron promised, way back when (provided Wade's knees don't turn to dust).
And then, chances are, true "greatness" (in as much as it becomes an unarguable reality) will come somewhere in that course. Eventually, to put it plainly, LeBron's talents will just win us over.
But that day isn't today, I don't think. This title, as soon as it is earned (and it won't be long now, people) won't be enough. For every title that Jordan won on the only team he ever really played for (sorry, Wizards), LeBron will need two with his highlight platoon.
It's not fair, and it's probably not even right (Jordan had Pippen and Rodman, after all), but it's the way it is, and it's going to be hard for the King to escape.
Tonight will most likely mark the end of LeBron's pursuit of a ring, and in that regard, it will be historic. I'll be watching, and rooting against what I think we all know is inevitable.
Even then, though, as LeBron cradles the O'Brien trophy and the confetti rains from the rafters, the legacy of LBJ will be just beginning.
Undoubtedly, this title is a start of an uphill climb. Step one in a series of five or six he'll need to make to get where he could have gotten had he just stayed in Cleveland a few more years.
It's a ring, yes. A title, certainly. But beyond that?
So what.
For more from Reed Domer-Shank, visit his blog: J O U R N E Y M E N . You can also follow Reed on Twitter: @ReedDS20, or contact him directly at Reed.Domershank@gmail.com.