Wimbledon 2012 Draw: Novak Djokovic Deserves No. 1 Seed over Rafael Nadal
June 21, 2012

Clive Brunskill/Getty Images
Rafael Nadal may have won the 2012 French Open, but Novak Djokovic is more deserving of the No. 1 seed at the 2012 Wimbledon Championships.
For starters, Djokovic currently ranks No. 1 in the world over Nadal and, as we'll see a bit later on, has endured much success against him recently. And although Nadal is a two-time winner of Wimbledon, Djokovic is taking over the tennis spotlight.
You can reasonably suspect that the two will meet in the final, but Djokovic is the tougher player on the London grass.
Full view of ATP rankings and the date of the 2012 Wimbledon men's championships draw.
Recent Success vs. Nadal
At the beginning of this rivalry, Rafael Nadal dominated Novak Djokovic for roughly three years. Then when 2011 happened, Djokovic ran off seven straight matches versus Nadal and turned the tides.
Even more impressively, Djokovic ran off three straight Grand Slams against Nadal (2011 Wimbledon, 2011 US Open, 2012 Australian Open). And although Nadal won his usual French Open title, that was expected since he has owned the clay court since 2005.
As for Djokovic, he has quickly risen atop the ATP rankings and is only 25 years old. Therefore, you can expect Novak to be constantly challenging Nadal for the remainder of their careers. And unless Nadal becomes more consistent on other surfaces, Djokovic has the advantage.
Nadal Off Clay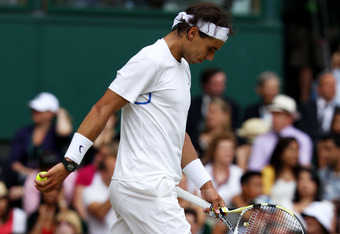 Clive Brunskill/Getty Images
Wimbledon has undoubtedly been Rafael Nadal's best surface aside from clay. Still, he's nowhere near as dominant on the grassy surface despite also being a three-time runner-up at the championships.
Nadal's aggressive and powerful style of play is much more effective on clay traction than on grass, as he was exposed by Roger Federer during the 2006 and 2007 and Djokovic last season. Nadal also has not defeated Djokovic on a grass surface since 2008 (Queen's Club Championship).
Unfortunately for Nadal, that was well before Djokovic really began to develop as an all-around player. What we're seeing, if anything, is Novak taking over for Federer as Nadal's toughest opponent in tennis.
Djokovic's Consistency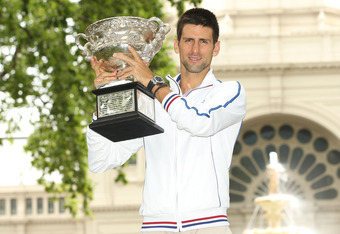 Lucas Dawson/Getty Images
In 2008 Novak Djokovic won the Austalian Open, but waited three years until his next Grand Slam. Of his five titles, Novak has won four in less than two years. He also had the opportunity to hold all four Grand Slams at once, but was denied by Nadal at the 2012 Roland Garros.
Nevertheless, Djokovic has taken the tennis world by storm as of recent, and his Grand Slam performances alone are quite impressive. The 2009 French Open was the last major tournament where Djokovic failed to reach the quarterfinals, and he has made the semifinals in eight consecutive Slams.
With so much momentum, confidence and elite results in such a short amount of time, Djokovic has significantly increased his potential. Looking at his 2012 success alone, we see two Grand Slam finals, and the quarterfinals exit in Madrid was his worst showing of the year.
Simply put, Djokovic has been the best and most consistent player regardless of surface this year and in recent years. A No. 1 seed is more than deserved as he defends the 2011 Wimbledon title.
John Rozum on Twitter.