San Antonio Spurs: Bruised and Battered, the San Antonio Spurs Will Be Back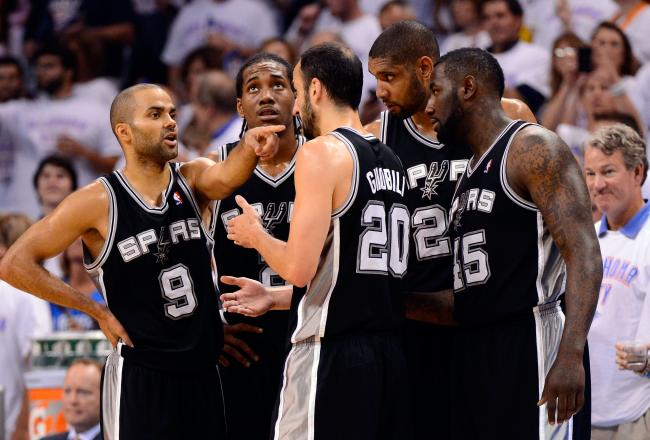 Ronald Martinez/Getty Images
This was supposed to be the Spurs' year.
They finished the regular season with the best record in the NBA. Tony Parker was playing at an MVP level, and Tim Duncan and Manu Ginobili had been invigorated by an infusion of talented, young role-players.
The Spurs even won a staggering 20 consecutive games, spanning the final 10 of the regular season and their first 10 in the playoffs.
Then their spectacular run came to an abrupt halt. After taking the first two games in the Western Conference Finals, San Antonio was run off the court by a younger, more athletic Oklahoma City Thunder team in the final four games of the series.
For the second consecutive season, San Antonio finished with the best record in the Western Conference and failed to advance to the NBA Finals. In fact, they haven't reached the Finals since 2007.
Duncan, who just turned 36, is a free agent this summer. Ginobili is 35 and, with one year remaining on his contract, may be an attractive commodity for a contending team. Is it time to say good night to the Duncan, Ginobili and Parker era and rebuild?
Not so fast.
The Spurs' performance in the third quarter of Game 2 of the Western Conference Finals was so brilliant that it left grizzled NBA veterans in awe. TNT's Marv Albert aptly compared their precision passing and player movement to the great Celtics and Knicks teams of the early 70s.
This team is too good to disband, and the "Big Three" are too intertwined to break up.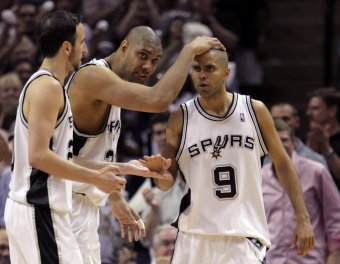 Duncan, Ginobili and Parker are too intertwined to break up.
Harry How/Getty Images
What's made the Spurs of the Duncan-era so special is their ability to play together as a team. With Duncan, Ginobili and Parker, the whole is greater than the sum of its parts.
That cohesion has enabled them to win so many games over the past few seasons, even though Duncan's and Ginobili's skills have waned. The flip side of that chemistry is that losing one of those core players is devastating. The Spurs can't yield equal value in return.
For example, the Memphis Grizzlies are supposedly considering trading versatile forward Rudy Gay. Gay, who's just 25, can shoot from behind the arc, as well as take his man off the dribble. The Spurs would benefit from his athleticism on the perimeter.
On its face, a Ginobili for Gay trade would make sense for San Antonio. But, realistically, it would take years for Gay to develop the chemistry with Parker and Duncan that Ginobili has, and Duncan doesn't have years.
The Spurs are going to keep Duncan, Ginobili and Parker together and continue trying to add younger pieces around them. General manager R.C. Buford will need to be creative because he has very little salary cap space to work with.
His first order of business will be to re-sign Duncan, who made it clear during the playoffs that he will be a Spur for life. Assuming Duncan signs for an annual salary of about half of the $21 million he made this past season, San Antonio will be capped out.
That leaves Buford with the mid-level exception of just over $5 million per season. He could free up another $3.75 million by using the amnesty clause on forward Matt Bonner, who's owed $7.5 million over the next two seasons.
After taking care of Duncan, Buford will need to work some magic. Two years ago he signed free agent Danny Green at bargain-basement value. Last summer he traded George Hill to the Indiana Pacers for the fifteenth pick in the draft, Kawhi Leonard. His biggest concern this offseason is the power forward position.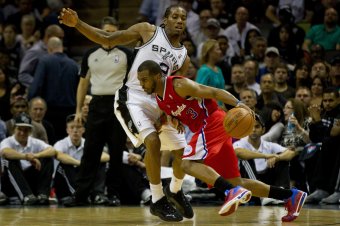 Kawhi Leonard is the Spurs best perimeter defender since Bruce Bowen.
Justin Edmonds/Getty Images
San Antonio has a glut of big men, and they all bring something different to the table. Matt Bonner is a great three-point shooter. Tiago Splitter thrives in the pick-and-roll. DeJuan Blair is a physical rebounder, and free-agent-to-be Boris Diaw is an excellent passer.
The Spurs are also interested in signing Erazem Lorbek, a 6'11" Slovenian whose rights they acquired in the Leonard deal. The 28 year old is a very good outside shooter with a deft touch around the basket.
For all their differences, the Spurs' big men have two things in common: a lack of athleticism and inability to protect the rim.
San Antonio should target the Memphis Grizzlies' two talented young forwards, Darrell Arthur and Marreese Speights. Both are restricted free agents, and Memphis may not be willing and able to match offers for each of them. The Lakers' Jordan Hill is another up-and-coming free agent for the Spurs to consider.
Buford will also explore the trade market. The Spurs don't have a pick in the first round of next week's draft, so they could offer Splitter, Blair or backup point guard Gary Neal for a pick late in the first round. Fab Melo out of Syracuse is a shot-blocker who could be a nice fit.
Next, Buford must decide whether to retain Green. The third-year guard was lights out from behind the arc this season, knocking down 43.6 percent of his attempts, but that number plummeted in the Western Conference Finals. The Spurs would like to have him back, but at the right price. The same goes for Diaw.
Leonard is developing into the Spurs best perimeter defender since Bruce Bowen. Buford will add a couple more parts, Coach Popovich will tweak the game plan and the Spurs, led by Duncan, Ginobili and Parker, will be among the elite teams in the league once again next season.
Their three stars may not have enough left to win another ring, but this team has transcended championships. The Spurs play beautiful basketball.
This article is
What is the duplicate article?
Why is this article offensive?
Where is this article plagiarized from?
Why is this article poorly edited?

San Antonio Spurs: Like this team?