Seattle Mariners: Improvements for Jesus Montero to Make in the 2nd Half
June 21, 2012

Christian Petersen/Getty Images
Closing in on halfway through the 2012 season, it's been all eyes on rookie catcher Jesus Montero. How would he fare behind the plate? Could he replicate those impressive numbers in his brief stint with the New York Yankees late last season?
Few questions have been answered as we make a quick progress check on Montero's first full season in the Bigs.
Offense
Juggernaut. Consistent. Veteran.
These are not words that describe the Mariners offense. Shaky at best, the lineup has sputtered at home and made erratic showings on the road. Standing at a record of 30-41, it's safe to say that the AL West cellar-dwellers are who we thought they were: a team in transition with plenty of learning experiences ahead of them.
A microcosm of this team is Jesus Montero. In fact, as a mainstay in the middle of the lineup, he's probably the rope that ties this lineup together.
With 28 RBI and a .265 average, both good for third on the team, and a home run total on pace for almost 20 this season, it's difficult to really blame the guy. But these numbers don't tell the whole story.
Montero isn't working enough walks with just a .301 OBP. Clearly, more are going to come as Montero becomes a hitter that pitchers would like to pitch around, but many come with taking poor pitches and developing a keen eye.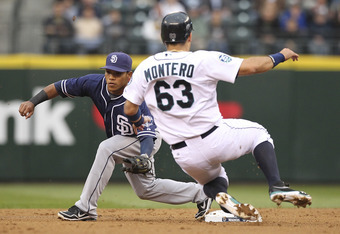 Otto Greule Jr/Getty Images
Walks are something he'll hopefully gain with time, but we know he's absolutely capable of drawing them: Montero walked seven times in under 70 plate appearances last year, and that was with a star-studded Yankees lineup.  
Perhaps most urgently, Montero needs to work on baserunning skills. Poor baserunning can be an inning killer, as it was earlier this month in a 2-4 loss against Ryan Vogelsong and the San Francisco Giants. The inexperienced rookie was stuck in no man's land, almost all the way to third base when a fly ball was caught with no outs.
Without going into too much detail, Montero should be working on better anticipating where balls will land and if they will be caught. Though he's a pretty slow runner in general, this will allow for wiser decisions and more singles stretched into doubles.
Overall, Montero has been holding his own as a hitter. He's flashing the power we'd like to see, getting his share of base hits and already showing why the M's need him as a key bat. Not that they have a choice, either, with the absence of competent hitters at the moment.
Defense
Though he's been improving steadily on defense, he's still got a long way to go if he ever wants to be an everyday catcher.
Most obviously, he needs to cut down on the passed balls and errors. Extrapolated to a starting catcher's share of games, Montero would be among the worst in the AL in these two numbers.
Though it may be an issue of technique, Lookout Landing makes an interesting foray into the nuances of catching technique. Montero might be doing a good job of framing pitches, but it's not an exact science. He also needs to be aware of how best to be safe with blocking risky pitches.
In addition, Montero has been average when it comes to throwing out attempted base-stealers. Not a bad showing for the rookie, but there's always room for improvement.
Either way, expect better defense by the end of the season, both from coaches' observations and numbers.
What's stopping Montero from being the everyday catcher (besides having Jaso and Olivo around) is the lack of conditioning. Manager Eric Wedge himself has stated that the youngster appeared fatigued behind the plate after consecutive nights, and the lack of physical stamina is stopping him from being a five-games-a-week kind of catcher (via The Seattle Times).
As always, credit needs to be given where it's due. It takes something special to be the catcher in a combined no-hitter with six pitchers. You have to be doing something right, just as much as the pitchers have to.
And what of the recently drafted catcher Mike Zunino? Even as the third overall pick, this is mainly a case of taking the most talented player on the board, so don't read into it as an indictment on Montero's perceived future. It's rare to have two catchers with dangerous bats, but if the M's can bring both along, more power to them.
Calling a game, developing relationships with pitchers, framing pitches—it's all an art that Montero is still trying to grasp, but he appears to be working his way along.
And the best part? He's just 22.