Emeka Okafor Trade: How It Alters Washington Wizards' 2012 NBA Draft Plans
June 21, 2012

Doug Pensinger/Getty Images
The Emeka Okafor era has begun for the Washington Wizards, and now the 2012 NBA draft is more important for them than ever.
Washington acquired Okafor and Trevor Ariza from the New Orleans Hornets, giving up Rashard Lewis and the 46th pick in this year's draft in return.
Though ridding Washington of the albatross that is Lewis' contract seems like good news, Ernie Grunfeld has dug his team into an even deeper financial hole. With Okafor and Ariza set to make a combined $43 million over the next two seasons, the Wizards will not have much room to operate under the salary cap.
Though Grunfeld has his amnesty clause in his back pocket, it does not seem destined for Okafor. If the GM were looking to use it, that is how he would have disposed of Lewis.
Rather, Grunfeld told the Washington Post, "We get players that are good solid players and fill two solid needs for us. So, instead of going into free agency to fill our needs, we did it through a trade."
As the Wizards have priced themselves out of being serious buyers in free agency, the draft takes on even more importance for the team.
In building around John Wall, the Wizards spent the past two years toeing the line between the playoff contenders they have the potential to be and the moribund lottery team they actually are. Yet as June 28 draws nearer, the pieces of a lineup have more or less fallen into place for Washington, for better or for worse.
Okafor will slide into the lineup at center (health permitting) and play in the post alongside Nene (health permitting). From what Grunfeld said, it sounds like Ariza is going to be the starter at small forward, though Wizards fans might not necessarily be happy to see him on the floor for significant minutes.
At least Wall is a star in the making at the point, and at least the organization is at least making an effort to surround him with talent.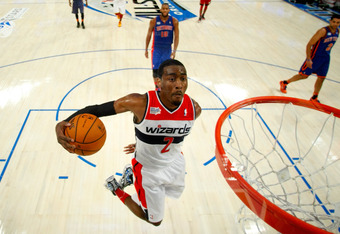 Pool/Getty Images
The one glaring hole in the lineup right now is at shooting guard. Unless Randy Wittman intends to start Jordan Crawford, this is where the draft will come into play for Washington.
No Doubts Now
With the third pick in the 2012 draft, the Wizards were widely expected to pick Florida shooting guard Bradley Beal. After the recent trade, this is all but assured.
First and foremost, Beal is a fantastic shooter with great range, averaging 14.8 points per game en route to making the All-SEC first team as a freshman.
He is not just a gunner, though, as Beal's athleticism allows him to penetrate to the hoop and to defend bigger than his 6'5" frame might imply. This allowed him to pull in 6.7 rebounds per game last season as well.
Before the trade, Beal was certainly the frontrunner for the Wizards' pick, but there was some semblance of debate. Thomas Robinson had expressed interest in joining his childhood favorite Wizards, while Michael Kidd-Gilchrist declared he would push Washington over the top and into the playoffs.
A Robinson pick would have effectively pushed Nene into the center role. The same goes for Kidd-Gilchrist, who would have either been a small-ball power forward or a small forward with Trevor Booker in the starting lineup.
Either way, Okafor's arrival quashes these ideas outright. There is no room for either forward with Okafor playing with Nene, and between Ariza, Jan Vesely and Chris Singleton, the Wizards can't afford to spend the third pick on another small forward.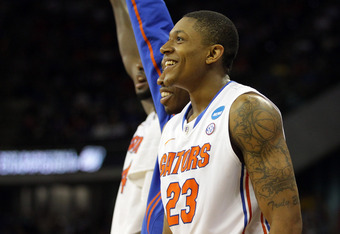 Doug Pensinger/Getty Images
The only question now is whether Beal will be available. If it wasn't set in stone before, Okafor's departure from New Orleans further establishes Anthony Davis as the first pick. The Charlotte Bobcats could conceivably grab Beal second, but with Gerald Henderson and Kemba Walker there, a forward is more likely.
Washington has one lineup spot left to fill, Beal is the best player to fill it, and he will be available. This pick is now a virtual lock.
Where Do They Go From Here?
Now that the Wizards have nabbed their shooting guard, the rest of the draft is more of a murky unknown. Washington's second round will consist of some purely upside picks they just hope will stick.
Plural picks, that is, if Washington can acquire another. The Wizards only hold the second and 32nd picks after sending the New Orleans the 46th, which they could really use. If Grunfeld can get another on the cheap, he should pull the trigger.
As in the first round, Washington must eschew adding to an already crowded frontcourt, this time getting Wall and Beal some depth. Crawford will be a serviceable backup behind Beal, but the Wizards need someone they can trust to spell Wall off the bench, someone more reliable than Shelvin Mack. On top of that, Beal can't be the only three-point threat on the roster, so that will be a target as well.
In the early second round, John Jenkins from Vanderbilt and Doron Lamb from Kentucky are good shooters who can't run the point. On the other hand, Kansas' Tyshawn Taylor and Iona's Scott Machado are both skilled point guards, but neither shoots very well from range.
Ultimately, the Wizards should go with someone who can run the point and hope he can extend his range on his jumper. If they can buy back into the draft in the 40s or 50s, they can try to grab a guy like William Buford from Ohio State to shore up that need.
If the Wizards don't get another pick, Grunfeld will have to fill out the roster as best he can during free agency. Okafor and Ariza may have filled a couple of holes, but there is still more work to be done in Washington.