NBA Draft 2012: Ranking 5 Best Team Fits for Thomas Robinson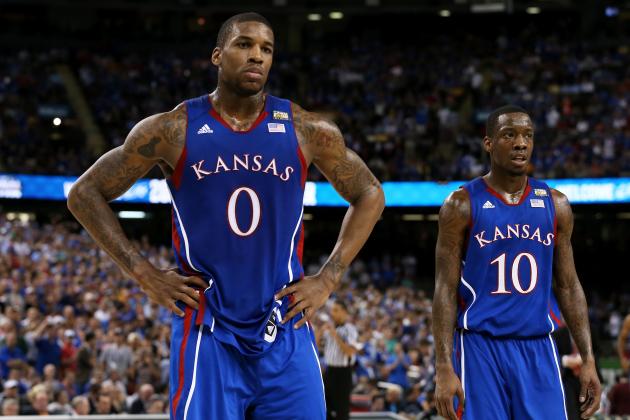 Jeff Gross/Getty Images

The uncertainty of the 2012 NBA draft will begin after Anthony Davis is selected No. 1 overall by New Orleans, when the Charlotte Bobcats are on the clock with the second pick.
Of this year's draft class, Davis included, perhaps no player is more ready for the professional game than Kansas forward Thomas Robinson.
Robinson is built like a refrigerator, and to say that he has an "NBA body" would be inaccurate. There aren't many players in the league not named LeBron James or Dwight Howard that are built like Robinson.
He'll enter next week's draft full of potential and inflated with confidence.
When the presumed top pick Anthony Davis walked into the interview room at the 2012 NBA Scouting Combine, he did so wearing a shirt that read "check my stats." Robinson made sure to point out that he had the better stats of the two, and he isn't buying the hype on Davis.
If Robinson maximizes his potential and lives up to his own expectations, he could very well end up being the best player from this draft five years down the road. Some expect him be drafted as high as No. 2 to the Bobcats, while others think there's a chance he'll fall out of the top five.
Some teams (Charlotte) are more realistic than others (Portland), but there are a handful of teams that are considered possible destinations for Robinson. Let's take a look at the five best team fits for Thomas Robinson.
Begin Slideshow

»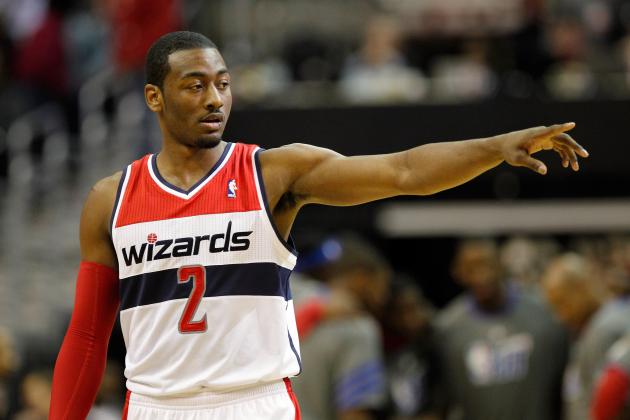 Rob Carr/Getty Images

Led by their franchise point guard John Wall, the Wizards have a young nucleus and a solid supporting cast.
Washington figures to have an improved frontcourt rotation after Wednesday's acquisition of Emeka Okafor from New Orleans, as the Hornets plan to replace Okafor by selecting Kentucky big man Anthony Davis with the No. 1 overall pick.
Along with Okafor, the Wizards received versatile swingman Trevor Ariza in exchange for small forward Rashard Lewis and a second-round draft pick. On paper, it looks like a good deal for Washington, as Ariza will likely take Lewis's spot in the starting lineup, while Okafor will compete to be the starting power forward alongside Nene.
Prior to the trade, Thomas Robinson going to Washington seemed like a slam dunk.
Robinson is a D.C. native, and as Craig Stouffer points out, he'd love to return home and play for his hometown team. Nene is one of the most unselfish post players in the NBA, and adding Robinson would give the Wizards one of the most dynamic post duos in basketball.
However, the Okafor acquisition has created a bit of a logjam at power forward. The future of Andray Blatche is now very uncertain, and Trevor Booker played well in 32 starts for the Wizards in 2011.
Bradley Beal now seems like a sure thing for Washington if he's still on the board at No. 3, but the possibility remains that Charlotte will make him the second pick. If Beal is off the board, Washington has a tough decision to make.
Do they opt for an athletic perimeter player such as Michael Kidd-Gilchrist or Harrison Barnes, or do they decide that Robinson is simply too good to pass up?
Of the three players Washington would likely consider if Beal is gone, Robinson is the "safest" and most "NBA-ready." Despite being deep at the position, Robinson would look very good in a Wizards uniform, and the D.C. native would feel right at home in Washington.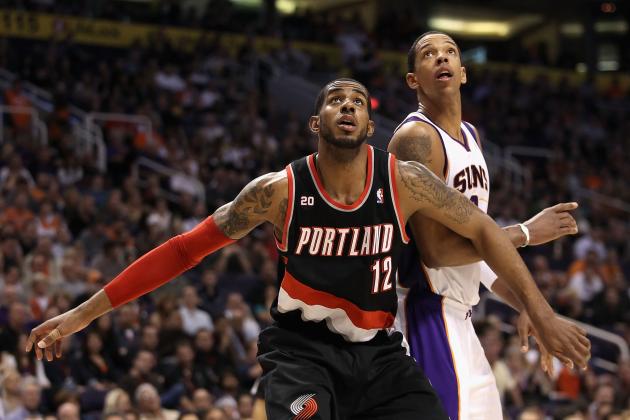 Christian Petersen/Getty Images

Armed with two of the first 11 picks in next week's draft, Portland will have a golden opportunity to add youth and new energy to a balanced roster.
Before injuries forced Brandon Roy into early retirement, the Blazers had one of the best starting fives in the NBA. Free-agent acquisition Wes Matthews filled in admirably at the shooting guard position, but his best asset is on the defensive side of the ball, as he's not nearly the offensive threat that Roy was.
As a result of Roy's retirement, Portland transitioned from running its offense through a scoring guard with Roy in the fold, to now focusing on athletic big man LaMarcus Aldridge for offensive production.
Aldridge has risen to the NBA's top tier of post players. In consecutive seasons, Portland's "go-to guy" has averaged 21 points and eight rebounds per game, and he was selected to his first All-Star game last season. Aldridge's natural position is power forward, but he has enough length and versatility to play center if the Blazers were to select a power forward in the draft.
Many have mentioned point guard Damian Lillard and center Andre Drummond as candidates to be the sixth overall pick. Although it's very unlikely, Harrison Barnes and Michael Kidd-Gilchrist would surely be considered if they were to fall to No. 6 as well.
Thomas Robinson is a unique option for Portland. If the unlikely event that he falls to six, he'd probably be the Blazers' pick, as he'd be considered too good to pass up at that point.
If the Blazers truly covet Robinson, they certainly have enough ammo to trade up with Charlotte for the No. 2 pick if they so choose. Robinson and Aldridge are both comfortable playing away from the basket, as well as getting physical and scoring down low.
If Portland feels comfortable about Aldridge being its everyday starting center, perhaps no rookie in this year's class could provide as much of an instant impact as Robinson.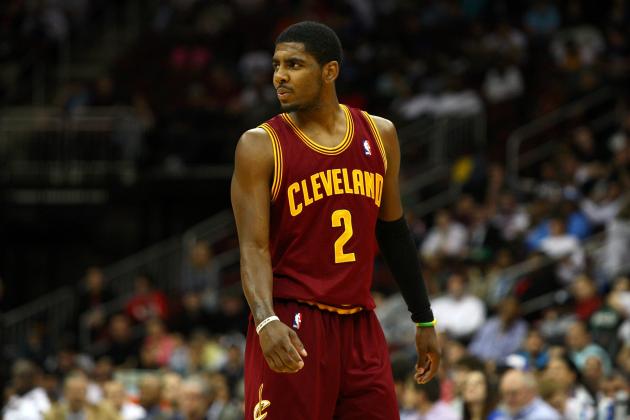 Chris Chambers/Getty Images

Kyrie Irving gave the Cavaliers a shot of life after hometown hero LeBron James left via free agency in the summer of 2010.
Irving won the 2011 NBA Rookie of the Year, and now that Cleveland is in good shape at what is likely basketball's most important position, the Cavs will look to surround him with young talent. Cleveland stole the headlines at last year's NBA draft when they selected Irving with the top pick and Texas forward Tristan Thompson with the fourth pick.
In an undersized frontcourt, Thompson played center for the Cavaliers and made 25 starts in 60 appearances as a rookie. Although most teams would prefer a traditional seven-footer anchoring their front line, playing Thompson at center allows the Cavs to use their youth and athleticism to their full advantage.
Antawn Jamison, Thompson's 36-year-old partner in the frontcourt last season, is an unrestricted free agent, and most expect him to play elsewhere in 2012.
With the fourth overall pick in this month's draft, Cleveland will certainly have an opportunity to replace the scoring output left by Jamison and his 17.2 points per game. Anthony Davis will be the No. 1 overall pick by the New Orleans Hornets, but the Cavs will have their eye on a variety of elite offensive prospects with the fourth pick.
Cleveland would love to get its hands on Florida shooting guard Brad Beal, but it now seems that Beal will go no later than third overall to the Wizards. In all likelihood, the Cavaliers' pick will come down to selecting an athletic wing player such as Michael Kidd-Gilchrist or Harrison Barnes, or a young post presence, like Thomas Robinson or Andre Drummond.
The Cavaliers reportedly are very high on Kidd-Gilchrist, and the Akron Beacon Journal has looked at the possibility of Cleveland trading up to get him. "MKG" is certainly a very good player and his "try-hard" attitude would command respect in the locker room, but if they want to add a reliable scoring punch in the post, they need look no further than Thomas Robinson.
Pairing "T-Rob" with Tristan Thompson give the Cavs an athletic post duo that could push the ball up the court and overcome their lack of prototypical length. A year after Irving provided a spark to the Cavs' backcourt,
Robinson could give the Cavs' frontcourt a similar jolt.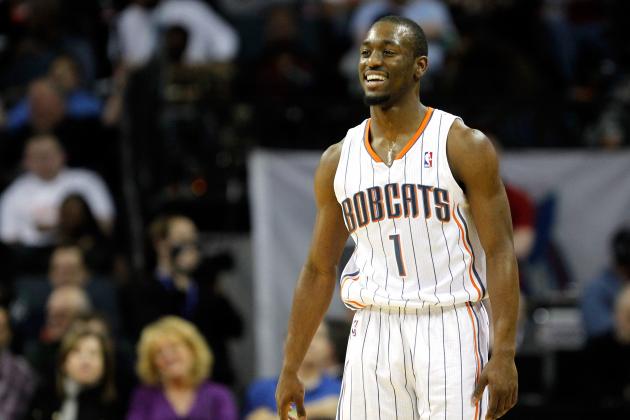 Streeter Lecka/Getty Images

By most accounts, Michael Jordan is the greatest basketball player of all time; however, for as competitive as Jordan was on the basketball court, his hand-constructed Charlotte Bobcats have been anything but competitive.

Jordan, the player, consistently left basketball fans in awe of his greatness; Jordan, the executive, has caused the jaws of these same fans to hit the floor for much different reasons.

When a team finishes the season on a 23-game losing streak and wins just seven games all year, it's hard to say anything is working, but the Bobcats clearly have more talent in the backcourt than they do in the frontcourt.

Last year's ninth overall pick, Kemba Walker, and the ninth pick in 2008, D.J. Augustin, combine for a promising rotation at the point guard position. Despite both players being under six feet tall, the Bobcats had some success when they "went small" and used Walker and Augustin on the court at the same time.

Charlotte's most improved player last season was shooting guard Gerald Henderson, who started all 55 of the Bobcats' regular-season games. After averaging 9.6 points per game in the 2010 season, Henderson's scoring output increased to a team-high 15.1 last season.
For most NBA teams, the word "average" suggests room for improvement, but for the Charlotte Bobcats, their average backcourt is the clear strength of the team. For the majority of 2011, Charlotte's starters in the post were rookie Bismack Biyombo and unproven third-year veteran B.J. Mullens.
Of all the Bobcats' holes, the most glaring deficiency is their lack of a reliable scoring threat in the paint. After Anthony Davis goes No. 1 overall to New Orleans, Charlotte will reportedly decide between Thomas Robinson, Brad Beal or Harrison Barnes with the second pick.
Some expect Jordan to side with his alma mater and select Barnes, but he struggled in the NCAA tournament when forced to create for himself without one of college basketball's top point guards, Kendall Marshall.
Although Augustin and Walker likely have more potential than any other two players on Charlotte's roster, they're a long ways from being considered among the league's "elite."
Seeing as the Bobcats at least have "hope" with their current guards, they'd be wise to take Robinson at No. 2. Robinson is very possibly the most NBA-ready player in the 2012 draft, and he'd immediately become their "go-to" post player as a rookie.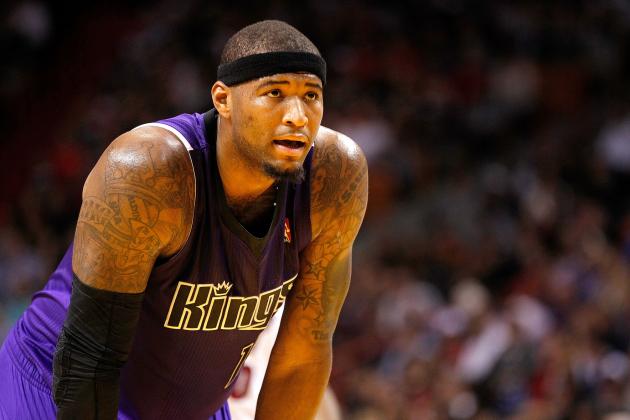 Mike Ehrmann/Getty Images

With the fifth overall pick, Sacramento is in position to select the best player available regardless of position. The Kings certainly could use a young complement to DeMarcus Cousins as well as an athletic wing player, and they'll have an opportunity to take "whoever's left" at No. 5.
Despite a disappointing 2011 season, Sacramento has two key building blocks for the future. Tyreke Evans may do as much for the Kings as any other player in the league does for his team, while Cousins is one of the most physically gifted post players in basketball.
With a dominant post player and a crafty perimeter player already in the fold, the Kings have the benefit of going several different directions with their first pick.
Damian Lillard is a potential target for the Kings despite an impressive season from incumbent point guard Isaiah Thomas. Harrison Barnes and Michael Kidd-Gilchrist will also be considered, as a versatile swingman would be a welcome addition to the up-and-coming Kings.
However, the ideal situation for Sacramento would be if Barnes, Beal and Kidd-Gilchrist were off the board, leaving Thomas Robinson as the obvious choice at No. 5.
Since he's expected to come off the board before the Kings pick at five, it appears Robinson is unlikely to work out for Sacramento prior to the draft. Nonetheless, he looks like a perfect fit for the Kings, provided he's still available when they're on the clock.
Despite being slightly undersized for an NBA power forward at 6'8", Robinson's 7'3" wingspan compensates for his perceived lack of length. In his final year at Kansas, Robinson proved to be much more than just a scorer, as he added 11.9 rebounds per game to his 17.7 points.
Paired with Cousins, Robinson would give the Kings one of the most offensively skilled post duos in the NBA—and both players are only 21 years old.
In just his second season in the league, Cousins averaged 18.1 points and 11.0 rebounds per game last year. If he keeps his focus and shows proper discipline, Cousins has all the tools to develop into one of the NBA's elite big men.
If he reaches his full potential, and Sacramento selects Robinson next week, the Kings will hope to be in to be in contention to be crowned NBA champions in the future.