Debating the New England Patriots' Most Intriguing Camp Battle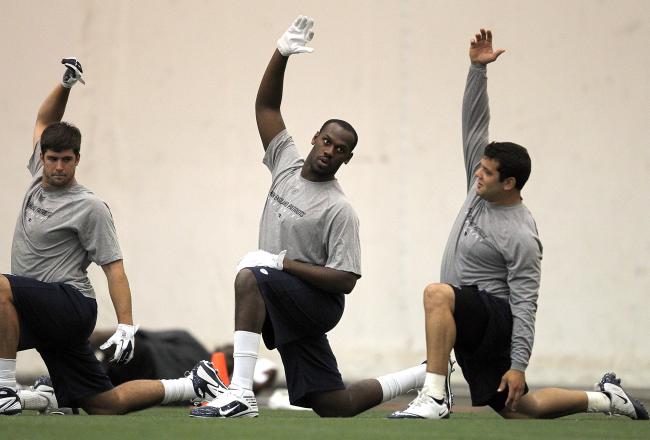 Raise your hand if you're ready for the football season to start!
Jim Rogash/Getty Images
The Patriots are poised to be one of the NFL's best teams once again in 2012. With so much talent on the roster, the training camp battles could get heated in the dog days of August.
With deep groups at wide receiver and on the offensive line, but question marks at safety and outside linebacker, there are certainly some camp battles to watch.
But which will pack the most intrigue?
To debate and discuss, we welcome in Derek Havens of PatsFans.com, a Patriots blogger who can also be found on Twitter.
Take it away, Derek!
Derek
Thanks, Erik! Well, New England's training camp should certainly be fun to monitor this year. There are a number of positions across the roster that offer intriguing battles. But which will pack the most intrigue?
Wide receiver was the position favorite early on to offer the most in terms of a position battle going into Patriots training camp this offseason. It's not really a surprise given all of the veteran additions who signed on with the team in the past few months.
Although, the team has already started to weed out the weak and the useless—Anthony Gonzalez and Chad Ochocinco—and it seems like the position may be more set than originally thought.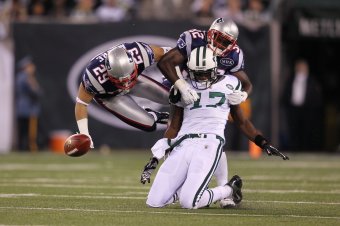 Nick Laham/Getty Images
I believe the cornerback position will offer the most intense battles this offseason.
The team has a tremendous amount of young talent in the secondary going into the upcoming season. Devin McCourty will look to bounce back, Ras-I Dowling returns from injury, Sterling Moore developed throughout the 2011 season, Alfonzo Dennard is a rookie second-round talent who fell for an off the field issue and Kyle Arrington was the team's best defensive back last season.
Now, whether or not that talent performs and lives up to the billing is a whole other discussion. Nevertheless, cornerback should offer the most intrigue in this year's training camp. What do you think, Erik?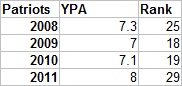 Erik
The secondary got torched at times last year, so there's nothing wrong with putting the focus there.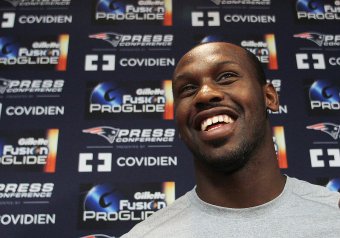 Jim Rogash/Getty Images
For me, though, I'm looking at the battles at the defensive end spots. The Patriots finally found answers to their pass-rushing woes last year in defensive ends Mark Anderson and Andre Carter. But with Anderson gone and Carter recovering from a leg injury, they could be looking to replace half their sack total (combined for 20 of New England's 40 sacks in 2011).
Between Chandler Jones, Jake Bequette and Trevor Scott, the Patriots are hoping they've found someone to fill those spots. All three are seen as potential fits in the 3-4 Elephant role, and all can contribute as pass rushers at the very least in 2012.

The battle only gets murkier if Carter does, indeed, return for another go-around this season. Let's not forget about defensive end Jermaine Cunningham; entering his third season after a slow start to his career, can he finally show and prove? DE/OLB Rob Ninkovich will be in the mix, too.
Between the cornerbacks and the defensive ends, it looks like there will be a lot of eyes on the defense in training camp this year.
Derek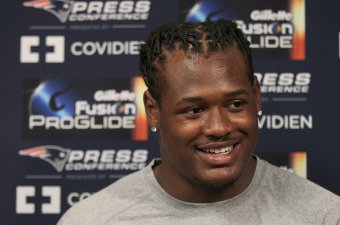 Jim Rogash/Getty Images
I completely agree, Erik. The defensive end position battle will definitely be one of the more heated in training camp. Despite losing the Mario Williams sweepstakes to the
Buffalo Bills
, New England has done a good job in the offseason acquiring talent at that position.
Like you mentioned, If Carter returns to the team, the position battle only gets tougher. I would expect Jones and even Dont'a Hightower to get some playing time along that defensive line early and often. The new defensive talent should help the Patriots improve for the upcoming season, which, as we all know, is a unit in need of an upgrade. After this offseason, I would say they are heading in the right direction.
Erik
The one thing I'd add to that is the versatility they've added. It will be very interesting to see how all that versatility plays into the camp battles.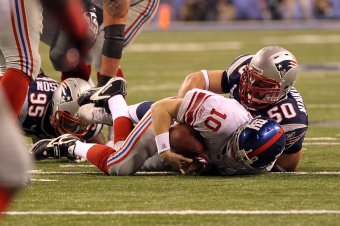 Jamie Squire/Getty Images
Take, for example, Rob Ninkovich, a linebacker with enough flexibility to line up at defensive end (he's lined up there in practice,
according to reports
). He'll count for a roster spot at linebacker most likely, with that being his primary position. But does his ability to line up at defensive end diminish the value of another defensive end making the roster?
That type of versatility is present on the back end as well, with both Tavon Wilson and Steve Gregory capable of lining up at either safety spot or as the nickel defensive back. Where the Patriots have carried six cornerbacks in the past, they may not need that many, with a few safeties capable of lining up at corner.
Which training camp battle will pack the most intrigue?
And with that, I think our debate has drawn to a close.
Thanks for joining me, Derek, and we'll be sure to catch up again for another debate soon.
Readers, vote in the poll, and let your voice be heard in the comments. Be sure to check back often for more debates around every AFC East team.
Erik Frenz is the AFC East lead blogger for Bleacher Report. Be sure to follow Erik on Twitter and "like" the AFC East blog on Facebook to keep up with all the updates.
This article is
What is the duplicate article?
Why is this article offensive?
Where is this article plagiarized from?
Why is this article poorly edited?