UFC 147: Silva vs. Franklin II B/R MMA Staff Predictions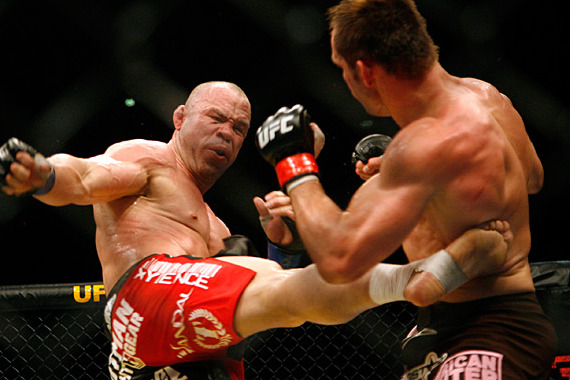 Photo by Sherdog
The UFC makes it's way back to Brazil for UFC 147.
For the first time, the UFC will feature an event in Belo Horizonte, Brazil, and will be headlined by a UFC 99 rematch between Wanderlei Silva and Rich Franklin.
Though the event has gone through many changes and is really The Ultimate Fighter Brazil Finale, it should still feature some exciting fights.
In the co-main event of the night, Cezar Ferreira will meet Sergio Moraes to determine who will win the TUF Brazil middleweight crown. Moraes comes in as a replacement for an injured Daniel Sarafian.
Also competing for in a TUF Brazil finale will be featherweights Rony Mariano Bezerra and Godofredo Pepey.
Fabricio Werdum and Mike Russow will meet in an exciting heavyweight clash.
Opening the night's main card will be Brazilian featherweights Yuri Alcantara and Hacran Dias.
Join Bleacher Report MMA Featured Columnists Matt Juul, John Heinis and myself, Jeffrey McKinney, as we let you know who will walk out with wins Saturday night.
Begin Slideshow

»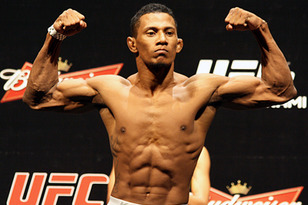 Photo by MMAjunkie.com
Matt Juul: Yuri Alcantara is an under-the-radar featherweight prospect waiting to make
his way up the divisional ladder.

The Brazilian Jiu-Jitsu black belt is riding a 13-fight win streak and is coming off of back-to-back wins over veterans Michihiro Omigawa and Felipe Arantes. Alcantara is a well-rounded threat who boasts 11 career KOs and 12 career submission wins.

Hacran Dias will have a huge test in his UFC debut against Alcantara. While the Nova Uniao product does post a 20-1-1 record, he has yet to face the level of competition that Alcantara is at. Dias does, however, have a more technical ground game and should give Alcantara trouble if the fight goes the mat.

Dias will go to war, but Alcantara's better striking will give him the edge.

Alcantara via unanimous decision
John Heinis: Two under-the-radar featherweights square off in their native Brazil in the evening's first main-card bout.

Alcantara has amazingly won 13 in a wow, nine of which were finishes, and his two most recent wins were inside the Octagon. "Marajo" is also a finisher, earning a knockout or submission in 23 of his 27 career victories.

He could have his hands full with Hacran Dias, who to his credit, has won eight in a row and has only lost once in 22 fights (20 wins and 1 draw). Dias, who is making his UFC debut, has some nasty ground-and-pound and a great submission game from top.

Alcantara, a Brazilian Jiu-Jitsu black belt, is a little more polished of a fighter, and that will be the difference in winning a close decision.

Expect this one to be a barnbuner, though.

Alcantara via split decision
Jeffrey McKinney: In the opening bout of the night, featherweight up-and-comers Yuri Alcantara and Hacran Dias will face off.
Alcantara is currently on a 13-fight winning streak, which includes going 3-0 under the Zuffa banner. Alcantara is a finisher, with 23 of his 27 victories coming by way of knock out or submission.
He will have a tough test in Dias, though, who has only lost once in 22 fights. Dias orginally made it through the first stage of TUF Brazil applicants but chose to skip the show to sign a UFC contract. Dias has a great ground game and could be looking for the submission.
This should be a good fight and could very well become a grappling war. Look for the more experienced Alcantara to pull off the win, though.
Alcantara by decision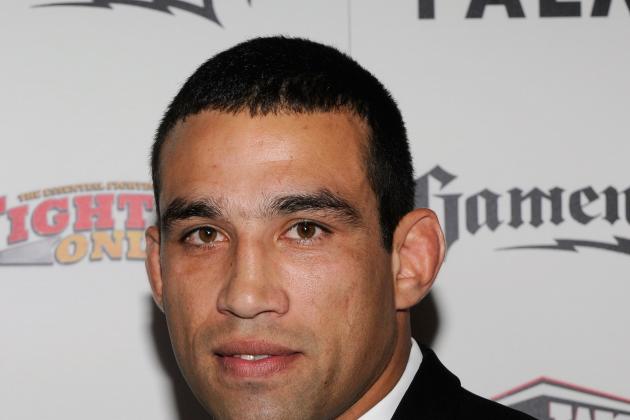 Ethan Miller/Getty Images

Matt Juul: Fabricio Werdum will be a huge test for Mike Russow, who makes a huge jump
up in competition.

Riding an 11-fight win streak, Russow has proved himself to be a solid heavyweight prospect while in the UFC. Russow recently defeated submission specialist Jon-Olav Einemo in January and also has a Knockout of the Night honor under his belt following his come-from-behind KO of Todd Duffee at UFC 114.

A wrestler with heavy hands and a well-versed submission game, Russow will have to start off strong against Werdum, who won't let up on him like Duffee.

Werdum is coming off a big win in his UFC return, brutalizing Roy Nelson for the unanimous decision win at UFC 143. The Brazilian tap out expert has been facing the best of the best for years now and has clearly stepped his game up since coming back to the world's largest MMA promotion.

With his improved striking game, as showcased in his fight with Nelson, as well as his always dangerous jiu-jitsu skills, Werdum should be able to put a stop to the Russow train.

Werdum via unanimous decision.
John Heinis: Werdum has won four of his past five, including an incredible submission win over Fedor Emelianenko two years ago and beating Roy Nelson bloody in a decision victory at UFC 143. A second-degree black belt in BJJ, "Vai Cavalo" is not someone you want to mess with on the ground, and his Muay Thai looked as crisp as ever against Nelson.

He faces an interesting match up in Chicago police officer Mike Russow.

Russow, one of just two American fighters on the main card, improbably comes in with a tremendous 11-fight winning streak. That includes one of the greatest comebacks of all time when Russow knocked out Todd Duffee out of nowhere in the third round at their UFC 114 encounter. Russow has great wrestling, heavy hands and a surprisingly good submission game from on top.

However, none of that's going to matter, though, as Werdum is too skilled and too proud to lose in front of his home crowd. Russow will hang tough into the latter part of the fight before his suspect cardio gets the best of him.

Werdum via Round 3 submission (rear naked choke)
Jeffrey McKinney: Chicago native Mike Russow will look to make a huge impact as he takes on seasoned vet Fabricio Werdum.
Russow is currently on an 11-fight winning streak that includes nine stoppages. He has never faced a fighter like Werdum, though.
Werdum has won four of his last five, including wins over Roy Nelson and Fedor Emelianenko. Although he is one of the best submission artists in the world, the key for Werdum will be his striking.
I can't see Werdum knocking out Russow, who has an iron chin, but if he could stand and trade with Nelson, I don't see any reason why he couldn't do the same with Russow.
I believe if the fight goes to the ground, it could be the end of Russow's winning streak.
Werdum by submission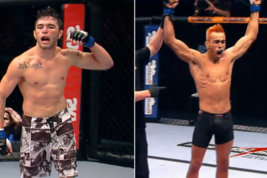 Matt Juul: This featherweight finale may just be the most exciting matchup on the card.

Godofredo Pepey will take Rony "Jason" Bezerra in a fight that is guaranteed to be filled with fireworks.

"Jason" was the first overall pick on the show, and for good reason. The Brazilian featherweight not only emphatically won his way into the house with a TKO victory over Delino Lopes, but he also boasts an impressive resume that includes 10 finishes out of 10 career wins. Notable bouts include a 38-second submission victory over UFC vet Felipe Arantes and a hard-fought split decision loss to Renan Barao.

The Team Nogueira product has the ability to finish the fight both standing and on the ground because of his killer instinct.

Pepey will be a tough fight, however, owning an undefeated record that includes two KOs and six submissions out of his eight career bouts. While only the 12th-overall pick on the show, expect Pepey to exceed expectations Saturday night.

Both fighters are well-rounded, dangerous prospects, but "Jason's" experience against higher-level competition and his warrior spirit will give him the edge.
Bezerra via KO (second round)
John Heinis: This is the featherweight final of "The Ultimate Fighter: Brazil," and all indications are that this will be an entertaining scrap for fans.

Not surprisingly, both fighters are BJJ black belts and have 13 submission wins in 21 fights between the two.

Mariano has won five in a row, all stoppages, while all eight of Pepey's career wins have been of the submission or knockout variety.

Honestly, I didn't watch this season of TUF, so I'm going out on a limb here, but I think Mariano has enough to pull off a minor upset in an exciting match.

Mariano via unanimous decision (29-28)
Jeffrey McKinney: Pepey will put his 8-0 record on the line as he takes on Bezerra in the TUF: Brazil featherweight tournament finale.
Pepey had a good run on the show and has finished all of his opponents outside of it.
But Bezerra has a little more experience and has faced tougher competition.
Both guys are good on the ground, but I believe Bezerra will have the advantage if the fight goes there. There's a good reason that Bezerra was Silva's first pick on the show, and he will prove that he deserved it.
Bezerra by Decision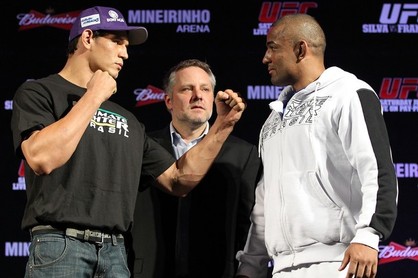 Photo Via Getty Images
Matt Juul: It shouldn't be a surprise that two dangerous submissions artists made it
to TUF: Brazil's middleweight finals.

Cezar "Mutante" Ferreira rolled over the competition en route to a spot on the UFC 147 card. The second-overall pick chosen by Vitor Belfort happens to be "Mutante's" real-life mentor. The Brazilian middleweight kicked off his stint on the show with back-to-back guillotine choke wins before viciously knocking Thiago "Bodao" Perpetuo with a head kick to make it to the finals.

His opponent, one-time Bellator vet Sergio Moraes, is actually a late replacement for fellow cast member Daniel Sarafian, who was forced off the card after suffering an injury. Sarafian knocked out Moraes in the semifinals.

Moraes is a world champion jiu-jitsu fighter and proved his status as a submission threat on the show. In his first matchup, Moraes found himself in the rarely seen 50/50 guard against Thiago Rela and was able to secure a spot in the house by submitting his foe with a heel hook. The now middleweight finalist followed up the performance with a very impressive rear naked choke win over fellow BJJ world champ Delson Heleno.

"Mutante" is a well-rounded fighter whose main strength against Moraes will be his stand-up game. Moraes is a huge threat on the ground and will look to take the fight to the canvas.
It's really anyone's fight, as both men are strong prospects and should make for a very entertaining finale.

Moraes via submission (third round)
John Heinis: Morraes actually got embarassed by Daniel Sarafian in the semifinals of TUF, but a late injury to Sarafian gives Morraes a second chance here.

Morraes, a BJJ black belt under the Nogueira brothers, has an incredible ground game, but he has shown to have rudimentary striking and questionable chin.

That could be a problem for him Saturday night, as Ferreira has some heavy hands. Ferreira, a fellow black belt, has a masterful submission game and also has a couple of knockout wins to his credit.

"Mutante," who will unquestionably be a big fan favorite, will take advantage of his more polished striking to end this fight early and be crowned "The Ultimate Fighter."

Cezar Ferreira via second round KO
Jeffrey McKinney: In the middleweight TUF: Brazil Finale, Cezar Ferreira will meet Sergio Moraes.
Ferreira was originally scheduled to face Daniel Sarafian in the finals, but an injury to Sarafian forced him out of the bout.
Moraes was actually knocked out by Sarafian in the semifinals but will get a chance to redeem himself here.
Both guys are great on the ground, but Moraes may have the advantage. On the other hand, though, Ferreira could be just as good and has some heavy hands to go along with his ground game.
This should be another great fight between two great prospects. I give the edge to Ferreira.
Ferreira by TKO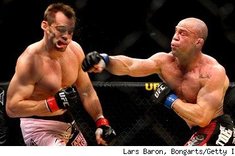 Photo by Lars Baron via Getty Images
Matt Juul: A rematch of their 2009 battle at UFC 99, former Pride champ Wanderlei Silva will get a shot to rectify his loss to former UFC champ Rich Franklin at Saturday's UFC 147.
Only a few years ago, this main event would have been a major bout between MMA legends. But with their careers winding down, I'm just not sure if Silva and Franklin can command a pay-per-view headlining slot anymore.

The 37-year-old Franklin has not fought since February of 2011, dropping a unanimous decision to Forrest Griffin at UFC 126. Shortly after the bout, Franklin suffered a torn labrum and has been sidelined since after getting surgery on his shoulder. It will be interesting to see how "Ace" bounces back from the long layoff and if he can shake off the ring rust.

Silva is coming off a stint as a coach on the inaugural season of The Ultimate Fighter in Brazil, a job he landed following his come from behind TKO win over Cung Le at UFC 139. While "the Axe Murder" is enjoying a nice 2-1 record in his last three fights, it is clear that the once dominant Pride champion is at the tail end of his career.

Le was picking Silva apart in the opening frame of their bout, and a case can be made that the stoppage was a bit premature. Prior to facing the former Strikeforce champ, Silva was brutally KO'd in just 27 seconds by Chris Leben at UFC 132, exposing "the Axe Murder's" waning chin.

If Franklin can shake off the cobwebs and avoid Silva's heavy hands, especially from the clinch, he should be able to gut out a win. Silva's going to give him a fight and will be more competitive against "Ace" than he would have been against Vitor Belfort, but it just won't be enough.

Franklin via split decision.
John Heinis: The best days of former PRIDE star Wanderlei Silva are long behind him, but that doesn't mean his Brazilian fans don't want to see him brawl it out in another UFC main event, though.

With that being said, don't expect anything special outside of "The Axe Murderer" after the cage door closes behind him. Silva is 3-3 in his past six fights, dropping six of his past nine, and really hasn't been consistently winning since 2004. As a matter of fact, Silva already lost to Rich Franklin back at UFC 99 in June of 2009.

Of course, as everyone reading this knows, "Ace's" best days are behind him as well. He is 2-2 in his past four, but most will forgive him for his losses to Vitor Belfort and Forrest Griffin at light heavyweight. Franklin, always a fierce competitor, still believes he has a title run left in him and wants to make a statement here.

While the title run is a pipe dream, a win here is pretty realistic as long as Franklin picks his shots from the outside and takes this fight to the ground if necessary.

I'm not expecting much from this fight outside of a finish from Franklin.

Franklin via Round 3 TKO
Jeffrey McKinney: Two former champions and legends will meet when Rich Franklin takes on Wanderlei Silva in a rematch of their UFC 99 bout.
Franklin is stepping in for an injured TUF coach for the second time, as Vitor Belfort is out with a hand injury.
The first time these two met, both men fought a great back-and-forth battle, with Franklin getting the better of Silva.
Both men are, of course, not the same fighters they once were. Silva is 3-4 in his last seven fights, while Franklin is 2-3 in his last five. Franklin is also coming off of an injury, so it will be interesting to see if the time off plays a factor in his performance.
Silva will be highly motivated coming into this fight. Besides wanting revenge against Franklin, Silva will be fighting in his home country of Brazil for the first time in 12 years.
While I want to see Silva get the win in front of his home country, my gut tells me Franklin will take this fight in another close back and forth fight. If Silva wins, it will be by knockout. But Franklin is well-rounded enough to take Silva to another decision.
Franklin by split decision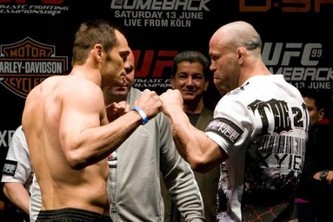 Matt Juul: Fight of the Night: Silva vs. Franklin
KO of the Night: Rony Bezerra
Sub of the Night: Sergio Moraes
John Heinis: Fight of the Night: Yuri Alcantara vs. Hacran Dias

Submission of the Night: Fabricio Wedrum

Knockout of the Night: Rich Franklin
Jeffrey McKinney: Fight of the Night: Silva vs. Franklin
Knockout of the Night: Cezar Ferreira
Submission of the Night: Fabricio Werdum