2012 NHL Mock Draft: Breaking Down Best Value Picks of First Round
June 21, 2012

While every team would love to have a pick inside the top five and a chance to draft one of the class' elite players, it's just not plausible. Luckily for teams drafting later in the first round there will still be some value left on the board.
There aren't many instant-impact prospects in this draft, so teams will be best off drafting a player with a lot of upside and hoping he pans out. Even though it's a plan of attack that increases the bust potential of a selection, it's still the top option based on this year's class.
Here's a full first-round mock draft, which features three players who have a great chance to outplay their draft position if they continue to develop at a good rate.
1. Edmonton Oilers: Nail Yakupov, F, Sarnia
There are a lot of question marks in this draft. Yakupov isn't one of them. He will be the latest young star to join a growing Oilers squad.
2. Columbus Blue Jackets: Alex Galchenyuk, F, Sarnia
In another draft class, there's a good chance Galchenyuk would have gone first overall because of his immense upside. He's a good fit for Columbus.
3. Montreal Canadiens: Filip Forsberg, F, Leksands
Forsberg is an intriguing prospect because he has a terrific combination of size and ability that projects well in today's NHL. The Canadiens shouldn't pass on him.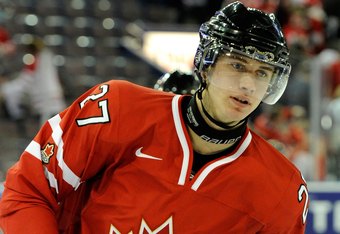 Richard Wolowicz/Getty Images
4. New York Islanders: Ryan Murray, D, Everett
It's only a matter of time before Murray makes an impact at the next level. He's already a well-rounded player and will continue to improve over time.
5. Toronto Maple Leafs: Teuvo Teravainen, F, Jokerit
Starting with this pick, things start to get a little more interesting. The Maple Leafs need depth up front, and Teravainen has been successful overseas.
6. Anaheim Ducks: Mathew Dumba, D, Red Deer
The Ducks have an aging defense corps that's going to need a youth infusion in the coming years. That makes Dumba the wise pick.
7. Minnesota Wild: Morgan Rielly, D, Moose Jaw
Minnesota's roster has quite a few holes, which means the team should just focus on selecting the best player available instead of targeting one position.
8. Carolina Hurricanes: Radek Faksa, F, Kitchener
It's not hard to see why the Hurricanes would target a forward here after a lackluster offensive season. Faksa should be a key piece in a few years.
9. Winnipeg Jets: Jacob Trouba, D, USA U-18
For teams like the Jets, which are in need of help along the blue line, it's a great draft because there are several solid prospects like Trouba available.
10. Tampa Bay Lightning: Griffin Reinhart, D, Edmonton
Although Tampa Bay has a lot of top-end offensive players, it doesn't have enough depth to compete. Reinhart will start to fix that.
11. Washington Capitals: Mikhail Grigorenko, F, Quebec
It's basically impossible to get a clear read on where Grigorenko sits on most teams' boards, but Washington is an ideal landing spot.
12. Buffalo Sabres: Brendan Gaunce, F, Belleville
The Sabres have Ryan Miller between the pipes and have nice defensive depth. Look for them to select plenty of forwards in the draft, starting with Gaunce.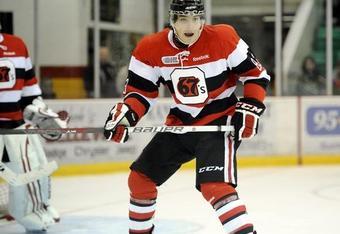 13. Dallas Stars: Cody Ceci, D, Ottawa
There are still some flaws in Ceci's game that will need to get worked out, but he should develop into a solid two-way defenseman.
14. Calgary Flames: Olli Maatta, D, London
Maatta has been one of the draft's biggest gainers in recent months, which should be enough to slide him into the front half of the opening round.
15. Ottawa Senators: Sebastian Collberg, F, Frolunda HC
As long as Collberg eventually adds a little bit more physicality to his game to hold up at the next level, he should be a success.
16. Washington Capitals: Matt Finn, D, Guelph
Even though Washington's offense didn't live up to expectations last season, the team already drafted a forward earlier in the round and should focus on adding a defenseman. At this point, Finn would be the best one left on the board.
Not only has he shown off a lot of offensive potential, scoring 47 points in 61 games for the Guelph Storm, he has also shown the toughness necessary to survive in the NHL. If he can limit the mistakes in his own zone, he'll become a great piece for the Capitals.
The other good thing for a team like Washington is that Finn should only be a season or two away. He's a mature player that should move up the ranks quickly and help improve a Washington team that's been plagued by inconsistency at the back.
17. San Jose Sharks: Hampus Lindholm, D, Rogle
The Sharks always have plenty of talent on the roster, but can't seem to get over the playoff hump. Lindholm will give them another high-upside defender.
18. Chicago Blackhawks: Zemgus Girgensons, F, Dubuque
Chicago could go any number of different directions with this pick, which makes it hard to predict, but Girgensons makes the most sense.
19. Tampa Bay Lightning: Malcolm Subban, G, Belleville
Even though the Lightning have added Anders Lindback, taking Subban would allow them to become more comfortable about the future at the goalie position.
20. Philadelphia Flyers: Derrick Pouliot, D, Portland
The Flyers traded for goalie Ilya Bryzgalov in hopes that he could hide the team's defensive problems, but a netminder can only do so much. Philadelphia has to start stockpiling young blueliners in the system to fix the issue.
While playing for the WHL's Portland Winterhawks, Pouliot tallied 48 assists in 72 games, illustrating his tremendous vision and passing ability. If it weren't for some defensive concerns, he would be battling to be a top-10 pick.
All told, Pouliot is one of the most underrated players in the entire class. He should be able to become more sound in his own end with more experience, and his playmaking skills will turn him into the complete package for Philadelphia.
21. Buffalo Sabres: Stefan Matteau, F, USNTDP
It's going to take some time for Matteau to translate him physical ability into hockey skill, but he's shown good progress already.
22. Pittsburgh Penguins: Ludvig Bystrom, D, Modo
The Penguins need to add some defensive prospects to their system in the draft, and Bystrom would be a nice way to start.
23. Florida Panthers: Tom Wilson, F, Plymouth
After being an afterthought for quite some time, the Panthers had an impressive run last season. They still need help up front for the future, though.
24. Boston Bruins: Brady Skjei, D, USA U-18
By this point in the round, there aren't any players who can be counted on for next season, even though Boston could use one. Skjei will have to do.
25. St. Louis Blues: Scott Laughton, F, Oshawa
A couple seasons ago, Laughton would have been a more coveted prospect. But as the league has shifted away from skilled players and back toward physical teams, players that lack size like Laughton have really taken a hit.
He's a player with a great motor and will be willing to work hard to get his chance at the next level. Still, it's going to take a team that has faith he'll be able to make plays even without the prototypical size to get him off the board.
The Blues have build a strong defensive foundation, so taking a chance on a player like Laughton, who has the potential to really help the offense in a few years is a good risk. I have a feeling he will pan out and turn into a major steal.
26. Vancouver Canucks: Slater Koekkoek, D, Peterborough
Vancouver has enough offensive talent to contend in the Western Conference for a long time. Koekkoek will help the blue line in a few seasons.
27. Phoenix Coyotes: Pontus Aberg, F, Djurgardens
Aberg has helped his stock quite a bit during the draft process and could even go before the Coyotes get a chance. If not, they should grab him.
28. New York Rangers: Tomas Hertl, F, Slavia
The Rangers have plenty of star power on the roster. Now they must focus on players willing to do the dirty work, like Hertl.
29. New Jersey Devils: Nicolas Kerdiles, F, USA U-18
Kerdiles will need some time to keep developing before he gets his first crack at the NHL, but the potential is obvious.
30. Los Angeles Kings: Mark Jankowski, F, Stanstead
Rounding out the first round will be the Stanley Cup champions. Jankowski fits the team's style and should become a valuable role player eventually.