2012 NHL Mock Draft: Best Defensemen Available Among Talented Field
June 22, 2012

Fortunately for teams that desperately need to shore up their blue lines in preparation for the 2012-13 season, there are an abundance of top-quality defensemen on the board in this year's draft.
Several of this year's top candidates can do it all: They can score, take a hit and they display solid skills at both ends of the rink.
Here's a complete first-round mock with a special emphasis on the best puck-moving defensemen available.

1. Edmonton Oilers: Nail Yakupov, RW, Sarnia Sting (OHL)
If the Oilers end up keeping this pick rather than trading it away, there's little chance they go for anyone other than Yakupov, who is leaps and bounds ahead of other wingers because of his scoring ability.
2. Columbus Blue Jackets: Mikhail Grigorenko, C, Quebec Ramparts (QMJHL)
Grigorenko is the consensus top center available as a big (6'0", 200 pounds), skilled puck-mover who sees the ice very well and bodes to be an excellent offensive asset.
3. Montreal Canadiens: Ryan Murray, D, Everett Silvertips (WHL)
Some mocks expect him to fall, but that won't happen—he's an excellent offensive defenseman and won't fall out of the Canadiens' grasp.
First and foremost, Murray is a smart player. There aren't a lot of shortcomings to his game, and he's one of the most well-rounded defensemen on this board, which is perhaps the reason he'll ultimately be the first one selected.
He uses his intelligence well while he's on the ice, and he's an excellent skater who can move the puck. You barely even notice his less-than-ideal size (6'0", 200 pounds) because he's still a physical, aggressive player who doesn't let a supposed lack of size get in the way.
As he proved this season in 46 games with the Silvertips, he can score (nine goals, 22 assists for 31 points), and he's one of the safest picks the Habs can make.
4. New York Islanders: Filip Forsberg, C/RW, Leksands IF (Allsvenskan)
Though Forsberg isn't expected to be as dominant as Grigorenko—nor does he have as much upside—he's still worthy of a top-five pick and projects to be a first-line option sometime in the near future.
5. Toronto Maple Leafs: Alex Galchenyuk, C, Sarnia Sting (OHL)
The Leafs have been looking for a center ever since they determined that the Phil Kessel experiment had officially failed. After a couple of seasons of development, Galchenyuk could give them the dominant option they need.
6. Anaheim Ducks: Mathew Dumba, D, Red Deer Rebels (WHL)
If Dumba falls to them, the Ducks aren't letting him out of their grasp. He's a defenseman who can really get his offense going and keep it moving.
The 2010-11 WHL Rookie of the Year was just as impressive in his sophomore campaign, tallying 20 goals and 37 assists in 69 games while displaying a knack for coming up with a devastating hit at the perfect moment. He's incredibly fast, which only enhances his raw skills, and he plays with a competitive nastiness you love to see in a young prospect.
Dumba can score, distribute, and will do everything he needs to do in order to keep his team moving. The Ducks can't go wrong with him.
7. Minnesota Wild: Griffin Reinhart, D, Edmonton Oil Kings (WHL)
The Wild need a defenseman in the first round, and they're likely to go for whomever the Ducks don't. In this case, that means Reinhart.
One thing that sets him apart from the rest of this crowded field of talented defensemen is his size: At 6'4" and 207 pounds, he towers above the rest and is still incredibly mobile and aggressive. He's an excellent two-way player and uses his size to his utmost advantage. He's not Zdeno Chara, but he's like a scaled-down version.
Reinhart can score and can also get his teammates involved, and the Wild would love to end up with him here.
8. Carolina Hurricanes: Teuvo Teravainen, LW, Jokerit (Finland)
In terms of overall skill, Teravainen may be the best option left on this year's board, so the Hurricanes snatch him up for his puck-handling skills and his NHL acumen.
9. Winnipeg Jets: Morgan Rielly, D, Moose Jaw Warriors (WHL)
There's no question that in terms of blue-liners, Rielly is the best remaining option, and the Jets win big here because he might have the most offensive upside of anyone in this pool.
10. Tampa Bay Lightning: Jacob Trouba, D, U.S. U-18 Team
Tampa Bay is in serious need of a defensive retooling, and this Minnesota native and current member of the Team USA World Juniors is a gritty, physical prospect who can make the Lightning much more threatening.
11. Washington Capitals (from COL): Radek Faksa, C, Kitchener Rangers (OHL)
Faksa is going get even bigger guy than his current 6'3", 183-pound frame, and his size definitely gives him an advantage in the strength department. His goalscoring and ability to distribute makes him an even better option.
12. Buffalo Sabres: Cody Ceci, D, Ottawa 67's (OHL)
Though he needs to get a lot better defensively, Ceci is a serious scoring threat and can eat up a lot of ice time. That's enough to get the Sabres to take a chance on him.
13. Dallas Stars: Zemgus Girgensons, C, Dubuque (USHL)
The Stars are definitely looking to get a center in this draft, and with so many of the top candidates off the board, they go for Girgensons, who isn't as offensively dominant as some of the others but is an excellent skater and a physical player.
14. Calgary Flames: Olli Maatta, D, London Knights (OHL)
Maatta has the perfect build for a solid defenseman: He's strong, he skates very well and, most importantly, he plays with a lot of intelligence.
15. Ottawa Senators: Hampus Lindholm, D, Rogle (Sweden)
In terms of skating ability, Lindholm is one of the guys at the top of the heap. He does need to improve a lot defensively, but once he does, he'll be a true force to behold at 6'3".
16. Washington Capitals: Sebastian Collberg, RW, Frolunda HC (Sweden)
If Collberg hasn't been selected yet, the Capitals would be crazy to leave him on the board. He's young at 17 and he's only 5'11" and 174 pounds, but he's incredibly quick and has displayed spurts of offensive genius. Thinking about how much better he's going to become will be too tempting for Washington to ignore. 
17. San Jose Sharks: Slater Koekkoek, D, Peterborough Petes (OHL)
Koekkoek is 6'2", 185 pounds, and he's physical, aggressive and a smooth skater. The only thing to be wary of with him is whether or not shoulder surgery at the end of last season will ultimately decrease his value.
18. Chicago Blackhawks: Brendan Gaunce, C, Belleville Bulls (OHL)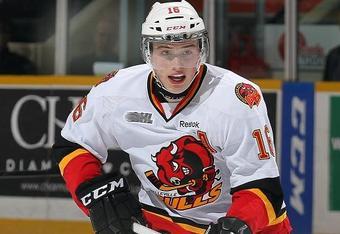 On a board full of really excellent skaters, Gaunce doesn't quite measure up, but given his size at 6'2" and 210 pounds and his considerable offensive upside, the Hawks will bite.
19. Tampa Bay Lightning (from DET): Tom Wilson, RW, Plymouth Whalers (OHL)
Wilson has the ideal combination of size (6'4", 200 pounds) and strength to be a dominant enforcer in the NHL. He certainly doesn't light the lamp as frequently as the other wingers on the board, though.
20. Philadelphia Flyers: Matt Finn, D, Guelph Storm (OHL)
Though he might not have as much upside as some of the other defensemen on the board, he's excellent on special teams and has one of the highest NHL IQ's of anyone.
21. Buffalo Sabres (from NSH): Tomas Hertl, C/LW, Slavia (Czech Republic)
On paper, he looks perfect at 6'2" and 190 pounds, and he tallied 25 points in 38 games for Slavia this season. But he definitely leaves something to be desired in terms of skating ability.
22. Pittsburgh Penguins: Derrick Pouliot, D, Portland Winterhawks (WHL)
One of his big selling points is his skating ability, and he has an incredibly quick release and a nose for the net. Plus, he's very quick and he's a smart player.
23. Florida Panthers: Brady Skjei, D, USA U-18 Team
The Panthers still get an elite defenseman despite picking 23rd: At 6'3" and 200 pounds, Skjei is a fast, smooth skater and might end up being a true steal here.
24. Boston Bruins: Dalton Thrower, D, Saskatoon (WHL)
He falls this low because he doesn't have the perfect size or as much offensive upside in a year when the draft is full of so much blue-line talent.
25. St. Louis Blues: Henrik Samuelsson, C/RW, Edmonton Oil Kings (OHL)
His brother was drafted in 2009 and his dad was an NHL superstar, so Samuelsson knows what it takes to succeed in the NHL. Given his size (6'2", 205 pounds) and his aggressive style, he should be able to be one, too. The Blues are a young, upstart team that could give him a good place to develop. 
26. Vancouver Canucks: Colton Sissons, C/RW, Kelowna Rockets (WHL)
Though he's the top-rated prospect to come out of the WHL this year, his biggest strong points—leadership skills, competitive fire—are mostly intangibles.
27. Phoenix Coyotes: Pontus Agberg, LW, Djurgardens (Sweden)
The Coyotes will be thrilled if Agberg falls this far. He has more offensive potential than most of the players selected in the 20s of this draft, and he has an excellent reputation off the ice.
28. New York Rangers: Stefan Matteau, LW, USNTDP (USHL)
Like Samuelsson, he has NHL in his blood: His dad Stephane will live on forever in Rangers lore. This Matteau projects to become a hard-nosed, aggressive winger with a lot of scoring potential. 
29. New Jersey Devils: Malcolm Subban, G, Belleville (OHL)
If the Devils are looking for a goaltender of the future, this is their best first-round option. PK's younger brother is widely regarded as the top North American prospect.
30. Los Angeles Kings (optional to CBJ): Lukas Sutter, C, Saskatoon
Sutter could sneak his way into the first round based on the family rep, and based on the fact that his uncle is the coach of our newest Stanley Cup champs.