NBA Finals 2012: LeBron James' First Title to Amplify Michael Jordan Comparisons
June 21, 2012

Mike Ehrmann/Getty Images
LeBron James is just one win away from capturing his first NBA title—a victory that would certainly render his detractors speechless—or maybe not.
James entered the NBA as the next big thing, with the pressures of being the chosen one (following Kobe Bryant) to carry the torch that Michael Jordan unintentionally, yet diabolically, crafted.
While there was no one to compare Jordan to when he came into the league, the operative trend now is to latch onto the best and most recognizable figure in basketball in hopes that they become a more immaculate, enhanced version of MJ himself. Though comparing talent level can be debated ad nauseum, Jordan's persona might never be matched.
The NBA has seen many great players spanning many different eras. While Wilt Chamberlain, Bill Russell, Oscar Robertson, Magic Johnson and Larry Bird helped pave the way in their own distinctive fashion, there never seemed to be that one player that rose above the rest quite like Jordan did. And once he was able to harness his naïve bravado and channel it into the ultimate team success, the legend was born.
Jordan's hollow statistics finally coincided with an NBA championship in his seventh season at the age of 28. Five more rings over the next seven seasons (interrupted only by a silly foray with the Chicago White Sox, errr...Birmingham Barons) helped etch his bust atop the league's Mount Rushmore.
With the Miami Heat owning a commanding 3-1 series lead in this year's finals over Kevin Durant and the Oklahoma City Thunder, LeBron's fate may soon look eerily similar to that of Jordan's—at least the beginning of it.
While Jordan never made it to the finals before eventually winning a title, James entered this season having been on the bitter end of two championship series ('06-07 against the San Antonio Spurs and last year at the hands of the Dallas Mavericks).
With the added pressure to purge his championship demons coupled with the already magnified "unclutch" label, James may find a bit of solace if the Heat are able to indeed cap off this year with the title.
However, that may just trigger a different sort of impasse.
The general public, casual or die-hard fans and the entire league played their part in anointing James as the chosen one. But he has welcomed it all with open arms, only to pile on with his televised decision to take his talents to South Beach.
While most of the hatred, criticism and expectations for LeBron are either unfounded or unrealistic (there honestly is no middle ground), it seems that he has sort of a maniacal soft spot for any and all attention shone his way, a trait also shared by Jordan and eventually Bryant.
Until James is able to get over the hump and win his first title, the ceaseless chatter will only intensify about him not being able to finish the job—a microcosmic and cynical link to his renowned fourth-quarter vanishing acts.
Once that first championship is out of the way, the pressure will shift to winning another title, then another, then another, and so the story goes until yet another failure to nudge Jordan from the top of the mountain exists.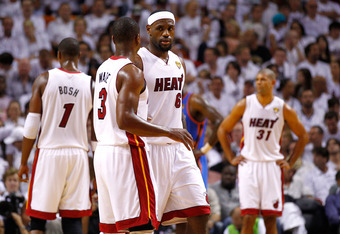 Mike Ehrmann/Getty Images
While it seems far-fetched, James might just be the only player capable of at least being in the same conversation as Jordan when it comes to greatest-of-all-time talk. His combination of size, strength, athletic ability and talent will be enough to push James over the top if he can at least fill one of his hands with rings.
One championship will simply not be enough for critics and fans to cease their hatred or fondness; the focus will just shift to whether or not James has what it takes to win multiple titles until everyone is eventually overwhelmed with the G.O.A.T. chatter.
It will be a very riveting ride as we turn the page on chapter one of LeBron's story, but even more mesmerizing is the anonymity of just how many more chapters are left to be written.
Contact Jeremy at jeremy@popflyboys.com, on Twitter @KCPopFlyBoy and at popflyboys.com.