NBA Rumors: Steve Nash Must Avoid New York Knicks in Free Agency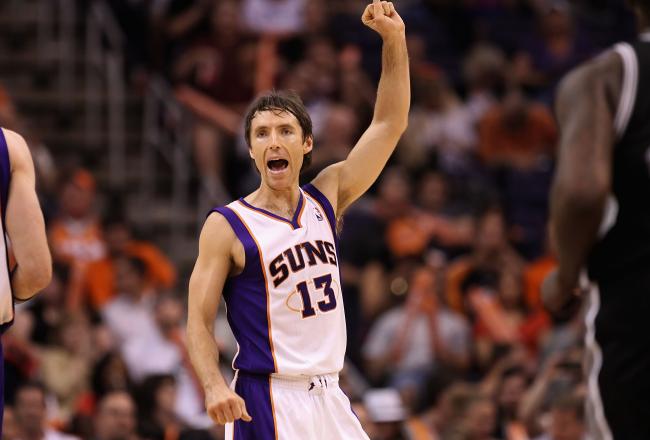 Christian Petersen/Getty Images
There may be conflicting reports on the nature of Steve Nash's interest in the New York Knicks, but the free-agent point guard should likely avoid signing in the Big Apple this summer.
The money isn't likely to match up, the pieces would be a tricky fit and the Knicks aren't serious championship contenders—even with Nash on board. No one is sure if Nash even has an interest in the Knicks, despite his comments in New York on Wednesday.
Nash said at a promotional event in Manhattan that he'd consider playing with the Knicks, according to ESPN New York. A question from Knicks great Walt Frazier spawned Nash's response.
"The Knicks are a great franchise and I live in New York City (each summer), so I'd definitely consider them if they were interested," Nash said.
But a New York Post report Wednesday refuted what Nash said publicly in Manhattan.
According to the Post's Marc Berman, the unrestricted free agent isn't likely to have the Knicks as one of his potential landing spots.
One confidant of Steve Nash doubts the star point guard will truly give the Knicks any consideration even if they have their $5 million mid-level exception, despite his remarks at a promotional appearance with Walt Frazier yesterday.
While trusting a "confidant" of Nash over his actual words may seem like an idiotic proposition, the Post's report is likely much closer to what Nash is thinking about the Knicks than what he was forced to say at a promotional event in New York.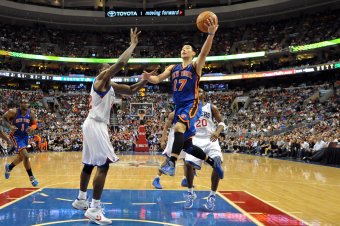 The Knicks still face a bird rights case with Lin (17).
Drew Hallowell/Getty Images
What was Nash supposed to say to that question in Manhattan? That he wouldn't consider playing with the Knicks? Of course not. He gave a very generic answer to a very loaded question.
When push comes to shove, however, New Yorkers shouldn't hold their breath waiting for Nash to sign on the dotted line.
As the confidant said in the Post's report, the money isn't likely to be enough for Nash to have the Knicks high on his list. For Nash to become a Knick, he'd likely have to take a lot less money than he could find elsewhere on the open market.
Even if the Knicks win their early-bird rights case with Jeremy Lin, the $5 million mid-level exception isn't going to be enough for Nash to come aboard. Chances are the Knicks lose that case anyway, which eliminates that option altogether.
If that's the case, New York would only be able to offer Nash a veteran's minimum deal—worth just $1.9 million—this summer. That isn't going to be enough to get a deal done.
But even if the money lined up or Nash was willing to take that severe of pay cut, are the pieces already in place enough for the Knicks to win an NBA title?
Few people outside of New York would likely answer "yes" to that question.
Where will Steve Nash sign in free agency?
Carmelo Anthony and Amar'e Stoudemire give the Knicks star power, and Lin is an upcoming player who took the NBA world by storm last season. But there are question marks galore about how the team as a whole fits together, and adding Nash to that mix doesn't exact answer those problems.
Berman's report mentions that Nash doesn't feel the Knicks are close enough to an NBA title to consider taking a big pay cut. Time is ticking for the 38-year-old point guard to win an NBA title, so his decision this summer is absolutely crucial in obtaining that first-ever ring.
He also didn't like how the Knicks management treated Mike D'Antoni, Nash's former coach in Phoenix. Every little factor matters in the courting of a major free agent.
Overall, the cards look absolutely stacked against the Knicks acquiring Nash this summer.
Without the money, fit or realistic chance to win an NBA title, Nash is almost certain to sign somewhere other than the Big Apple during free agency.
This article is
What is the duplicate article?
Why is this article offensive?
Where is this article plagiarized from?
Why is this article poorly edited?

New York Knicks: Like this team?