Has College Football Journalism Entered into Tabloid Sensationalism?
June 21, 2012

Scott Halleran/Getty Images
Everyone knows that college football is a multimillion dollar business.  Everyone is also aware that college football fans are some of the most "fanatical" in the land.
This fanaticism sometimes drives journalists and fans to cross over tacit lines of ethics.  Young people 16-18 years of age can become exploited to fulfill an insatiable need for connection to college football.
What we forget is that these are young men, many not old enough to vote, who are at the cliff of adulthood. 
But with the 24/7 need for fans to have information on their favorite teams, multiple Internet sites vying for reader hits and views and free sites offering up round the clock information and interviews, the appetite of fans and the competition for their them is almost unquenchable.
Bleacher Report already poked holes through Matt Hayes'  story in the Sporting News about Urban Meyer a while back. Hayes' story, which was publicly affirmed by Sporting News' President Jeff Price, was shown to have factual flaws.
But rumors and—as Ohio State President E. Gordon Gee has stated to The Lantern, OSU's school newspaper—"bad journalism" continues.
Recently, two young men were dragged through the mud of the Internet's world of rumors, much more resembling the tabloids on the supermarket counter than real sports journalism. 
Ohio State's Ezekiel Elliott and Michigan's Jaron Dukes both were said to either have decommitted, been looking around or had their scholarships revoked by their head coach.
None of these rumors were true. 
I had a chance to talk to both young men about their predicament to get some insight into what they were going through and shed light on this growing "tabloid" culture that is developing in college football journalism.
Interview with Ezekiel Elliott
It was recently reported that you were seriously talking to Notre Dame, is this true?
EE: Not true at all.
How did this rumor get started?
EE: I have no idea. Some person may have posted that they saw my dad in Notre Dame garb and because of that, they said I was decommitting, something stupid like that.
How did the Ohio State coaches react?
EE: They actually did not react at all. I am not sure if they even knew about it. I talk to Stan Drayton and Urban Meyer at least once a week, sometimes even more and they have not even brought it up so I am not sure they even know about it.
Has Notre Dame tried to flip you?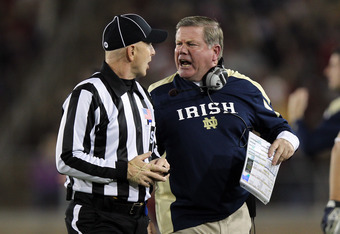 Ezra Shaw/Getty Images
EE: Lots of schools continue to try to contact me, especially the ones who were trying to recruit me so yes, ND has been trying to contact me but there are a lot of other schools along with them.  I tell them I am a strong commit to Ohio State.
You are friends with Alex Anzalone who recently visited Notre Dame, where do you think he will go?
EE: I have no idea. We are friends and we talk but he is taking his time.
Do you think Ohio State is out of the running for Anzalone?
EE: Many have felt that because he did not visit after he went to Notre Dame that it was a sign he has crossed Ohio State off, but I still think Ohio State has a chance to land him, but I also want him to go to the best place for him, and if it is not Ohio State, then I want him to go where he will be happy.
Thank you, Ezekiel, for taking time to quell any rumors of your decommitment and committing to Notre Dame.
Jaron Dukes also had a similar experience and he sat down to give us the real scoop.  It was rumored that Brady Hoke had revoked his scholarship.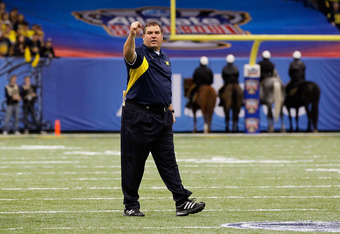 Kevin C. Cox/Getty Images
Interview with Jaron Dukes
(The following is an excerpt from a previous interview. The full interview, published on June 10, can be found here).
Rumors are that Brady Hoke revoked your scholarship offer, is it true?
JD: The rumor is not true; Brady Hoke never said anything to me. I have talked to Coach Montgomery and coach Heck(linski) and they were wondering if I had decommitted from them. I told them no and that these were all rumors.  They assured me that everything was OK and to relax.
How did this rumor start?
JD: I have no idea and have no idea why it is I.  My girlfriend and I just returned from Kings Island and I heard all this talk that I had decommitted.  Coaches were online Facebooking me, etc trying to get a hold of me and telling me to call them ASAP.  All is squared away now. There were people on Twitter that said I had been dropped. I think the rumor may have started on an Ohio State Board.
Have you talked to Brady Hoke these last few days?
JD: No sir, I have not heard from coach Hoke. I plan on calling him tonight or tomorrow but from my point of view, the rumor is completely false.
Living in Columbus but being a Michigan commit, do you get razzed a lot?
JD: Yes, everyday! Neighbors, teachers, friends all give me a hard time. One time, I was in a mall and an older lady saw me and just started calling me SCUM and kept calling me that name.
It is clear that Internet sites have resorted to sensationalism and tabloid journalism to stir the pot.
Though readers are important, I also think that what has happened to Ezekiel Elliott and Jaron Dukes comes close to crossing ethical boundaries.
These are young men with their whole lives ahead of them, and I hope we as journalists can provide a means to which they can be represented truthfully and not exploited for gain.
Unless otherwise noted, all quotes were obtained first-hand or from official interview materials.