VP John Elway's Predictions About Broncos Offense: Balance Between Pass and Run
June 21, 2012

Justin Edmonds/Getty Images
The Denver Broncos now have Peyton Manning, one of the best quarterbacks of all time. So be prepared for the Broncos' offense to be a pass-happy, hurry-up offense that throws the ball every down, right?
Wrong.
Executive VP of Football Operations, John Elway, recently told local Sports Radio, 850 KOA that just because the Broncos have Peyton Manning, it will not likely spell the end of running the ball in Denver. Instead, the team is after more balance. This comes after a year dominated by a run-first offense led by Tim Tebow in 2011.
I think there's a misconception out there a little about Peyton in that they (the Colts) didn't run the football in Indianapolis. When they were successful in Indianapolis, they ran the football.

What we're looking for is balance. When we won the championships back in the 90's, we had balance. Willis McGahee had a great year last year. (Mario) Fannin, the young kid we signed as a free agent last year out of Auburn, is coming back off a knee injury in camp. (He) looks good. And then (Ronnie) Hillman, who we drafted in the third round, is a guy that has big-play ability.

I think you're still going to see good balance. I think the misconception is that Peyton throws the ball all the time but when they were winning and doing well, they were top 12 in the league in rushing.
Based on those comments, however, it seems like the McDaniels era back. Knowshon Moreno should be worried about how he fits in the picture in Denver in 2012.
Elway is obviously high on Mario Fannin, who spent last year on the injured reserve. The Broncos also drafted another young, speedy back in Ronnie Hillman. McGahee will definitely continue to be the feature back next season. Moreno could be the odd man out in 2012.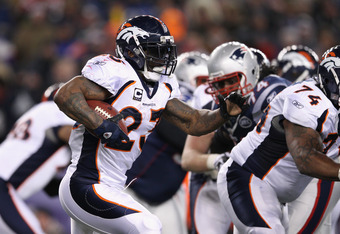 Elsa/Getty Images
If it doesn't mean that Moreno is out in 2012, it may very well signal that he will have a much more reduced role as the team looks to see what they have in last year's undrafted free agent Mario Fannin as a contributor this year.
As far as team chemistry is concerned, Elway says that Peyton has done a great job blending in during OTAs (organized team activities) and has led the team by sweating the small stuff, wanting everything to be perfect during practice and drills.
With Peyton's background and where he's coming from and what he's done in the NFL already, it's a treat to be able to watch him practice day in and day out. You realize once you're around him why he's been as successful as he is. He's a guy that's a grinder on the small things, which really matter. He's also a guy that gets along with his teammates and gains that respect.

He has done a tremendous job and walking in, not saying, 'I'm Peyton Manning,' but (instead taking the approach of) I'm going to blend in and we're all going to get to know each other before I put my foot down and say, 'Ok, we've got to do it.' You saw little signs of that at times during OTAs. He's been very aware of the people and the need to get to know his teammates.
Peyton looks to be well on his way in garnering the respect of his teammates as well as gelling together as a whole, which will be important to know his receivers, where they will be on the field and how they will react in certain circumstances.
Overall, look for the Broncos to seek balance running and passing and watch for who gets the majority of carries during training camp and preseason games. The Broncos look to be going in a different direction in the backfield in 2012.