Why LeBron James Has a Chance to Match Kobe Bryant's 5 Rings
June 21, 2012

Ronald Martinez/Getty Images
It's been nine seasons, but the Miami Heat's LeBron James is finally one win away from winning his first ring.
However, when we talk championships, Kobe Bryant's five rings make him the standard bearer among current NBA superstars. While James still has a ways to go to capture number one, it's realistic that he catches Kobe's five before long.
The main reason is that LeBron is a different player right now than the other two times he reached the NBA Finals. With LeBron in takeover mode, he's as unstoppable a force as anything the NBA has seen in a very long time.
LBJ has averaged 30.5 points, 9.7 rebounds, 5.3 assists and 1.9 steals while shooting 50.1 percent from the floor this postseason. While I don't expect numbers like that from LeBron every postseason, what I do expect is that he now fully understands what it takes to win a championship.
This postseason, James has been more Kobe-like. There's been less clowning around and much more taking care of business.
That's the mentality LeBron needs to win a ring.
I believe he now really knows how he must approach the playoffs, mentally. That's the key. The physical tools have always been there, but if James has now mastered the mental aspect of winning in the playoffs, then there could be no stopping him.
The key to catching Kobe is to capitalize on Miami's success right now.
If the Heat do end up closing out the Thunder, then LBJ would need to likely win two more in the next three years. Including this year, that would give him three, and also would make him a 12-year veteran in the league.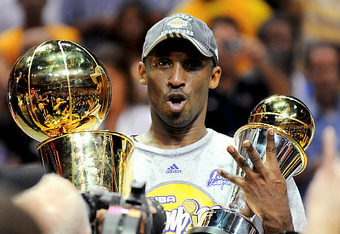 That would take him to right around where his contract ends with the Heat, depending on whether or not he decides to opt out after the 2015 season.
From there on, let's assume he plays four or five more years to match where Kobe will be at next season.
Depending on what team James is playing on, sprinkle in two more titles in a five-year span, and it's very possible James could reach Kobe's five rings.
But there's still a lot of work for LeBron to do before we look that far down the road.
He still has to win one before he can even think about approaching Kobe's five.
Follow Matt Shetler on Twitter for news, reaction and analysis from around the NBA.