2012 NBA Draft: Ranking Top Landing Spots for Florida Guard Bradley Beal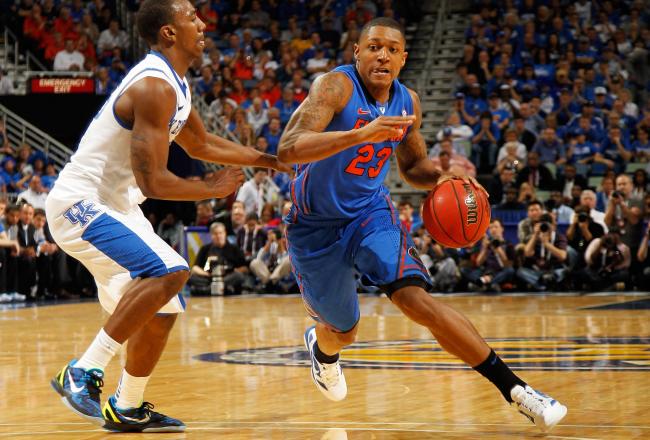 Chris Graythen/Getty Images
Few players in the 2012 NBA draft class came on as strong late as Florida's shooting guard Bradley Beal.
After struggling early to live up to his lofty status as the fifth best freshman entering college basketball in 2011, something clicked for the 6'4" guard. The light finally came on.
Beal scored 20 points, grabbed eight rebounds and dished out five assists in a three-point loss to Kentucky— the eventual national champions—during the SEC tournament. He followed that performance with back-to-back 14-point games in the NCAA tournament, then torched Marquette for 21 points on 8-for-10 shooting (3-for-5 from three) to help Florida advance to the Elite Eight.
Just like that, Beal became a top NBA draft prospect.
Over three months later, Beal is a likely top-five pick in the 2012 NBA draft. He figures to have a number of teams—from No. 2 to 8—fully prepared to pull the trigger on the sharp-shooting guard.
Below, we rank the teams that represent the best landing spots for Beal:
1. Washington Wizards (No. 3 overall)
Before the NBA's first big trade of the offseason Wednesday, it appeared as if the Wizards could be in the market for another big man with the third overall pick. But after Washington shipped Rashard Lewis and his expiring contract to New Orleans for Emeka Okafor and Trevor Ariza, the Wizards' need for a frontcourt player vanished.
Nene and Okafor can now man the 4 and 5, respectively, with Ariza sliding into the lineup as the starting small forward. John Wall mans the point, leaving the shooting guard position as a hole that still needs filling in Washington. The Wizards also desperately need perimeter scoring.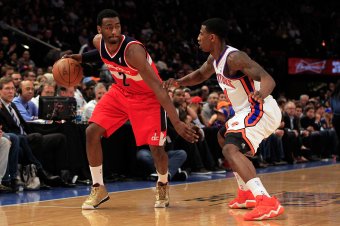 Wall (2) and Beal would make a dynamic backcourt duo.
Chris Trotman/Getty Images
Beal fits both needs perfectly.
He's the draft's top-rated shooting guard, and there may not be a better perimeter shooter available. Some have compared Beal to Ray Allen and Eric Gordon, two of the game's better outside shooters.
There's even a mutual interest between the two sides.
According to the Washington Post, Beal expressed an interest in playing for Washington after a recent meeting and workout.
"It was pretty good. I really liked it a lot," Beal said. "They had a great staff and they have a lot of interest in me and I have interest in them as well. Curious to see how this whole process goes."
If Beal gets past the Charlotte Bobcats at No. 2 overall, expect him to be playing in Washington. Overall, that ending scenario would likely be the best for Beal.
2. Cleveland Cavaliers (No. 4)
There's no doubt that the top landing spots for Beal take a sharp decline after Washington. To be perfectly honest, it's hard to picture Washington passing on Beal at No. 3—if he gets there.
But if he falls another spot to No. 4, the Cavs could certainly take the Florida guard.
Which NBA franchise represents the best overall fit for Florida shooting guard Bradley Beal in the 2012 NBA Draft?
He's a little undersized for the shooting guard position at a short 6'4", and Cleveland would be short in the backcourt with Kyrie Irving at the point. But teaming up two exciting scorers at guard in Beal and Irving would be hard to pass up for a franchise still in rebuilding mode.
3. Charlotte Bobcats (No. 2)
The turning point in the draft for Beal comes at No. 2 overall, where the Bobcats could realistically take him.
Considering Charlotte averaged just 87.0 points a game during its historically bad 2011-12 season, Beal's instant offense would be a welcome addition. The Bobcats shot just 41.4 percent from the field, too.
However, the Bobcats already have a number of frontcourt players, including Gerald Henderson, Kemba Walker and D.J. Augustin. I'm not sure Beal fits into that mess at the 1 and 2.
3. Golden State Warriors (No. 7)
4. Toronto Raptors (No. 8)
The Warriors and Raptors are clumped together for a simple reason: Beal isn't likely to escape the top four or five picks. Having him slip to No. 7 or even 8 would be a fall down the board that few are expecting.
However, the Warriors could take Beal to help replace Monta Ellis as a combo scoring guard, and the Raptors would definitely pull the trigger to fix their need for perimeter scoring.
Both teams would likely need a trade up to realistically get Beal, but the two rosters currently represent a logical fit for his skill set.
This article is
What is the duplicate article?
Why is this article offensive?
Where is this article plagiarized from?
Why is this article poorly edited?

Washington Wizards: Like this team?