NBA Draft 2012: Which First-Round Picks Will Be out of the NBA in 5 Years?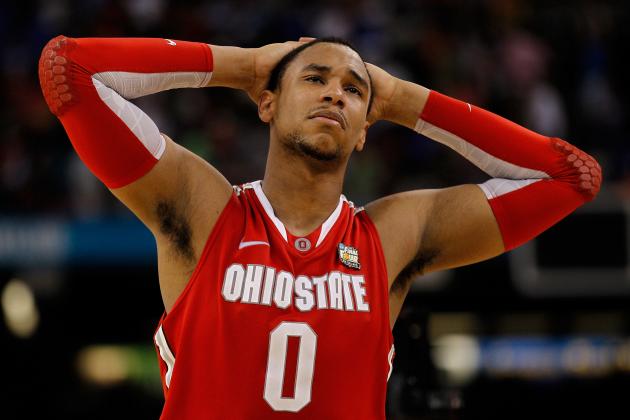 Chris Graythen/Getty Images
Jared Sullinger's medical red flags do not help his case.
The draft is a time of mystery and wonder for NBA franchises.
Each year, teams select players in the first round with the hope that they will be able to eventually become long-term contributors for them.
Some end up working out, others don't.
From the 2007 class alone, nine first-rounders are already out of the league, while two others will likely be joining them soon. Aaron Brooks, Wilson Chandler and Jeff Green were all excluded from this count, as they are expected to be making comebacks next season.
That was just five years ago.
Now, let's examine this year's crop of prospects and try to predict which of them will experience this same fate within the next five years.
Begin Slideshow

»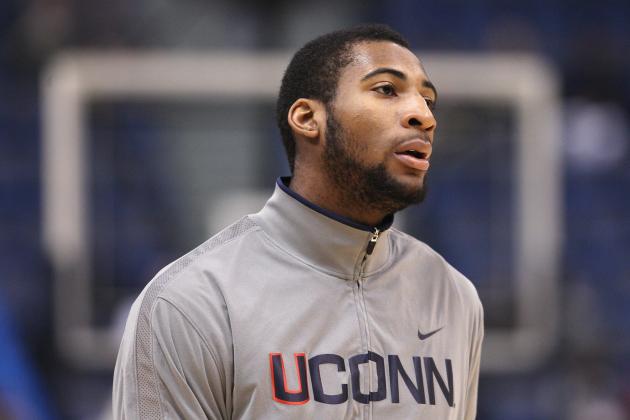 Elsa/Getty Images
Andre Drummond, the next Dwight Howard? Don't get your hopes up!
Connecticut's Andre Drummond is the next Dwight Howard!
Just like how Hasheem Thabeet, Patrick O'Bryant, Kwame Brown and Michael Olowokandi were supposed to be great too, huh?
The Huskies' seven-footer is just missing certain crucial star qualities. He is soft, lackadaisical, disinterested and unmotivated.
Despite his massive body, he has trouble rebounding, and he can't score outside of dunk opportunities.
If he is drafted into the perfect situation, such as Cleveland or Portland, where he can learn from a good veteran big and be given ample time to fully develop, I see a slight chance that he can live up to his immense potential.
If he is drafted elsewhere, however, watch out, because it may be a disastrous ride for Drummond as he slowly spirals out of the league.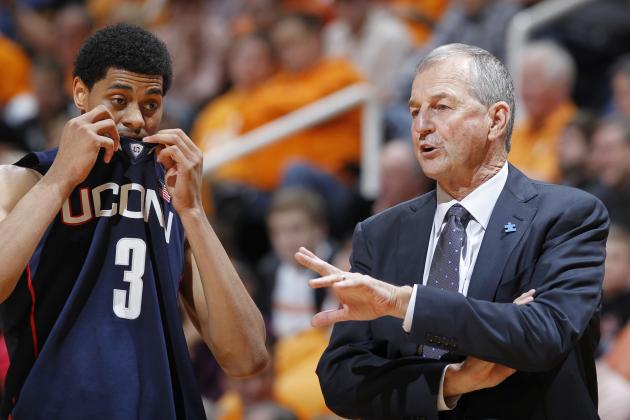 Joe Robbins/Getty Images
Even coach Calhoun can't fix Jeremy Lamb's poor shot-selection.
Drummond's teammate Jeremy Lamb broke out amid the March Madness during Connecticut's 2011 championship run.
He displayed a fluid jump shot that made scouts ooze over him.
Then, expected to become a star the following season, Lamb struggled without Kemba Walker around to free him up.
He averaged a solid 17.7 points but shot just 33.6 percent from downtown and was unable to lead Connecticut to a single tournament win.
Similar to Drummond, Lamb seems to lack a competitive edge. He lacks intensity during games and even inexplicably sat out of drills at the draft combine.
Offensively, although he has proven to be a more than capable scorer at times, he is extremely streaky. He can disappear for long spurts of time and will continue to force up bad shots even when he is cold.
The 6'5", 180-pounder is also way too skinny for NBA standards and will surely get pushed around a lot at the next level.
Or he will, at least, for the few years that he is playing there.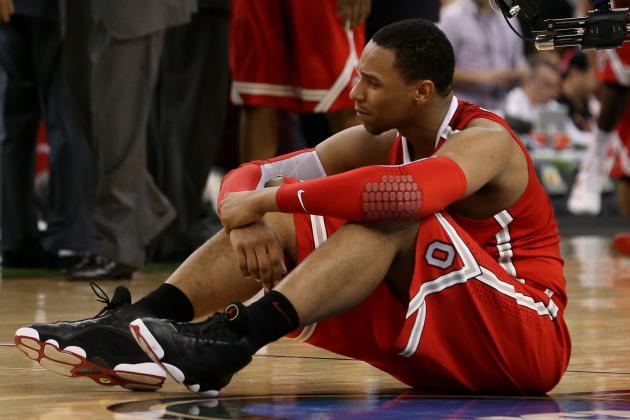 Jeff Gross/Getty Images
Jared Sullinger returned to Columbus with championship aspirations. Unfortunately, it didn't work out for him.
With averages of 17.5 points and 9.2 boards his sophomore year, Ohio State's Jared Sullinger dominated at the college level.
I'm uncertain, however, how well his skills translate to the next level.
For starters, the consensus two-time All-American relied too much upon using his strength to muscle down smaller opponents. This will not work against the much bigger, grown men in the NBA.
There are also concerns that he's a tweener at 6'9", as he is undersized to play center and too slow to play power forward.
And now, with significant medical red flags being reported by ESPN, that adds even more to the risk.
Don't be surprised if Sullinger finds himself out of a job playing basketball after his first several years in the league.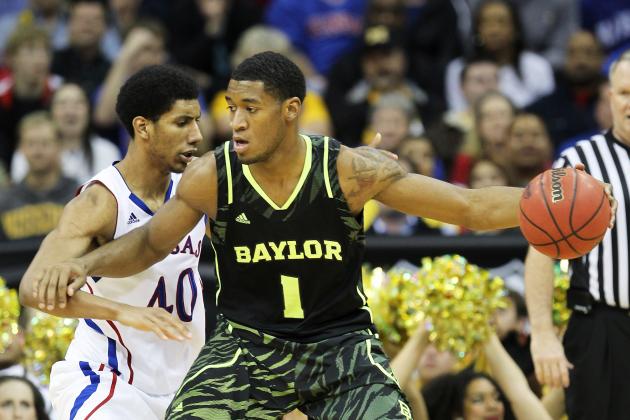 Jamie Squire/Getty Images
Perry Jones is long and an elite athlete. But does he really care about basketball?
An elite athlete.
That's about all Baylor's Perry Jones has going for him as he prepares for the draft.
Jones plays with zero emotion, is soft and struggled mightily in his two years for the Bears.
Despite some rare flashes of brilliance where he displayed the talent and skills that made him such a highly touted recruit coming out of high school, he did not demonstrate this nearly enough to convince me he can make it in the league.
Now, although the lanky prospect played in the post as a big man for his collegiate career, Chard Ford of ESPN claims that he is marketing himself as a wing to NBA teams.
This makes him even more of an enigma, and professional talent evaluators are worried.
And they well should be. I, for one, would be terrified of selecting Jones if I was in the shoes of a general manager.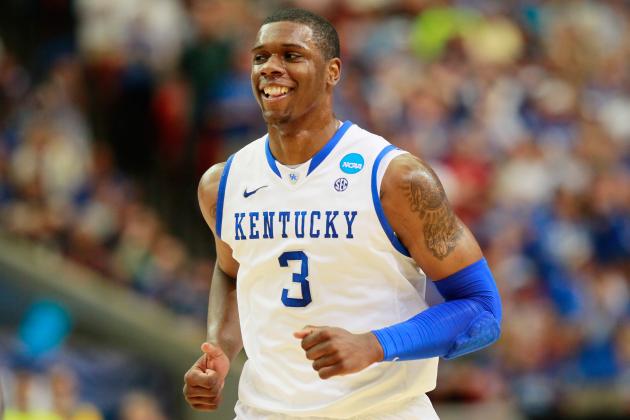 Kevin C. Cox/Getty Images
On any occasion, you never know which Terrence Jones you will get.
Sometimes you can watch Terrence Jones and wonder how he isn't a top-five prospect.
He can play with an incredible amount of energy at times that only compares to that of Kevin Garnett.
Usually, however, you will watch him and wonder how he is even a draft prospect at all.
The Kentucky forward is just too bipolar on the court. He can swing from high intensity to zero intensity in just a matter of minutes.
And how many players this inconsistent in college are successful in the NBA?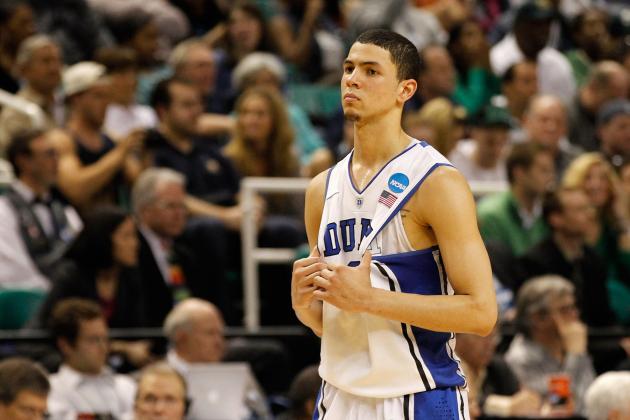 Streeter Lecka/Getty Images
The superstar himself lost to LeHigh in the Round of 64.
After being one of the most hyped-up high school prospects in recent history, Austin Rivers did more harm than good for Duke in his one season there.
From the day he stepped foot on campus, he felt he owned the team.
He instantly became a black hole offensively and would force up terrible shots at will.
Pair this with the 6'5", 200-pounder's lack of ideal height or strength and his poor play on the defensive end, and you have yourself a player destined to struggle in the NBA.
I would have much more confidence in Rivers at the next level if he would get the image out of his head that he is a superstar and settle into more of a secondary role.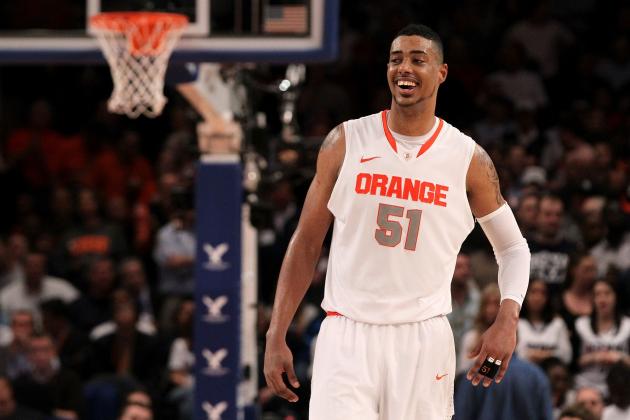 Jim McIsaac/Getty Images
Fab Melo doesn't take basketball as seriously as he probably should.
Syracuse's center Fab Melo was a completely different player in his second year for the team.
The difference was that, unlike his freshman year, he was actually in decent shape physically.
He dominated in the middle of the Orangemen's famous two-three zone, averaging an impressive 2.9 blocks per game, and was eventually named the Big East's Defensive Player of the Year.
Still, I am unsure that his game will translate smoothly to the NBA.
Despite his 7'0", 255-pound frame, he remains a limited rebounder, particularly on the defensive end. He is also extremely raw offensively and plays with little passion on the court.
Another area of concern for him are his off-court issues. Due to school-related problems, Melo was forced to sit out of the entire NCAA tournament.
There is no excuse for this, and he will need to get his act together if he wants to see any success at the next level.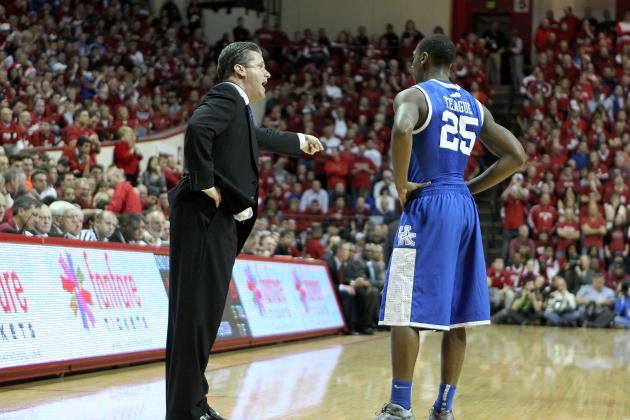 Andy Lyons/Getty Images
Marquis Teague needs a few more years learning from John Calipari before he is ready for the NBA.
I'm not sure that I see what Marquis Teague's role is at the next level.
Traditionally, point guards in the league are able to either score or pass. The great ones can do both.
But the Kentucky product doesn't do either.
According to DraftExpress, Teague's 12.3 points per 40 minutes pace adjusted and 49 percent True Shooting Percentage each ranked second last in their database of top-100 prospects.
He also averaged 4.8 assists per game, a far-from-stellar number given the incredible Wildcats roster he could get the ball to. He struggled with decision-making throughout the season, and his 2.7 turnovers per contest are a result of that.
The 19-year-old struggled for most of the season and could desperately use more time at Lexington to further develop his game.
Instead, he will be thrown into the NBA as a raw and immature guard who will struggle from day one.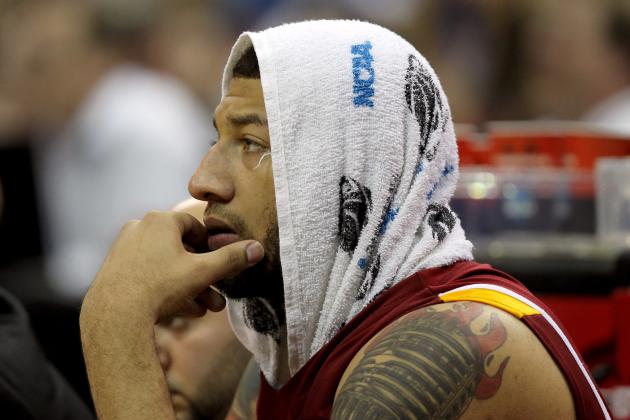 Jonathan Daniel/Getty Images
Royce White's tournament run ended in the Round of 32 against Kentucky.
Royce White was a very good player on a second-tier D-I team in Iowa State who made himself known on the national level after two great performances in the NCAA tournament.
The Cyclones gave him the role of LeBron James, where he was allowed to dribble up the court, have the ball in his hands at all times and pretty much do whatever he wanted.
It worked out pretty well for them, but the fact of the matter is that White is nowhere near as talented as the three-time MVP and will never get that same freedom in the NBA.
The 6'8" power forward is also a poor shooter—he shot below 50 percent from the free-throw line—and an average defender at best. He is also one of the most turnover-prone players in the entire draft, averaging a horrendous 3.8 of them per game.
Add this with his off-court troubles, including misdemeanor charges for theft and fifth-degree assault courtesy of ESPN, and a fear of flying per NBA.com, and you have a prospect whose professional career could be very short-lived.